One way to give your outdoor space a fresh, new look is by revamping your garden decking and patio areas. Whether you already have an area that you want to redo or your starting from scratch, we have come up with some ideas for you.
There are so many ways you can make these garden decking and patio ideas your own, no matter the size of your outdoor space and budget.
Before you begin any DIY work, we recommend you read our DIY Safety Tips guide along with your power tool manuals and instruction guides to any new pieces of furniture or equipment to keep yourself and others safe.
Plan
Firstly, before cracking on with anything,  you need to create a plan of what you envision your space to look like.
Start by clearing and tidying the existing area so you can see what you have to work with. Throw away old plant pots or broken containers, sweep the area and prune back any overgrown plants that intrude on the space. Give yourself a blank canvas so that you can sit down and have a think about how you want your revamped space to turn out.
If you need any tips on how to properly wash your patio or decking, take a look here.
Decking ideas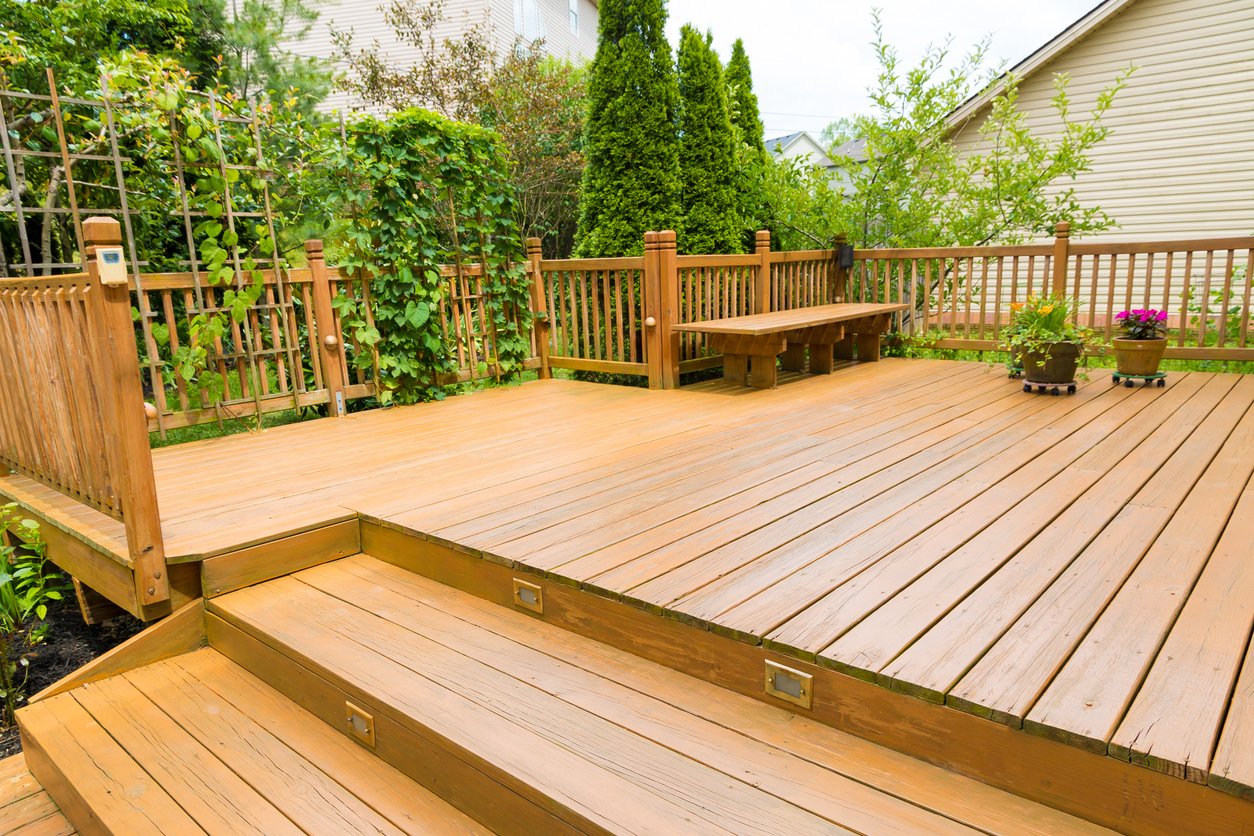 When it comes to the shape of your decking, don't be afraid to be open minded.
Think about what would be the best fit for your space and design accordingly- whether that be a rectangular, square or curved shape of decking. While rectangular or square shapes tend to look more angular and bold, curved edges can help to create a softer finish.
You could also have a think about the way you lay your decking to create a unique pattern. Laying the boards in different configurations can help to create an interesting effect. Potential ideas could be horizontal, diagonal and chevron. You can find out more about how to plan and lay your decking here.
To mix things up, you could also consider combining your decking with other materials like paving slabs for where you plan to put your seating or dining area.
Using different textures will give your garden a unique feel. Additionally, you could lay your decking at different heights and levels. This is a great option for sloped or uneven gardens as it would create a flat area for a dining or seating area.
And finally, never forget the power of a change of colour.  You can shop our range of deck-friendly stains here.
Patio ideas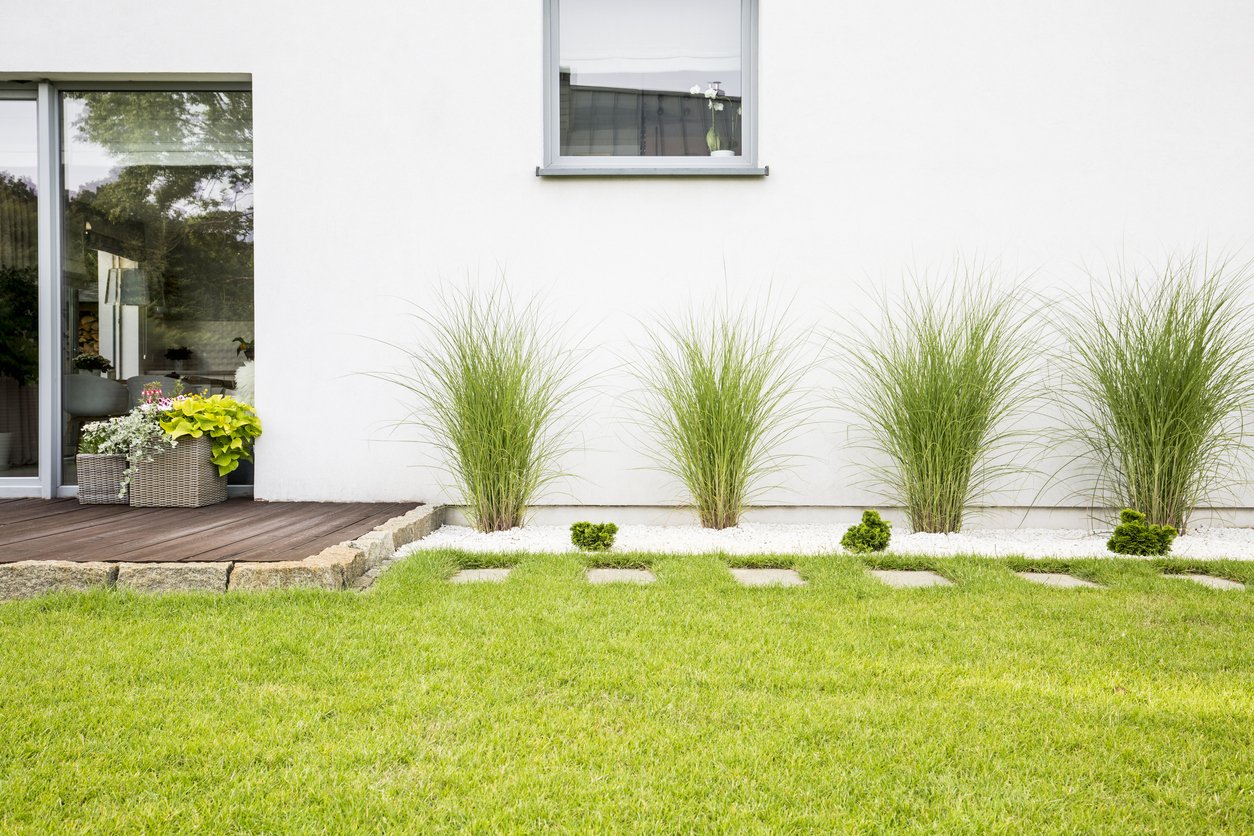 Even if you have a small garden, you can still have a patio and grass combination.
Simply, lay your patio to create a flat dining space but then surround the area with raised flower beds to add a splash of colour that will make you feel like you're in the middle of a meadow.
If you have a slightly bigger area, you could create a focal point within your patio space with a warming firepit. This would help to enhance the cosy feel and create an inviting place for everyone to relax and unwind even when the sun goes down.
Blur the boundaries of your indoor and outdoor spaces by matching up the tiles of your kitchen/diner and outside patio. This will create a seamlessly adjoining alfresco space and fluid dining area.
If you wanted to create a peaceful country garden nook on your patio, you could grow some climbers up trellises against one of the walls. Adding a selection of plants in pots and a small bistro set would add to the old-world charm.
Create ambiance with lighting and accessories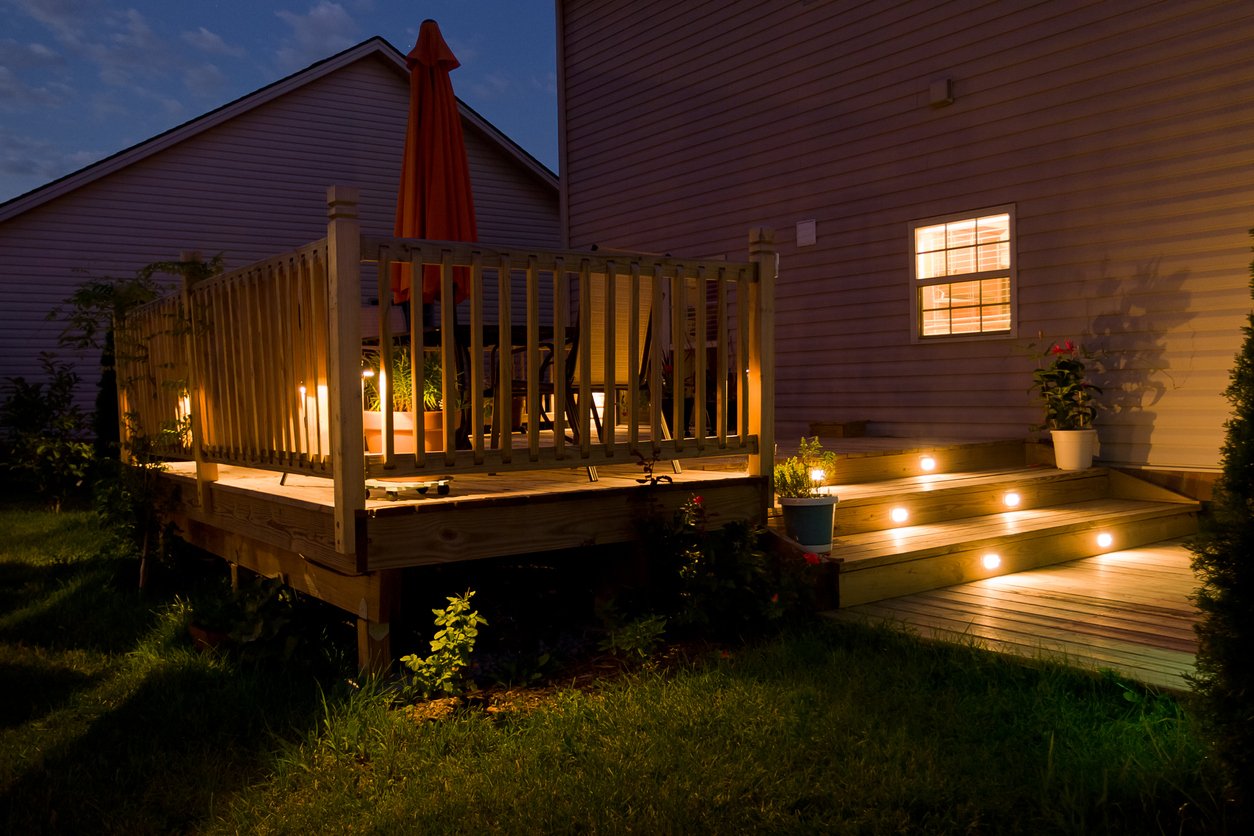 To really set the mood and tie everything together, take some time to think about your lighting and accessories options. Lanterns, outdoor cushions and rugs are all really good options for creating a comforting, intimate feel. Solar stake lights are also a really easy and instant way to illuminate garden spaces with no fuss. Playing around with the accessories you want to add will really make the space feel your own.