We're proud of the role our team members play in their local communities and are committed to reducing our environmental impact.
Commitment to our communities
It's important for us to give back to the communities in which we live and work. From outdoor plants to tins of paint and the tools to help get the job done, we're passionate about playing our part in local communities nationwide.
We're always up for a challenge so whether it's product donations or a helping hand, we're proud to support communities to help everyone feel comfortable and safe in their homes, workplaces and other places they spend time in.
Please contact your closest store for local charity and community engagement opportunities.
Recent community projects
Newham Hospital
We were thrilled to partner with Ground Control to support the creation of the Tranquillity Gardens at Newham Hospital – an oasis for staff, patients and visitors to enjoy for many years to come.
MK Food Bank
The local food bank to our Store Support Centre is a cause close to our hearts. They rely entirely on donations of food and money, so every donation we make as a team really helps. We focus our support around the summer and Christmas holidays, two of the toughest times for disadvantaged families in the area.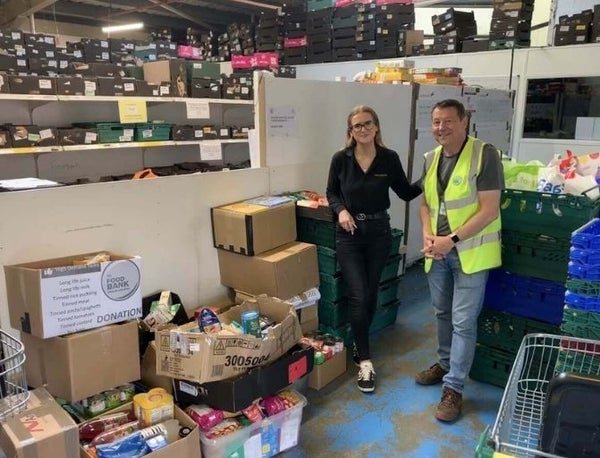 Store Support Centre
Photo Taken in July 2019
Photo taken in July 2019
#Comunitrees
Last Christmas we donated over 1,000 Christmas trees across the country to local schools, charities and groups to help kick start the festivities in our local communities… and we'll be doing the same this year.
More fantastic projects
Our Portishead store donated materials to St Joseph's Primary School to help build a much-needed pre-school, which had been paused as a result of the pandemic. We know how vital early education is to our local communities and we're proud of the way we support schools nationwide.
Our Christchurch store donated furniture to a local NHS GP surgery to ensure the comfort of staff and patients. At such a tumultuous time for everyone, we are incredibly grateful for NHS staff who work tirelessly to take care of our local communities and will continue to do everything we can to help them.
Our Leamington Spa store donated flower seeds to Telford Pre-School for their allotment, providing early years pupils with a calm and tranquil space which encourages them to learn more about nature and biodiversity at a young age.
Our Stamford store donated plants to the Cavell Centre, promoting wellbeing through green spaces. We believe in the importance of green spaces – they benefit us in so many ways, from their calming nature to the fantastic impact they have on biodiversity.
Commitment to the environment
Biodiversity in the community
Biodiversity is a growing passion and concern for our customers. Nearly half of UK species are now declining and one in 10 is threatened with extinction. As the garden experts, we're using our knowledge and resources to encourage greater biodiversity across the UK and Ireland.
So, what exactly is biodiversity?
Biodiversity is essentially bringing together lots of different plants, trees and animals in one space – because the more diverse our outside spaces are, the better it is for the environment..
With the UK's back gardens alone covering a landmass bigger than the Lake District, we have an amazing opportunity to use our position as the garden experts to help everyone play their part in boosting biodiversity.
We're helping people in communities across the UK and Ireland by making it really easy for them to make 'greener' choices and increase the variety of flora and fauna in their own outside spaces.
In 2020 we launched the 'Great British Green Up' to help customers make small changes that will encourage biodiversity – from learning how to compost, to understanding the best flowers for attracting bees and creating homes for animals.
Our biodiversity pledge: To support one key community biodiversity project in every region across the UK and Ireland by the end of 2021.
Making it easy to go 'green'
In October 2020, we partnered with Smart Energy GB to launch the first ever 'Green Aisle', a new space you can find online and in our stores that puts a range of our most environmentally friendly and energy-efficient products in one place, making it easier to make greener choices when shopping with us. And with almost three quarters of people eager to make their homes more energy efficient, we know it's what our customers are looking for.
Find out more here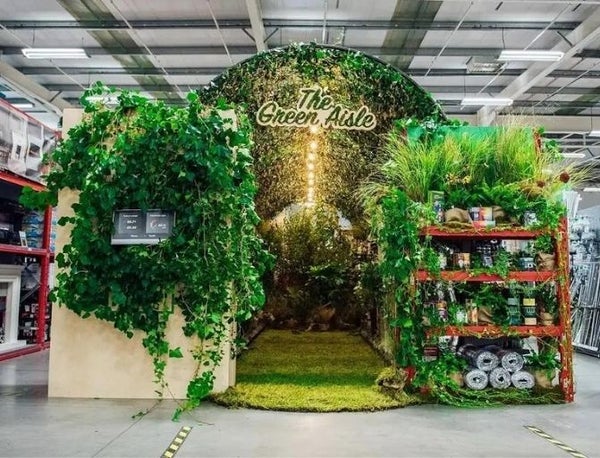 Green Aisle
Photo Taken in October 2020
We partnered with Smart Energy GB to launch the first ever 'Green Aisle'.

Products
We're continually looking for more ways to help provide even more green alternatives when you're shopping with us.
Homebase Paint
We have invested in more sustainable solutions across our own brand paint range. The sustainable packaging is made from 100% recycled plastic materials and the paint liquid has a minimal volatile organic compound (VOC) count, reducing its impact on atmospheric pollution. Homebase Paint is also shipped to our stores alongside the Crown paint ranges, reducing carbon footprint and maximising stock delivery efficiency.
Garden
Our pack bedding plants are grown in trays made from recycled plastic bottles rather than polystyrene or black plastic and are fully recyclable. Our black carry trays used to transport potted plants are also made from recycled plastic and our returned to our Distribution Centres where they are recycled.
Our range of green alternatives in our garden care offering is bigger than ever before, with market-leading brands such as Ecofective, Solabiol and Resolve Zero.
We sell a wide range of pollinator friendly plants throughout the year. Look out for the RHS Plants for Pollinators logo on our care cards to help improve biodiversity in your own garden.
Carrier bags
We no longer purchase single use carrier bags, but they are still available in selected stores for 5p with all profits donated to Greenfingers.
We also sell Bags for Life, with prices ranging between 10p and £2.50 based on size. These bags are made from 100% recycled materials and will be replaced free of charge when it wears out – we'll even recycle your old bag for you too when you return it to store.
Information relating to carrier bag charges in England, Wales and Scotland can be viewed here.
How you can help
Here are some ways in which you can make a difference to your environmental impact by disposing of household goods safely.
Electrical waste
Check your electrical goods for the crossed-out wheelie bin symbol to see if your item can be disposed of within household waste. All electrical goods with the symbol from the Waste Electrical and Electronic Equipment (WEEE) Directive can be disposed of at a WEEE collection point for recycling.
Batteries
Waste batteries can be returned free of charge using the battery waste bin found in our stores. Batteries should never be put in the general household waste or recycling bins as part of the Waste Batteries & Accumulators Regulations.
Paint
Excess paint should be disposed of carefully. Do not empty waste paint into drains, watercourses or access routes to septic tanks and always remove as much product as possible from the brushes, roller or paint pads before washing.
Empty metal and plastic paint tins can be taken to local household recycling centres.
Energy saving light bulbs
All energy saving light bulbs should be treated as a hazardous waste and should not be disposed of in household waste but recycled at your local recycling centre.
If you accidentally damage an energy saving light bulb, advice is to leave the room for 15 minutes. Use rubber gloves and sticky tape to pick up the broken glass and wipe the area where the bulb smashed with a damp cloth. You should place the broken glass and used cloth into a sealed bag and take it to the nearest recycling centre for disposal.
Charity partners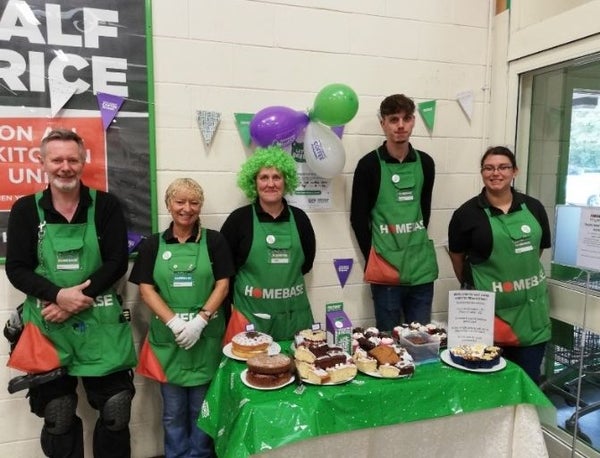 Macmillan Cancer Support and Irish Cancer Society
Photo Taken in 2019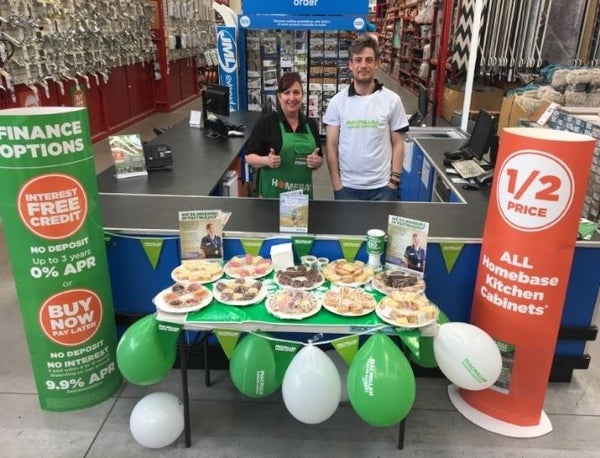 We're proud of the work we've done to raise over £100,000 to fund extra nursing hours in communities all over the UK and Ireland.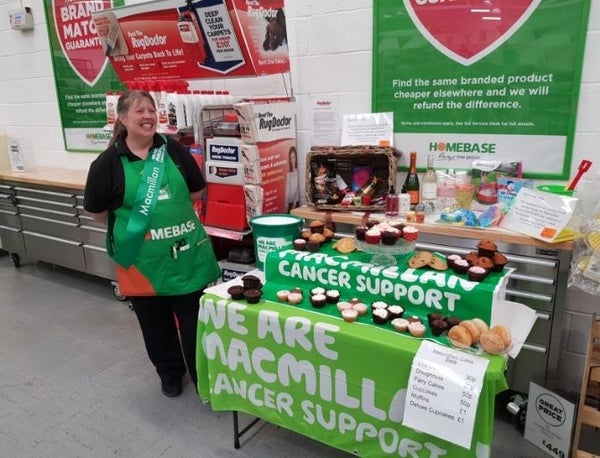 Nothing brings us together as one team quite like fundraising, and we'd like to say a big thank you to all our customers, team members and suppliers who have supported everything from cake sales to treasure hunts and raffles to mighty hikes. We've even seen some team members shave their heads!
As the number of people affected by cancer is growing, it's more important than ever that we work to ensure more people can receive the support and services they need. You can find out more about Macmillan and Irish Cancer Society below.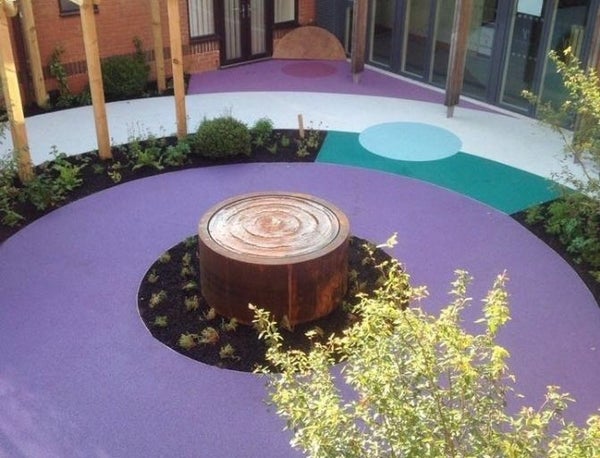 Greenfingers
The money we raise from the sale of single use carrier bags is donated to Greenfingers, a charity supporting children who spend time in hospices around the UK, along with their families, by creating inspiring gardens for them to relax in and benefit from.

Linda Petrons, Director of Fundraising & Communications, said: "The support you have shown Greenfingers over recent years has made an extraordinary difference to the charity and has helped us bring forward plans for more magical gardens for life-limited children."
In 2017, the money we raised helped transform the garden at Keech Hospice Care, Luton, into a space where children and adults could enjoy the benefits of being outdoors in a safe environment. Designed by award-winning garden designer Adam Frost, the garden space was transformed from a concrete courtyard to a colourful hub for the hospice.
Find out more here.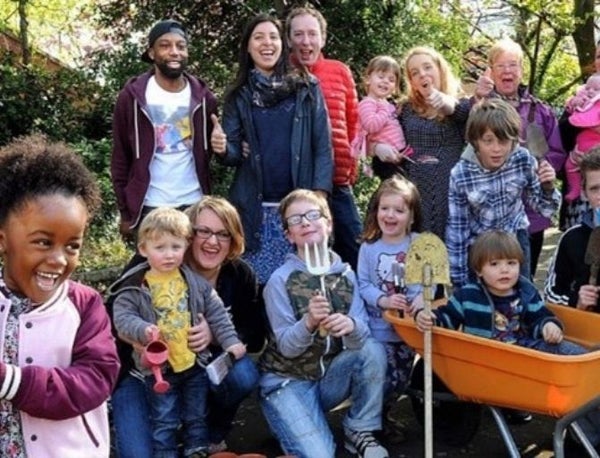 Groundwork
We work with Groundwork across the UK, donating products to help transform lives in some of the country's most disadvantaged areas. Groundwork run community projects to create better greener spaces where people can play, grow and socialise. We know that the benefits of green spaces are invaluable and are a key factor in keeping our local communities healthy and happy.
Find out more here.