For many of us, our garden is a place of relaxation and tranquillity – a place to chill out after you've had a long day. But what if you could take it one step further and transform your garden into an outdoor spa?
Outdoor spa days are continuing to increase in popularity, so why not avoid the hassle of trying to make a booking and create your own spa at home experience that you can enjoy any time you please.
To help inspire you, we've put together a handful of ideas that will help to give your garden the outdoor spa treatment.
If you do find yourself using any power tools or new pieces of furniture, always read the instruction manuals. We also recommend you read our DIY Safety Tips.
Colour scheme
Keeping your garden colour scheme neutral is a simple way to create a calming atmosphere for your outdoor spa. Using soft, subtle dashes of colour – such as light yellows and blues – will keep the setting from feeling overpowered.
Limit your plants to green and cream shades and opt for a simple layout – green is the ultimate colour for relaxation and is a great year-round colour.
Keep your fences and surrounding walls similar colours to complete the scene. If you feel like your garden needs a freshen up, check out our Garden Paint.
Top tip: Any sized garden can be transformed into an outdoor spa, but check out this handy guide to find out which colours you can paint your perimeters to make it feel bigger.   
Relaxing ­­seating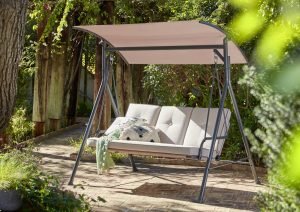 Garden day beds are ideal for that all-important spa experience. If you don't mind having company while trying to relax, another option is a swing set.
If you still want a space to entertain guests, a garden sofa will keep things chilled and laid-back. If everyone has somewhere to sit and put their feet up, you're good to go!
Hot tub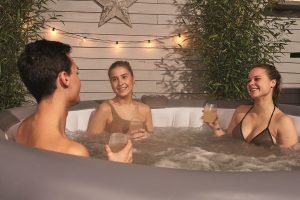 No home outdoor spa is complete without your own luxurious hot tub.
Soak away your worries and relax with this ultimate accessory – the warm water and bubbles will soothe your muscles, while providing you with the perfect set up to enjoy your garden in the Winter months.
Homebase has a range of inflatable and permanent options that are easy to install. They are designed to fit in a variety of settings and have the versatility to be drained and moved elsewhere.
Top tip: Make this a garden feature you can use all year round with our available covers and garden shelter ideas. Depending on the scale of your shelter, you may need to check with your local council on planning permission.
Lighting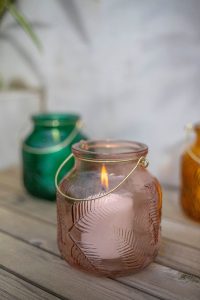 To tie everything together, think about your outdoor lighting options. Lanterns with real scented candles will provide a calming, aromatic light to your space. The combination of the flickering light and soothing smell  will indulge the senses – helping you to feel completely at ease.
Solar lights are also a great option. Whether you want to use solar stake lights to light up a footpath, or loop a set of solar string lights through the trees, all of our solar lights automatically illuminate at night and do not require mains wiring.
Top tip: Be careful with naked flames – keep candles well away from small children and flammable materials.
And there you have it – your outdoor spa is complete! Don't forget to upload a picture of your transformed garden to social media and tag us @Homebase_uk.