Decking requires regular maintenance because of its constant exposure to the elements. With the weather getting warmer and more BBQ plans on the cards, you'll want to make sure your deck is looking its best.
Deck stain comes in a variety of colours so not only will it form a protective barrier, but it will also help to completely transform your outside space. To preserve the timber, you'll need to know how to stain a deck.
Read on to discover how to clean and stain a wood deck to bring back its rich and vibrant colour.
Let's get started with what you'll need…
Materials
Tools
Before you start 
Read our DIY Safety Tips and ensure you follow the instructions closely on the products you're using.  Keep deck cleaner and stains away from children and check the weather forecast, as you should stain a deck in dry conditions.  Don't forget to wear old, long-sleeved clothing and safety goggles to protect yourself against splatters.
Clean and clear the decking
Remove your garden furniture from the decking area and sweep away any dirt or debris.
Inspect the timber for any splinters or cracks and fix accordingly.
Wash the boards with a specialist deck cleaner, following the instructions closely – some may require you to wet the deck beforehand, and some may require rinsing afterwards. Then, wash it off with a pressure washer or hose on a jet spray setting, before leaving to dry for at least 24 hours.
Protect any surrounding plants with plastic sheeting and use masking tape to cover up areas you don't want your deck stain to get onto.
Top tip: Use a putty knife to remove any debris wedged between the deck boards.
Choosing a deck stain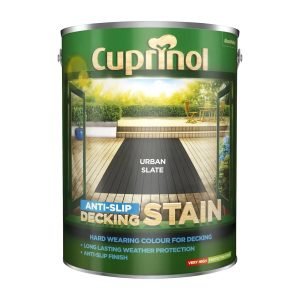 For the best outcome, choose a deck stain that is a similar colour to your timber, or a shade darker.
Consider the colour of your home's exterior and surrounding landscape. To create a subtle finish, your deck should blend in with your outdoor area, rather than distract from it.
Decking stain comes with many features – from being slip resistant or having a 1-hour drying time, to being fully rainproof in just 90 minutes.  Choose the one that best suits your needs.
Top tip: Test your deck stain on a concealed area to ensure it's the one you want.
Apply the deck stain
Whether you have smooth or grooved decking boards, there are many ways you can stain a deck.
One of the best ways to stain a deck is with a paint sprayer – as they provide the quickest finish. Or,  go for the classic method of using an exterior paint brush for your corners and roller for the larger surface areas.
You can also opt for a paint pad application, which can be easily attached to your paint pole for hard-to-reach sections.
Always follow the direction of the gain and rub any excess stain into the deck wood with a cloth.
Stir your deck stain with an old wooden spoon or off-cut of timber to ensure the pigment is evenly mixed. This will help to create a smooth and consistent finish.
The best way to stain a deck is by starting at the handrail or highest part of the deck. This is to avoid drips from falling onto finished areas. Then, stain the vertical and horizontal members of the deck rail system, making sure to cover any underside areas.
Top tip: If possible, choose a cloudy day – as applying stain in direct sunlight can cause a patchy finish.
Stain the main deck surface
Plan an entry and exit point to avoid painting yourself into a corner. Carry a drop cloth with you to tidy up any spillages as you go.
When you're finished, remove the masking tape before the stain dries. Allow at least 24 hours before walking on your deck.
Top tip: One coat is often enough, but if you want a darker colour or to hide imperfections, allow the first coat to fully dry before applying the next.
Deck maintenance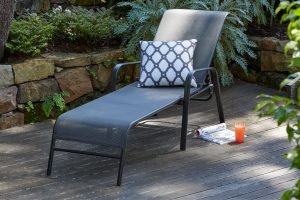 Decking needs to be periodically maintained, otherwise it could start to rot and deteriorate beyond repair. This could lead to you having to replace your decking boards, rather than giving them a quick stain. A poorly maintained deck could also attract termites and other pests.
How frequently you need to stain your deck will depend on the climate of your home, the quality of wood your deck is made from, the type of stain you're using and how sheltered your deck is from the elements. On average, a deck could benefit from being re-stained every two to three years.
And that's it! Now you know how to stain a deck, carry on with garden improvements by learning How to Clean Wooden Garden Furniture or How to Clean Your BBQ.