Building garden decking is an ideal way to extend your outdoor living space and with a great range of decking timber and designs to choose from at Homebase, it's easy to create your dream deck. In this step by step guide you'll discover everything you need to know from planning and measuring up for your decking to building the decking base, laying the decking boards, preserving and maintaining your decking and more. Follow along below and you'll be out in the sunshine enjoying your new deck with your friends and family in no time at all…
Difficulty rating: Medium
These tasks may be tricky so will suit you if you're experienced in DIY, or simply love a challenge. Before you get started on any of our 'how to' guides, please take a moment to read through our DIY safety tips.
What You'll Need:
Step 1. Planning your decking
Planning is really important when building a deck so the first step is to make a rough sketch of your decking design. You could also lay out battens to mark the edge of your planned deck to see how it will look.
Decking kits offer a simple, ready to go solution for adding a deck to your garden.
When you've decided on the extent of your deck, draw a scale plan of the area. Mark on outside house walls, waste water soakaways, air bricks, manhole covers, door openings and any trees or other obstacles.
Make sure the top level of a deck attached to your house wall is at least 150mm below the damp proof course (DPC). That way you'll be complying with building regulations.
Allow for access hatches or cut-outs in the deck around drain inspection covers and make sure you don't block any air bricks.
Top Tip
Deck boards placed at right angles to your house draw the eye into the garden beyond. Boards fixed parallel to the wall emphasises the width of the deck.
Step 2. Measuring your area
From your scale plan, calculate the area of your deck in square metres. Each pack of decking shows the area it covers. Divide the area of your deck by the area covered by one pack to see how many packs to buy.
Work out how many posts and rails you need. If you're unsure ask for assistance in store, and make sure you bring your deck plan with you.
Top Tip
Don't burn your wood off-cuts as timber treated with preservatives can give off harmful fumes. Take any off-cuts to the tip.
Step 3. Preparing the ground
Use pegs and string to set out the deck perimeter. Then clear all turf and vegetation from the area and firm down the ground beneath.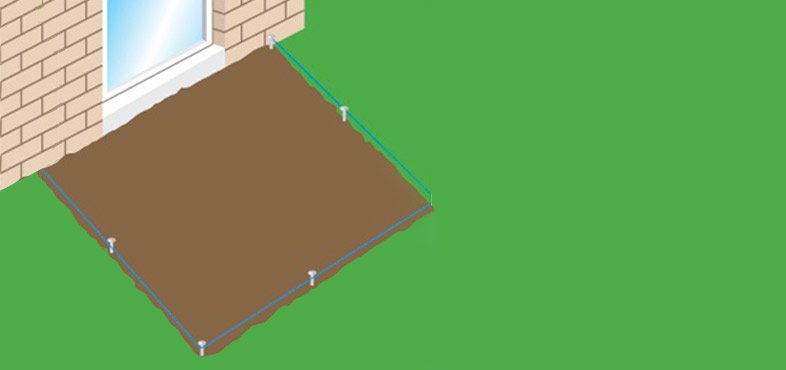 Lay a deck fabric over the earth to prevent weeds growing up through the deck. You can peg the fabric or weigh it down with concrete or paving slabs.
The framework for a deck should be laid onto concrete foundations rather than directly onto the soil. You can lay down concrete for this but it's easier to use concrete paving slabs.
If laying slabs, arrange them in a grid pattern with each slab positioned about 1400mm from the next. These will support the timber joists that hold the boards.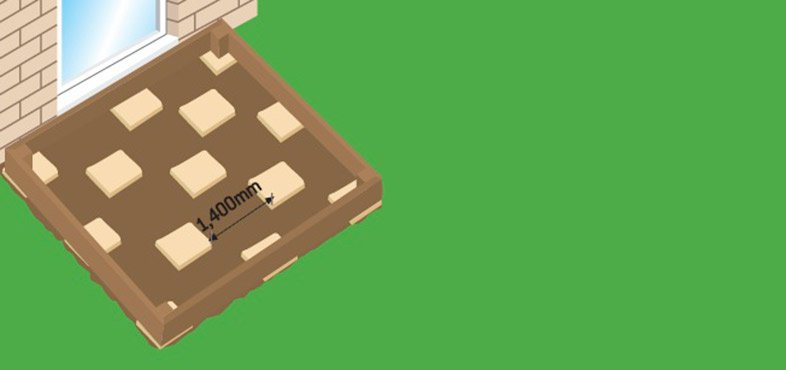 Use a spirit level to make sure the deck gently slopes away from the house. For every metre of deck there should be a 10mm drop.
If you have poor drainage or bad soil conditions, the joists should be supported on stronger concrete bases instead. Make these by digging 300mm square holes 300mm deep and filling with concrete. Allow the concrete to dry.
Next, lay squares of bitumen DPC membrane over the concrete or paving slabs before putting down the deck timbers.
Step 4. Building the framework
Form the outer frame of the deck with joists (150mm high x 50mm wide). These rest on top of the levelled concrete or slabs.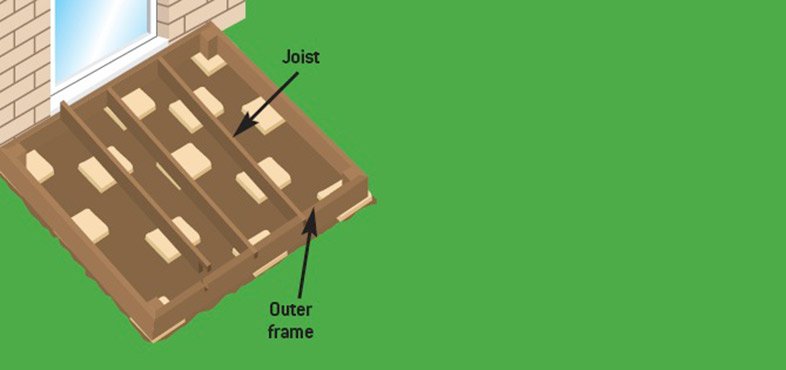 The joists are fixed together with 100mm rustproof screws and external wood glue. Use one screw on the top edge of the joist and two screws on the sides.
If you're attaching the deck to your house, screw the first joist to the wall but put plenty of stainless steel washers between the joist and the wall to leave a gap of at least 10mm. Use a spirit level to make sure the outer frame is flat and sloping slightly away from the house. Use extra pieces of DPC to make any fine adjustments.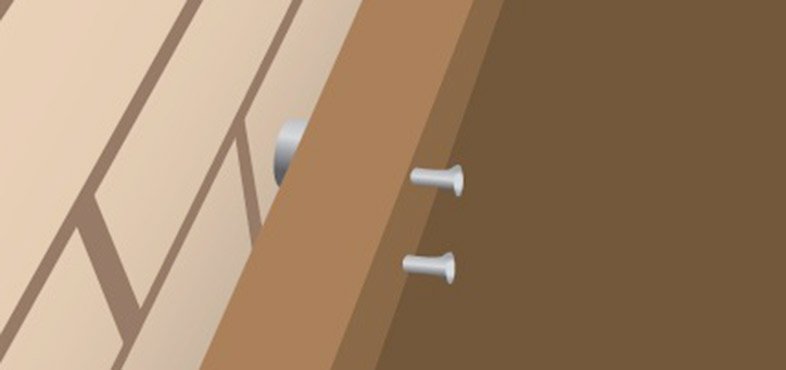 Next fill the outer framework with the long joists, spaced at 400mm intervals and screwed to the frame. These joists should be fitted at right angles to the finished deck boards, just like an internal floor.
Top Tip
Use an end coat wood preservative on all saw cuts and drill holes.
Step 5. Fixing the deck boards
Fix short lengths of deck boards or 'noggins' at right angles between the joists to strengthen the framework.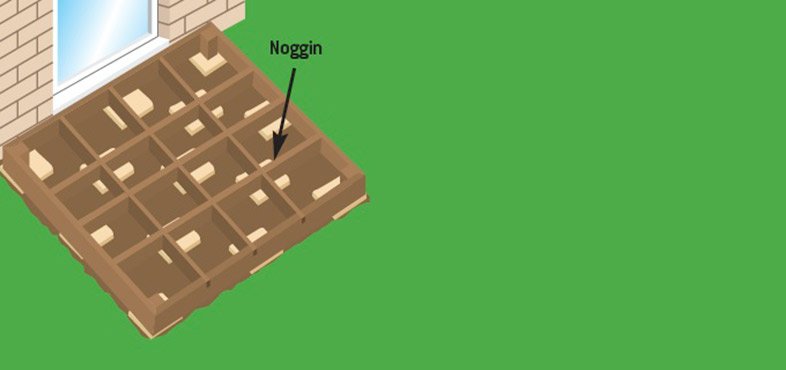 Once all the joists are in place, the finished framework should be completely rigid. Now you can lay the deck boards, starting next to the house.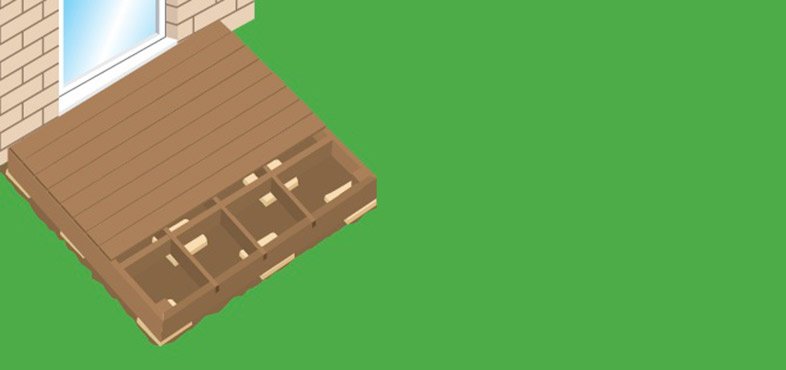 Lay about six boards at a time, leaving spaces between boards of 5mm (approximately the width of a fixing screw). This is essential for ventilation and allows for expansion in wet weather.
Use purpose-made stainless steel or galvanised screws so your decking isn't spoilt by rust stains.
Pre-drill your screw holes to reduce the risk of splitting the wood.
Fix the ends of each board first, then screw the centre of the board to every joist in-between.
If the deck is wider than the length of deck board being used, you'll need to stagger the boards. Remember to join boards over a joist. Cut to size where necessary.
Things to consider when building decking
Variations
You don't have to stick to straight lines when you're decking. Boards can be fitted diagonally or cut to create herringbone patterns (this is usually more wasteful than using straight boards, though).
If you have a raised deck that's over 60cm high then you must have a deck surround or railings around the edge to make a safety barrier.
Preserving your decking
Deck boards are pressure-treated with a long-lasting preservative treatment but the colour will fade after a few months.
You can either leave your deck to age naturally or treat it with an exterior penetrating oil that soaks into the wood rather than sitting on the surface. These come in various timber shades and can be brushed, sprayed or rollered onto the boards.
Maintaining your decking
Once a year, check and repair any loose boards, protruding screws and bits of splintered wood.
You should also wash the deck annually with a deck cleaning solution to remove dirt, algae and moss. Follow manufacturer's instructions and take care not to get the solution on nearby plants or shrubs.
After cleaning, re-treat the deck by applying a further covering of deck oil to all the exposed surfaces.
By building garden decking you can create a stylish outdoor space to enjoy with friends and family. Whether you're dreaming of soaking up the sun on lazy summer afternoons or getting the family together for al fresco BBQs, you'll find everything you need to create a stunning deck at Homebase.
Building your decking couldn't be easier with our range of decking boards and accessories, decking base frames and complete decking kits.
If you want to complete your decking with a comfortable seating area, take a look at our range of garden furniture. Choose from garden sofas, bistro sets, tables, chairs and more and your outdoor area will be ready to impress before you know it.
Browse a selection of decking products and tools below or visit your local Homebase store to explore more of our garden and outdoor living range.
Find your perfect product: