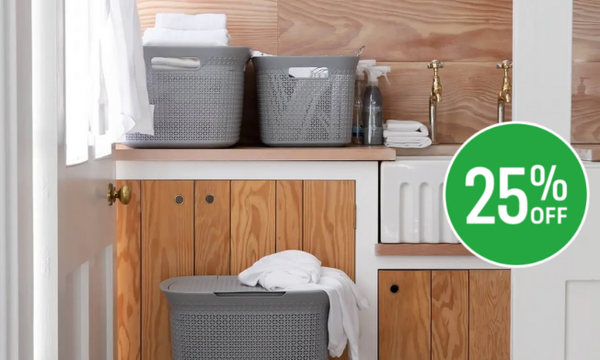 Laundry & Airers
Call us mad, but we get a kick out of well-organised laundry – as you can tell from our massive range of laundry baskets, ironing boards, airers and pegs. Join us in our obsession and turn the tangles of damp clothes into an orderly system that'll save you hours… We'd probably spend the extra time folding socks, but that's just us.
Doing your laundry will be a breeze with our useful range of laundry equipment, clothes lines and airers.
Find the perfect clothes airer or outdoor line for the garden and your washing will be dry in no time – depending on the weather, of course. If you've got the space, why not check out our rotary airers, perfect for drying larger loads and items such as towels and sheets. For indoor and outdoor use, a retractable clothesline might be the ideal option. If you want something more compact we have a selection of indoor airers, including some you can hang over doors or fold over the bath to dry clothes without taking up too much space. As well as laundry airers, you can find new laundry equipment – from laundry baskets to ironing board covers - to keep your clothes looking their best and make the daily task a little easier.
Browse our range to find the perfect colour and style to suit your home.