Whether creating symmetry in your garden or bordering flowerbeds, there are endless ways you can get creative with the design of your path. And that's what this weekend is all about – planning and creating your perfect path.
Project Overview
Step 1
Planning: Work through the key prep work needed before starting the job – choosing materials and creating the design.
About 2hrs
Step 2
Preparation: Measuring up, preparing the surface and marking out the path.
About 1hr
Step 3
Groundwork: Hardcore is down, now it's time to get the area level and prepped for your material.
About 1hr
Step 4
Laying your path material: gravel, block paving, tiles or brick.
Less than 1hr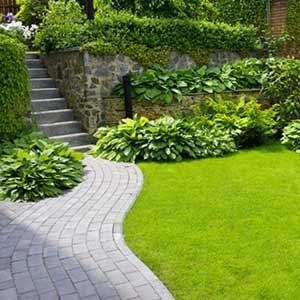 Step 1 – Planning
Plan your path design
Look at your garden, then consider garden path designs and paving patterns to decide what would work best in the space. Putting together a plan is a key element when creating a garden path.
Work out the path's route
A practical garden path would take you directly from your patio to your shed, compost heap or vegetable patch. But you can plot out your route to suit your own personal taste. A garden path can easily meander between your favourite raised beds or fork off in numerous directions.
Choose your materials
Once you have an idea in mind of where you'd like your garden path to go, you need to decide on the material you'd like to use to create it. The material you choose for your path can evoke a certain look and feel in your space.
The inviting warm tones of brick can create a classic feel, especially when matched to those of your house, or you can add a dose of old-world charm with cobbles laid in swirling patterns. A rustic set of railway sleepers are equally pretty, adored for their natural look. For something a little more contemporary, honey-toned gravel is a simple and cost effective choice. Or if you have a taste for minimalist style, you'll love the clean lines created by paving slabs.
When dreaming up your design, calculate how much of your chosen material you'll need to form the path. This will also give you a good indication of how much hardcore and sand you'll require. Measure out the length of the area you're planning on transforming and multiply it by its width to find out the square meterage. It's worth adding on a few extra centimetres to allow for any mishaps.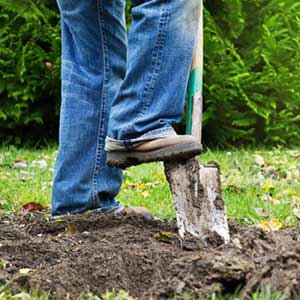 Step 2 – Preparation
Mark out your path
Mark out where it will go with string and pegs spaced every five feet. Make sure you've left enough space for any bordering or decorative edging if you've decided to feature it in your plans and give your path a streamlined look.
Dig the foundations
Use a sharp spade to mark along the path's edges, then dig it 13cm deep and at least 60cm wide – this should leave enough room for a layer of hardcore, sand and your material of choice. Don't forget to pop excess sod and grass clippings onto your compost heap.
Nail up the shuttering boards
If shuttering boards are part of your garden path design, nail them to pegs at 1m intervals along the dugout pathway.
Pour in your hardcore
Hardcore gives your path a strong base. Rake 10cm of it across the path area and compact it.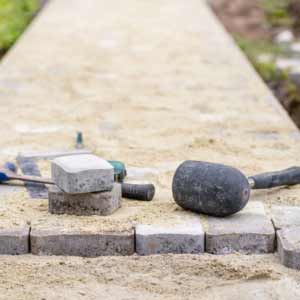 Step 3 – Groundwork
Add a layer of sand
If you're using paving slabs, sleepers or bricks, place them on the foundations you laid yesterday to make sure they fit. Once you know they do, remove them and add a layer of sand on top of the hardcore. Rake it out and make sure it slopes ever so slightly to one side in order to create effective drainage. This is especially important if your path runs near your home, as it can eradicate standing water and prevent the growth of algae.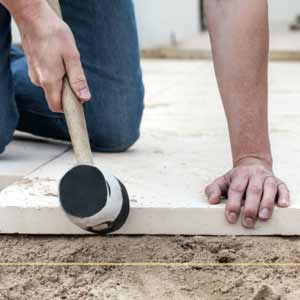 Step 4 – Lay your path
Lay your path
If you're using gravel, simply pour it into the path and rake it into place. Otherwise, create your desired pattern, making sure to maintain a consistent spacing distance between each brick, tile, slab or sleeper. Best practice is 1cm, but it depends on the design you've dreamt up. Continue laying down your path's materials, using a mallet to tap them into place. As you go, check the level is even with the spirit level. For a tidy look, brush sand into the joints or use mortar to create flush joints.
Once you've finished laying the materials, you may need to give your garden path a quick brush over to get rid of any loose materials or dirt.
Maintaining your path in the coming months is essential for keeping it looking in top condition. With a pressure washer, all you need to do is blast any accumulating dirt away (being careful not to disturb the sand in the joints) and you can admire your bright and beautiful slabs once more.
Project complete
As the sun streams into your garden enjoy a wander along your brand new path.