BBQs
When the sun is shining we all know what that means - a barbecue is on the cards. If you're starting from scratch and need to find the perfect BBQ, we've got a wide range to choose from.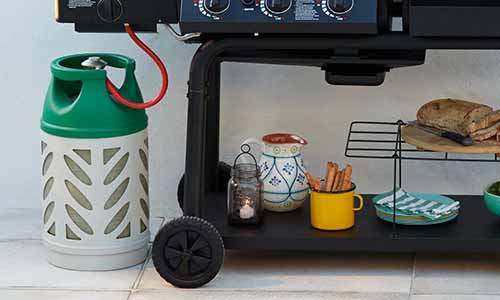 Gas Exchange
Need Gas for a BBQ or Patio Heater?
Our safe gas exchange service is the perfect solution for keeping your gas BBQ, patio heater, caravan and camping equipment fuelled.
Find out more
Choose the right BBQ for your cooking style – then get ready to serve up tasty food straight from the grill. Whether you're a fan of burgers, sausages or grilled vegetables, you'll find they taste better chargrilled and served fresh in the sun. As many of the designs are also small and portable, you can easily store them over the winter months ready for the return of the summer sunshine.
The Homebase range includes large gas BBQs for big events, complete with expansive grills, smokers and different rack heights, and simple kettle styles, perfect for small gardens or patios. If you're after a charcoal BBQ you'll be impressed with the range available at Homebase. Alternatively, our dual fuel BBQs offer the authentic chargrilled taste of charcoal barbecues, whilst having the reliability of gas.
Stock up on essential BBQ fuel and BBQ accessories, with everything you need for a fun-filled feast available at Homebase.