Cooking on the BBQ and enjoying your meals in the fresh air – weather permitting – is the perfect way to make the most of outdoor living.
Deciding which BBQ is best to buy will depend on your own individual needs and outside space. To arm you with everything you need to know, we've put together this BBQ buying guide.
No matter the size of your garden or party, our BBQ range at Homebase will ensure you can keep on grilling all year round.
To keep you and your guests safe, read your BBQ's instructions manual before setting it up. Remember BBQs can get very hot, take care not to make direct contact with your skin and keep children well away.
What to consider…
Each BBQ will differ depending on its fuel, grill, size, and features. To ensure you're choosing the best BBQ for you, here are several factors to think about:
Is your priority a traditional feel or quick cooking time?
How many people do you cook for most often?
What's your storage space like?
Are there any BBQ features you particularly want included?
Choosing between charcoal and gas barbecues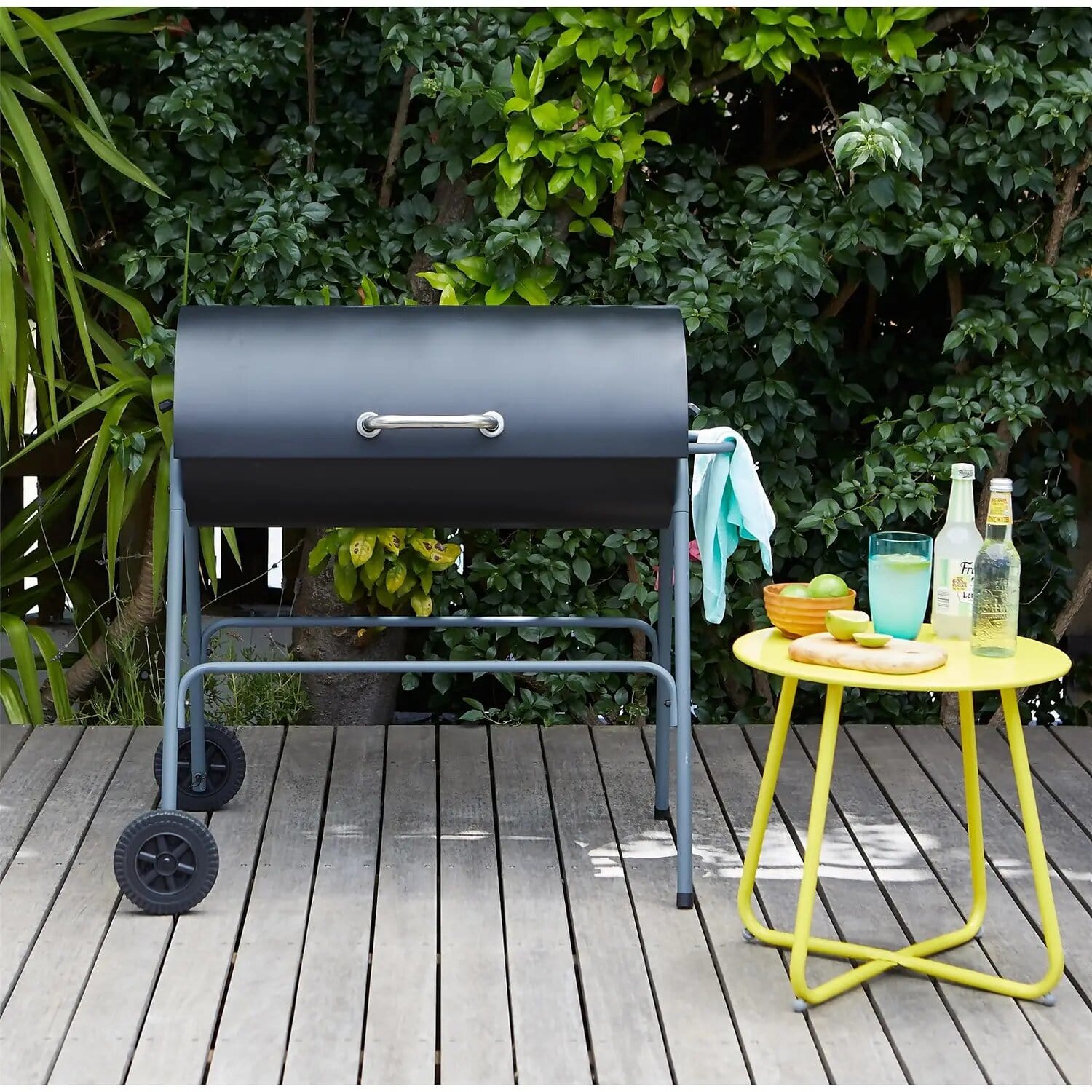 Although many believe a charcoal BBQ produces a more authentic, smoky flavour – you can achieve the same taste using smoking chips on a gas BBQ.
Do you think you will prefer a traditional charcoal BBQ for the ritual of firing it up? Then it's also important to remember that this process usually takes around 30-45 minutes – as the embers need to be burning hot.
Charcoal BBQs use either lump wood or briquettes to cook food evenly and give it that mouth-wateringly good, flame-grilled appearance. Often more budget-friendly than gas powered BBQs, many charcoal models are also portable and easier to store away.
If convenience is a priority, the best BBQ for you will likely be a gas model – these do an equally brilliant job of letting you cook al-fresco, without the hassle of the waiting time at the start.
Their burners are like those on oven hobs, so they also have the added benefit of heat control. This allows you to adjust the temperature accordingly – giving you greater flexibility over the type of food you cook and for how long.
Some models also come with side burners, warming racks and griddles.
Top tip: When making your decision, don't forget you'll need a gas cylinder to power your gas BBQ.
Grill and cooking area size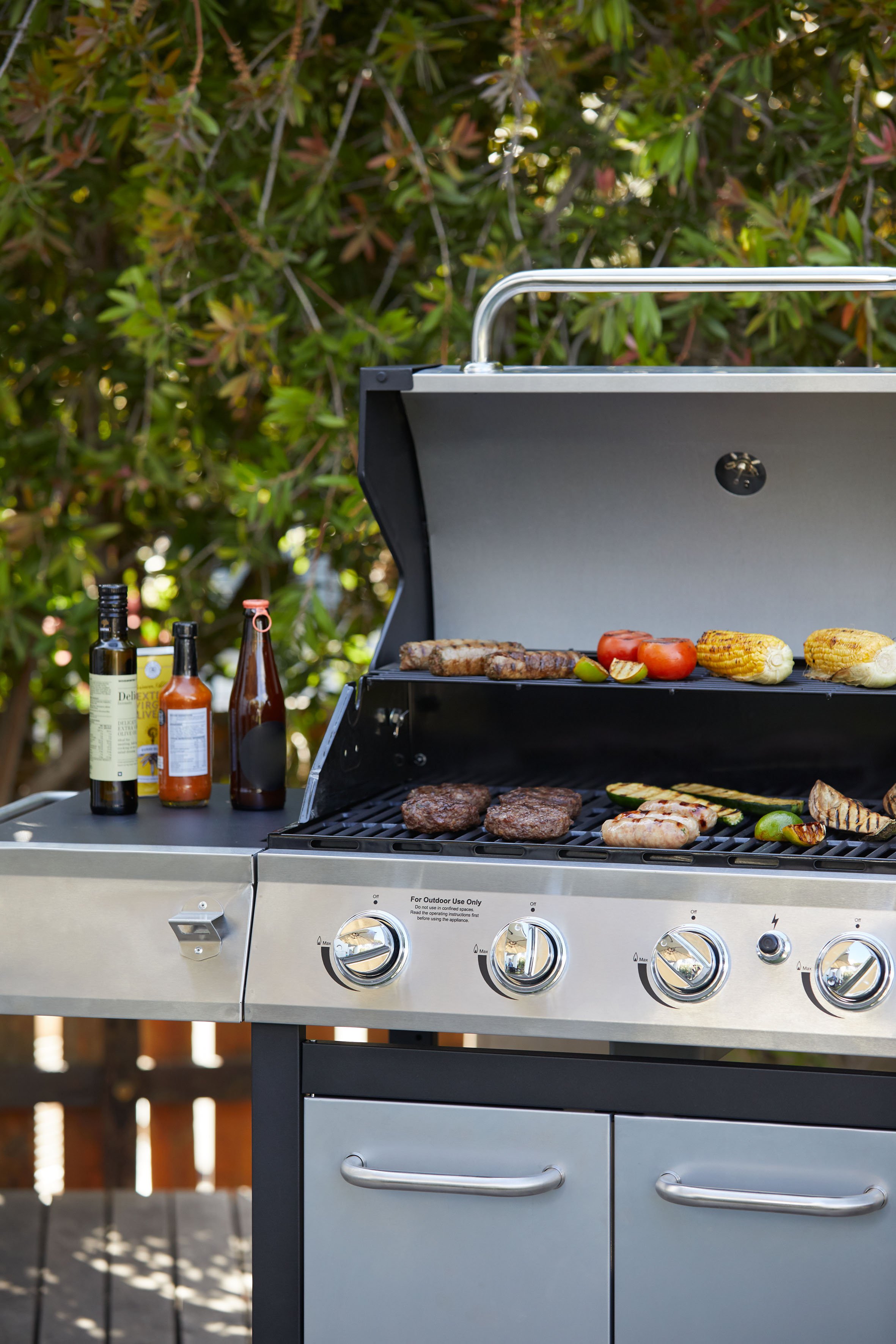 When researching which BBQ is best to buy, you'll notice their grills can be made from four different types of material:
Chrome plated grills: Used in more affordable BBQs.
Stainless steel grills: This type of grill is generally found on mid-range BBQs.
Cast iron grills: Store heat well and are perfect when cooking for larger groups of people.
Porcelain coated grills: You'll find these on the most expensive BBQs. They transfer heat better and will last for years to come.
Whichever type of BBQ you go for, you'll also want to think about the size of the cooking area and how many people you will be feeding.
Generally – a small BBQ will cater for 1-2 people, a medium for 2-4, a large for 4-8 and an extra-large for 8 or more. A 6 Burner Gas BBQ is a great option for Summer parties, as you can cook up to 30 burgers at a time – with some featuring additional side and trolley shelving.
The best BBQs usually come with a lid or a hood. These serve a dual purpose – not only will a hood protect your BBQ from the elements if you're leaving it outside, but they can also be used to control the heat when you're cooking. Controlling the heat means you can cook food thoroughly and to everyone's liking.
BBQ aftercare
Another factor to consider is your BBQ cleaning process.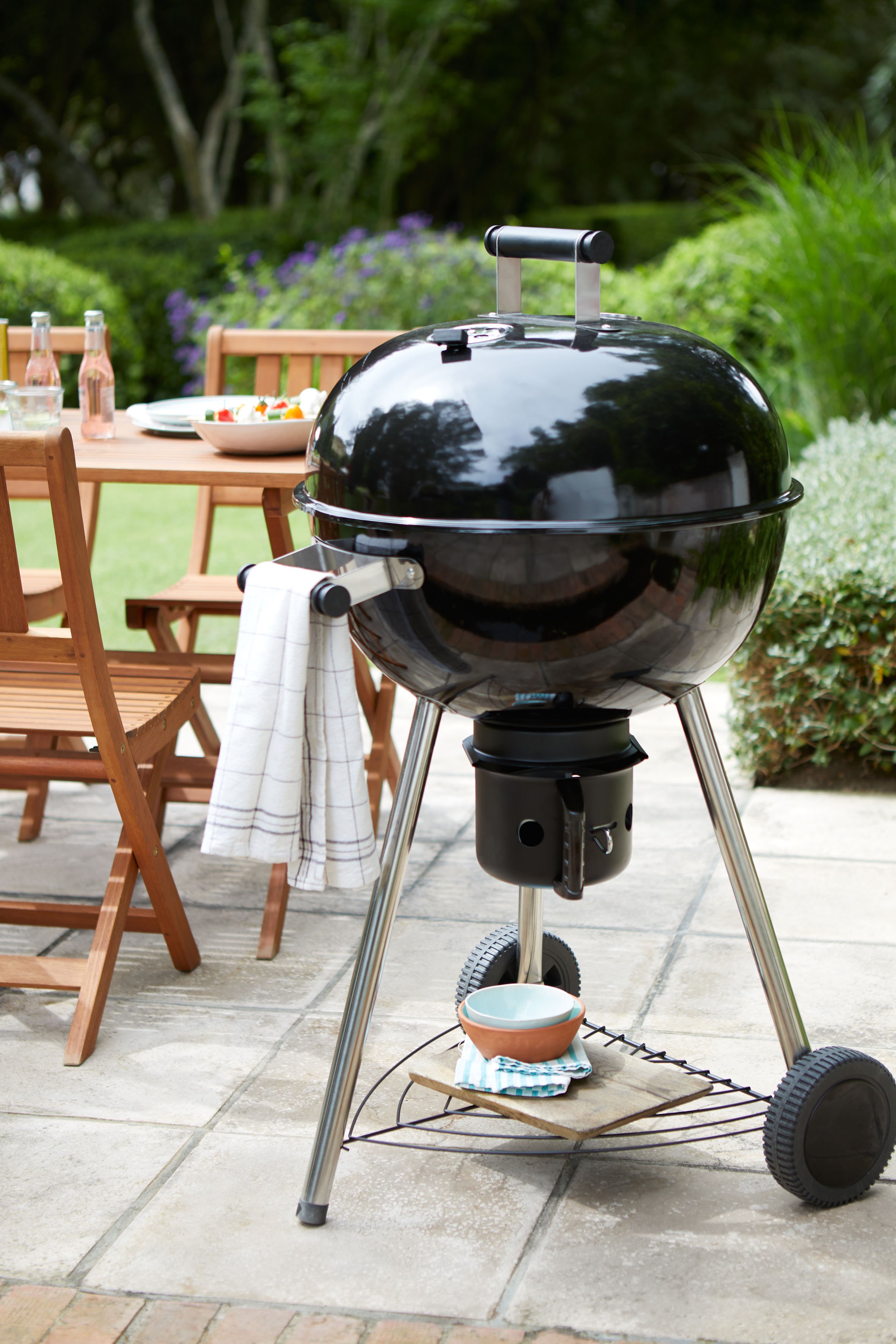 How to clean a charcoal BBQ
Once cold, remove the grill rack and scrub with a wire cleaning brush to remove residue left from food.
Wash with a sponge and warm soapy water.
Periodically clean the rest of the BBQ with oven or grill cleaner to remove any burnt-on deposits.
Use a brush to remove the ashes.
How to clean a gas BBQ
After using your gas BBQ, the rack, lid, drip trays and burners should all be cleaned.
Turn on your burners for a short amount of time to heat up any residue, making it easier to remove.
Burners should be cleaned periodically with soapy water.
Never use oven cleaner, as it could damage them.
Take a look at our 'How to Clean Your BBQ' guide, so you're always ready to cook al-fresco.
Other types of BBQs to consider
Dual fuel
If you're someone who can't decide between charcoal and gas, a dual fuel BBQ offers you both.  They also tend to be portable, so you don't have to worry about a large appliance taking up garden space.
Usually, dual BBQs will have separate gas and charcoal sections, so you can quickly cook your meal over the gas burner before adding some sumptuous smoky flavour on the charcoal.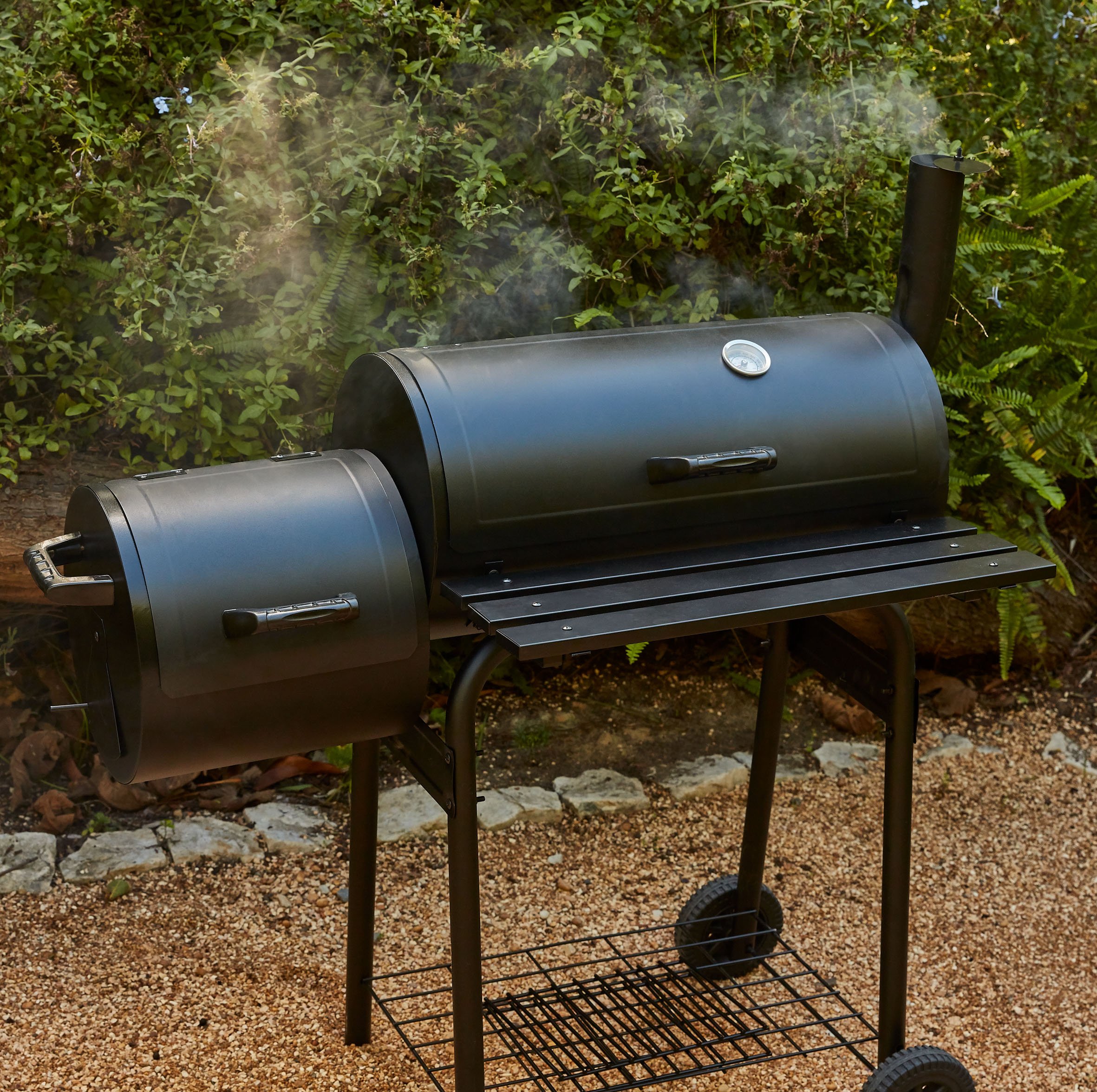 Smokers
For those who enjoy that mouth-watering smoked flavour, smokers are perfect. They can be used for food that needs a low temperature and a long cooking time.
Some can be used as traditional BBQs as well, so they're a great option when time isn't an issue.
Smokers are usually a separate section of the main BBQ grill, so they can reduce the heat but up the amount of smoke being released around the food.
Pizza oven
Can't decide between a pizza or smoked burgers and grilled veggies? A pizza oven lets you have both without having to head indoors and miss out on sun and socialising.
Simply put the pizza oven onto the grill and pre-heat, before sliding your pizza onto the centre to bake. You can make a variety of other food on these handy accessories, including bread and fish.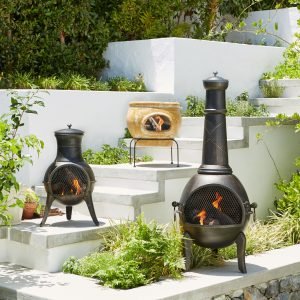 Chimeneas and fire pits
Chimeneas and fire pits are also another choice. The main difference is that fire pits are often open, whereas chimeneas enclose around the fire – allowing smoke to escape from the top chimney.
You can usually achieve a larger fire when using a fire pit and some models come with grills, so you can cook up a storm while warming yourself up.
BBQ Storage
Once you've chosen which BBQ is best for you, you'll want to keep it looking its best.
Therefore, you'll need to consider how to store it over the Winter months and during those pesky Summer showers. If you are unable to keep it in a shed or garage, you should consider buying a BBQ cover to protect it.
To find out more about handy BBQ accessories, check out our Best BBQ accessories guide.