Decks are a stunning addition to any home – providing space for dining, barbecuing and relaxing.  However, just like all natural materials, over time, UV rays can cause your decking to grey, while exposure to rainwater will lead to small splits and cracks forming.
To keep it looking its best year after year, it's important you know how to maintain decking.
Proper deck maintenance involves anything from conducting deep cleans, moving furniture around and even painting it. Deck paint is a great garden decking idea, it will not only refresh your outdoor space, but it will also help form a protective barrier around the timber.
To ensure you can continue to enjoy your decking area for years to come, we've put together some maintenance tips, along with a guide on how to paint decking.
Let's get started with what you'll need…
Materials
Tools
Before you start 
Take a look at our DIY Safety Tips to keep yourself and others safe. Keep deck paint away from children. Check the forecast before starting, as you should only paint decking in dry conditions.
How to maintain decking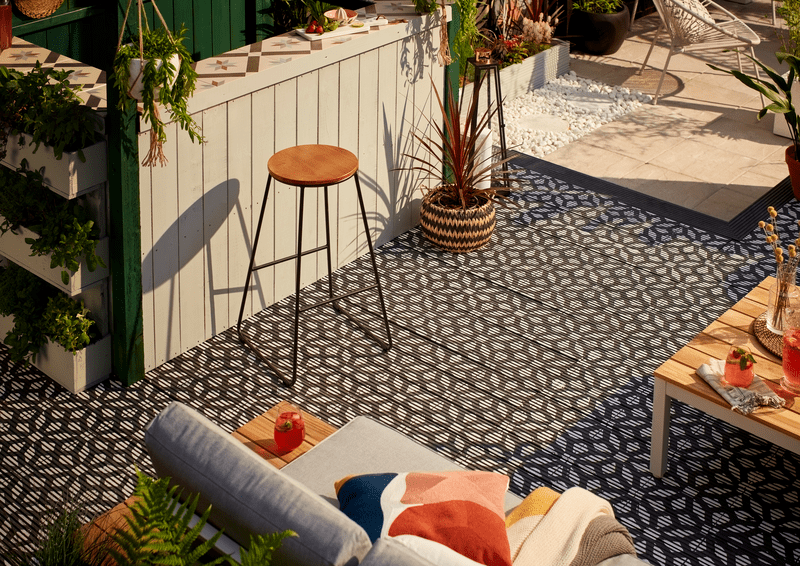 To keep your decking well-maintained, brush it regularly and at least once a year, do a deep-clean with your pressure washer. This will help to remove any grease or grime, which causes your deck to become slippery when wet.
Twice a year (in Spring and Autumn), inspect your deck for any nails that may have come loose, cracks that need filling, paint touch-ups, and for indications of rot or mould.
Protective products such as anti-mould or anti-mildew should be re-applied every 1-2 years.
Move your plant pots every so often and attach small "feet" to underneath the pots, to allow the air to circulate.
We recommend you leave new decking for at least six months before applying any deck paint or stain to it. To paint your deck, follow these simple steps.