Decks are a stunning addition to any home – providing space for dining, barbecuing and relaxing.  However, just like all natural materials, over time, UV rays can cause your decking to grey, while exposure to rainwater will lead to small splits and cracks forming.
To keep it looking its best year after year, it's important you know how to maintain decking.
Proper deck maintenance involves anything from conducting deep cleans, moving furniture around and even painting it. Deck paint is a great garden decking idea, it will not only refresh your outdoor space, but it will also help form a protective barrier around the timber.
To ensure you can continue to enjoy your decking area for years to come, we've put together some maintenance tips, along with a guide on how to paint decking.
Let's get started with what you'll need…
Materials
Tools
Before you start 
Take a look at our DIY Safety Tips to keep yourself and others safe. Keep deck paint away from children. Check the forecast before starting, as you should only paint decking in dry conditions.
How to maintain decking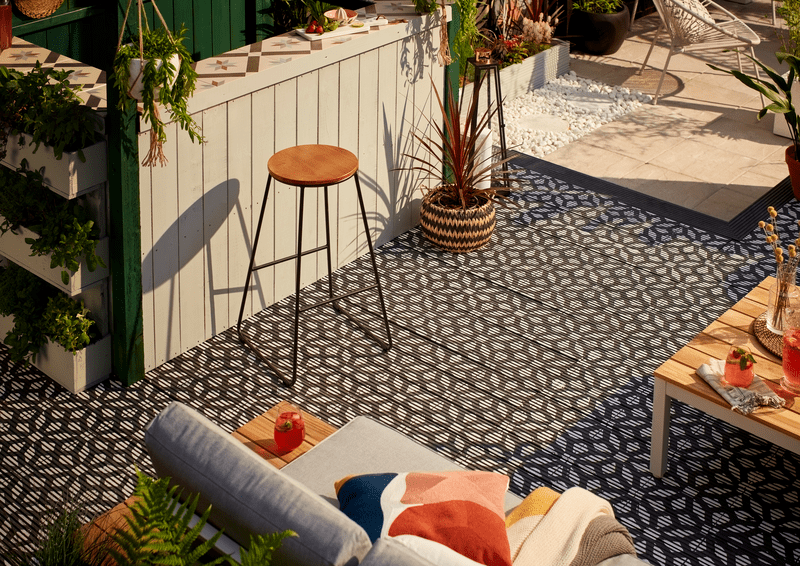 To keep your decking well-maintained, brush it regularly and at least once a year, do a deep-clean with your pressure washer. This will help to remove any grease or grime, which causes your deck to become slippery when wet.
Twice a year (in Spring and Autumn), inspect your deck for any nails that may have come loose, cracks that need filling, paint touch-ups, and for indications of rot or mould.
Protective products such as anti-mould or anti-mildew should be re-applied every 1-2 years.
Move your plant pots every so often and attach small "feet" to underneath the pots, to allow the air to circulate.
We recommend you leave new decking for at least six months before applying any deck paint or stain to it. To paint your deck, follow these simple steps.
How to paint decking
Painting your deck can be more than just a step in the maintenance process.
We have a range of deck paint colours available that can help to add personality and charm to your outside space. Plus, with some clever stencilling, you could create a tile or mosaic effect.
Check its condition
Carry out your regular maintenance checks – sweeping away any dust and debris and checking for loose boards or cracks.
Prep it for painting
If you have applied deck paint before, use a paint scraper to remove any remaining layers. Then, sand down your decking in the direction of your deck boards. Keep in mind that this only works for smooth boards and not grooved ones.
Apply your deck cleaner and start working it into the timber with a scrubbing brush. Rinse with a pressure washer on the lowest setting and leave to dry for 24 hours.
Keep in mind that you can apply a deck paint or stain over a previously oiled deck, but you cannot put oil over a previously stained or painted deck without removing it completely before treating.
Top tip: If you notice your deck is prone to mould or mildew – spray a deterrent onto the deck, work it in and then rinse off.
Protect any necessary areas with masking tape or plastic sheets. Then, apply a wood preserver primer to the deck.
Ensure to prime every seam between the boards and use a brush for any areas that a roller cannot reach. Leave to dry for the recommended amount of time.
Top tip: Wood preserver will help to protect your timber from the elements, rotting and decay.
Apply your paint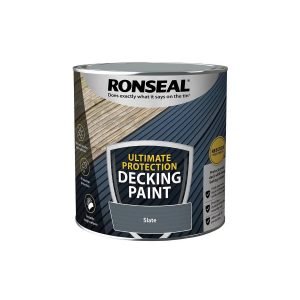 Give your deck paint a good stir before applying to achieve a consistent colour.
Start in the furthest away corner and work your way backwards. Move in the direction of the wood grain using a generous coating, and apply extra paint over any splits or cracks to help fill them in.
Use a roller or paint sprayer to work quickly and then a brush to get to the fiddlier areas. Ensure each coat is completely dry before applying the next. Once you're satisfied with the result, remove the masking tape and touch up your remaining small areas.
For a tiled effect, stick some stencils onto your deck boards with masking paint. To avoid your deck paint bleeding through your lines, apply a light pressure with your roller.
Top tip: The best time to paint your deck is when it's in the shade, as direct sunlight can make it dry patchy.
And there you have it! That is how to paint and maintain decking. If you want to discover more of our garden decking ideas, you can do so here.