Enjoying the outdoors for longer with family and friends is a great way to spend those Summer evenings. No matter how big or small your garden may be, there are many ways you can create an outdoor living space perfect for entertaining and relaxing. Plus, it's a simple approach to adding on some weather-proof square footage to your home.
All it takes is a little planning – and if you're short on inspiration, this guide is full of great outside living space ideas you can use to transform an area in your garden into an outdoor living room.
Before you start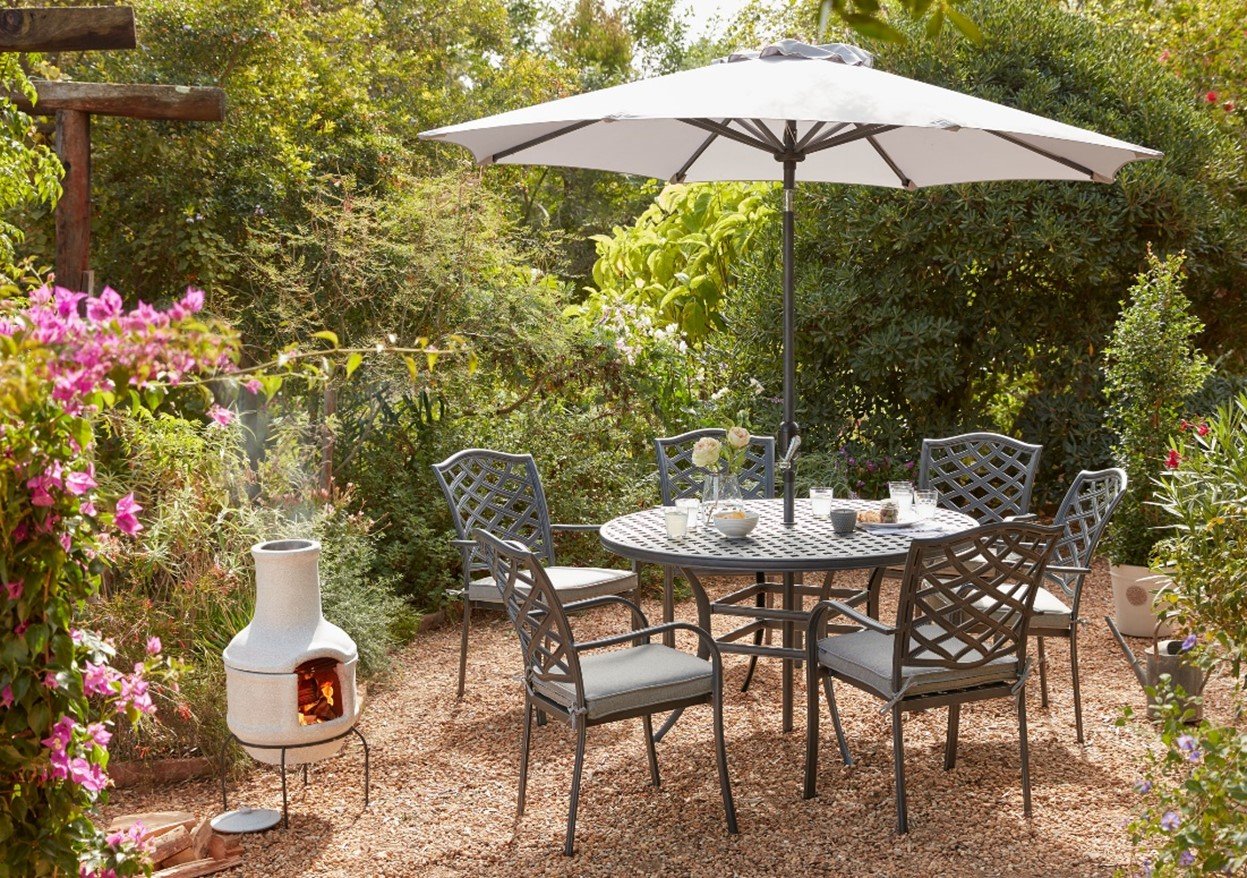 This is a great, fun and inspiring project. However, if you do find yourself using any power tools or new pieces of furniture, always read the instruction manuals. We also recommend you read our DIY Safety Tips.
Purpose
First, you need to think about how your outdoor living room will be used.
Will your outside living space need a kids play area, or is it an adults-only spot?
Will it typically be used for entertaining friends and family, or as a space to relax in?
Think about how you want your outside living space to come together, so you can plan and design accordingly.
Top tip: Don't forget to consider the views your property has to offer and which way the sun travels around your garden, as this will help you decide where best to place your furniture.
Theme
To create an outdoor living space that feels cohesive and well-planned, first choose your colour palette. Keep things simple and visually extend your indoor space by building an outdoor living area with similar furniture and accessories such as garden sofas, rugs and cushions.
The colour palette should reflect the setting you want to create – soft, muted colours will create a peaceful and relaxing aesthetic, while bold pops of colour will help your space to look party-ready.
Top tip: Changing out your patio doors for a folding set is a great way to create a natural flow from the inside of your house into the garden.
Seating
All good living rooms start with comfortable seating – now it's time to decide what outdoor furniture is right for you.
A contemporary outdoor corner sofa will make your space feel inviting. However, if you have a smaller garden space, you could use deck chairs and floor cushions as an alternative seating solution.
Hanging garden chairs are a great way to create a relaxation space for the ultimate outdoor retreat, or you could opt for an arbour, which with the additional of some climbing plants and cushions, makes for the perfect cosy reading spot.
To stay on trend, take a look at 'Guide to the Best Garden Furniture' for popular garden furniture ideas.
Shelter
Creating a sheltered space will allow you to enjoy your new outdoor living room all year around.
Whether you prefer a temporary solution that you can fold down when the sun is shining or you're in search of something more structured, Homebase has a range of options.
Parasols are a great inexpensive option that suits almost any style of garden. Alternatively, a covered patio will serve you well in all seasons, or a pergola will act as a natural focal point and can be easily decorated and customised with solar , a canopy and climbing plants.
For more outdoor shelter options, check out our Garden Shelter Ideas.
Zoning
Zoning your outdoor living room will encourage you to make the most out of your space and is a great way to make sure everyone in the family has their own little spot. Think of this in the same way you would plan an open-plan dining/living area.
A space for dining and cooking is an obvious place to start, so you'll need a BBQ – but you could think about building an outdoor kitchen if you've got some family members who love to cook up a feast.
If you have younger children or friends and family with little ones who visit, you could create a designated outdoor play zone with a climbing frame, sandpit or play table. Make sure you place this within eyesight of where the adults will spend most of their time.
Top tip: To create distinction between your garden zones, add screens to create a little privacy in certain areas.
Lighting and heating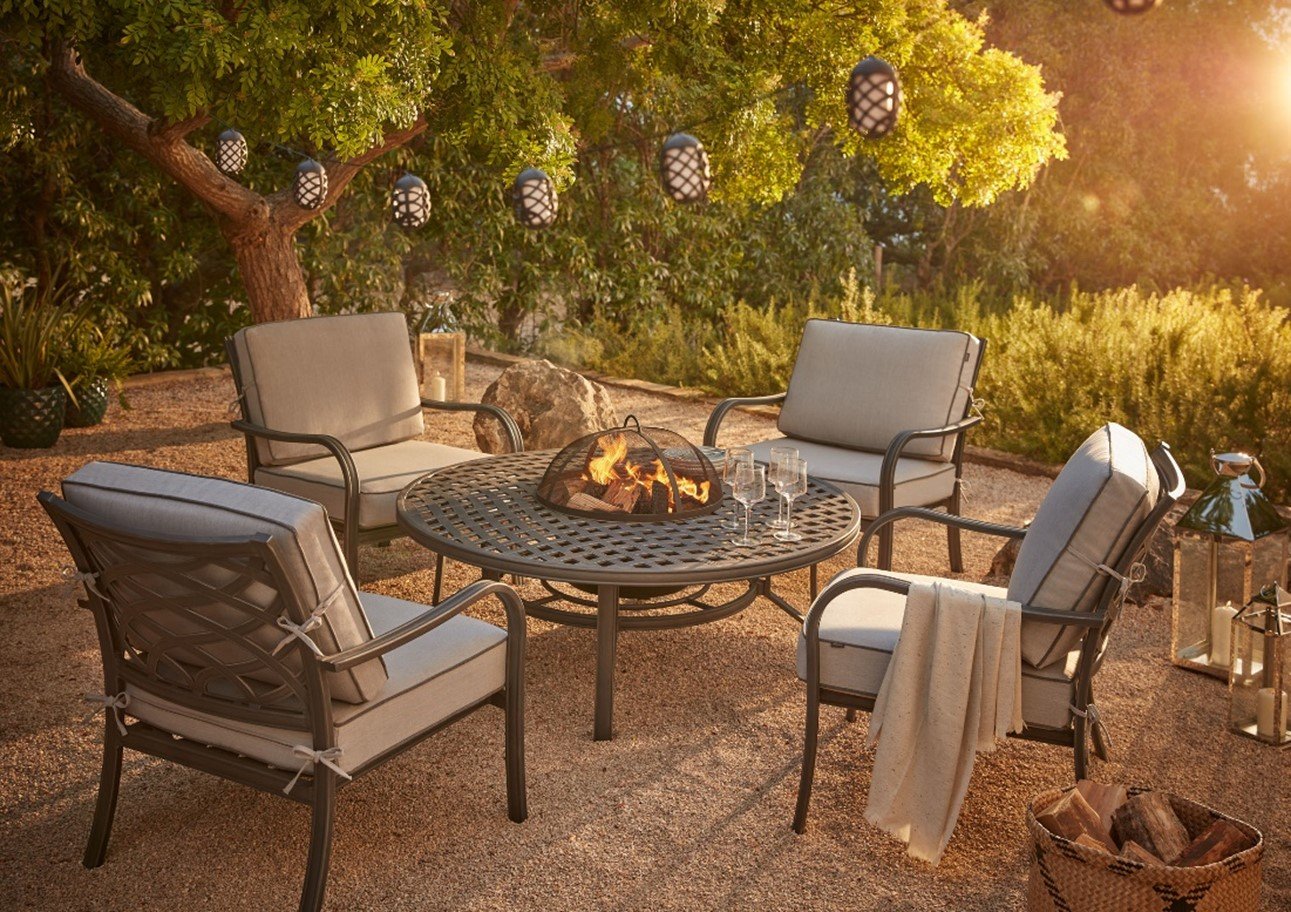 To keep the entertainment going after the sun goes down, add a form of outdoor heating. A firepit or chiminea are both great options – plus s'mores always make for a great dessert!
Your choice of lighting for your new outside living space will also help you create a beautiful atmosphere and set the tone for the rest of the evening.
If you want to light up a pathway, solar lights are a great option, as they automatically illuminate at dusk with no mains wiring required.
At Homebase, we've got everything you need when it comes to outdoor lighting – check out our full range here.
That's your outdoor living space complete. Don't forget to upload a photo of your new entertaining area to social media and tag us @homebase_uk.