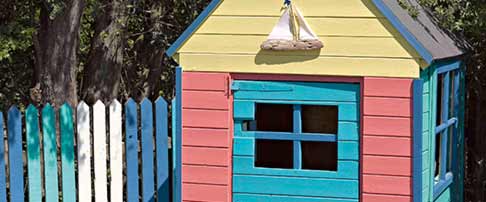 Garden furniture and fencing
can take a battering during the wet and cold winter season. When the spring finally arrives, embrace the milder weather and bring your tables, chairs and fencing back to life.
A bit of elbow grease and a simple lick of paint can transform a humble bit of garden furniture or a fence into a statement piece.
Project Overview
Tasks
Time needed
Step 1
Choose your colour scheme – you don't just have to sand down and protect, it's your chance to transform your look.
About 2hrs
Step 2
Metal – all metal furniture needs the same basic treatment: clean, dry, treat rust. That's often all that's needed.
About 4hrs
Step 3
Wood – needs to be cleaned and dried, sanded and dusted down. Then you can choose to allow it to weather naturally, paint or stain.
About 4hrs
Step 4
Exterior paint – if you've chosen to change your colour scheme, now's your chance to do it.
About 4hrs
---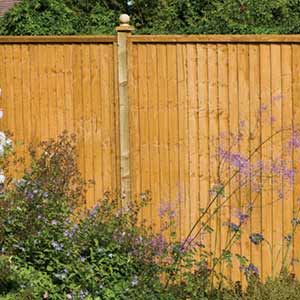 Step 1 – Choose a colour scheme
Inspect your furniture and fences
Head out into your garden and inspect the condition of your furniture and fences after the snow, wind and rain of winter. Give them a thorough going-over – look underneath tables, take a peep at panels and pay attention to chairs. Watch out for signs of rust, peeling paint and fading colour.
Choose a colour scheme
As you assess their current state, take a little time to think about what colour scheme you'd like to use in your garden. Although sanding and treating your furniture or fence can help spruce up their look, garden furniture paint can really up the wow factor. You can brighten up your patio area and create a pretty backdrop for your borders and beds.
Splashes of colour may already be emerging among your plants, so think about how you can complement them. Pick out light brown or green-toned garden fence paint if you want something that'll blend easily into your backyard. Take inspiration from your blooms and create a colour clash – a mixture of cherry blossom pink, vivid daffodil yellow and bright hyacinth purple. If you prefer cooler tones, exude contemporary style with dove grey, chic cream and muted blue.

View our guide to exterior paint ideas
---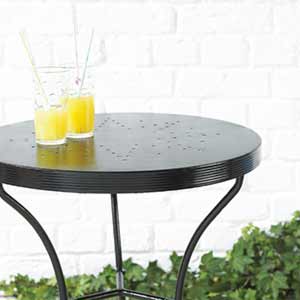 Step 2 – Metal furniture
Revitalise your metal furniture
Made from aluminium, steel or iron and finished in protective layers of varnish or lacquer, this furniture is built to last. But giving it a much-needed clean is required from season to season. And that's what this afternoon is all about.
Fill up a bucket with warm soapy water and use a sponge to gently wash each individual piece. Rinse and dry with a cloth. You may find a layer of winter-hardened grime gives way to a blemish-free coat of paint – meaning there's no need to give it another layer. To save on time, you can use a pressure washer to do the hard work for you, but this must be done on a low setting to avoid causing damage. Rust can be removed with steel wool, then touched up with specialist exterior metal paint.
Metal furniture can be revamped with either a pot of metal paint or a spray version. Some can be applied straight onto the piece, whereas others may require a layer of primer first. Brush or spray on the first coat and allow to dry completely before applying the second.
Finally squirt oil onto joints and fixings to improve movement and eradicate any squeaks, too.
---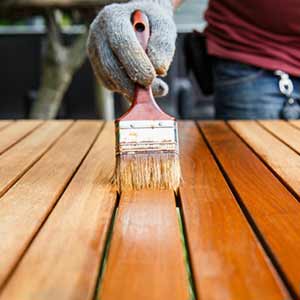 Step 3 – Wood
Treat your wooden furniture and fences
Roll up your sleeves and start by removing excess dirt with a stiff brush. Then give it a good clean with hot soapy water, rinse off and leave to dry.
If you're planning on treating or painting your wooden furniture or fences, a light sanding will go a long way to creating a pristine finish. Smooth down all the surfaces with sandpaper and brush away excess dust.
Wooden furniture tends to fall into two categories – hardwood or softwood – and depending on which one you have, you may need to apply a protective oil treatment. The natural oils of durable hardwood mean a preserver isn't usually needed, while softwood may need treating. Use a rag to apply horizontally, following the grain, and replace the surface tannins.
---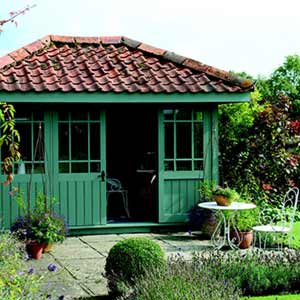 Step 4 – Exterior paint
Garden fence and furniture paint ideas
Now it's time to use your colour scheme from step 1. Smartening up your surfaces with paint not only injects a pop of colour into your outdoor space, but shields them from the elements too. Double check the weather forecast before you begin, as a dry spell is crucial for a successful paint job.
Spend a little time prepping. Lay out dust sheets along borders if you're painting your fence or if you're sprucing up furniture cover up paving. Cover edges of concrete fence posts or any metalwork with masking tape to create clean lines.
When painting wooden furniture, work along the grain gently, taking care not to overload the brush. Allow to dry completely before applying the second coat.