Many of us love sprucing up our homes and redecorating, particularly as we move from Summer into Autumn, and we begin to see new interior design trends that tempt us to change up our living spaces to reflect the weather outside.
As we begin to immerse ourselves in Autumn/Winter 2021, we are beginning to see lots of new interior design ideas such as the incorporation of vivid greens, dark wood details and rustic rattan.
With lots of new arrivals in store and online, we've put together our favourite 2021 interior design ideas to give you a little home inspiration.
Plus, scroll to the bottom of the page to find out how to enter our Instagram competition to win a £300 voucher to spend at Homebase!
Cosy up with layered textures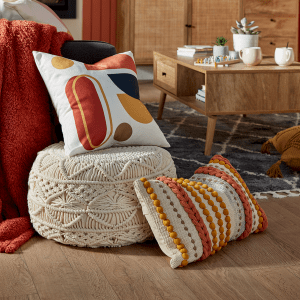 One of the major trends of this season is cosy comfort. As we ready ourselves for the cold weather, nothing sounds better than creating a safe and comforting haven to retreat to.
Layers of soft textures and checked patterns are on-trend and will add character to your home. From cushions and rugs, to wallpaper and curtains, having checked accents alongside different fabrics and textures – such as faux fur and neutral colours – will create an organic, homely feel.