What outdoor heating system is right for you?
Electric heaters
The easiest way to heat your garden is with an electric heater – simply plug it in, flick a switch and enjoy instant warmth. You can choose from different types of electric heaters, ranging from floor, table top and wall mounted units to tall freestanding models. Some can even be used indoors in your garage or workshop. There's an electric heater to suit all your needs, whatever your budget.
What to consider when choosing an electric heather
Look for heaters that use short wave lamps. These produce heat in the infrared band that warms the body not the air, meaning the heat won't be disrupted by a breeze.
Medium and long wave lamps warm the air itself, which doesn't make it as easy to direct the flow of the heat.
Short wave lamps typically use clear halogen, ruby red halogen or gold bulbs, while medium and long wave heaters use quartz.
The higher the kw of a heater, the more warmth it will generate.
You'll need to have an electrical outlet to plug your heater into.
Some models of electric heaters may make noise, although it isn't usually very loud.
Firepits & fire baskets
Firepits and fire baskets are freestanding open fireplaces, usually made from steel or cast iron, in which you burn wood. Make sure any wood you burn is untreated or painted as this can release dangerous chemicals.
Outdoor firepits and baskets serve several purposes:
They generate heat just as a traditional open fire would.
They can be used as an incinerator.
Some models can be used as a traditional charcoal BBQ if you put a cooking grill over the flame.
You can gather around them to toast marshmallows over the open fire.
Chimeneas
Chimeneas are a traditional form of outdoor heater that originated in Mexico and are usually made from clay, cast iron or steel. Most chimeneas follow the traditional design of a round lower body topped by a vertical smokestack, and although modern styles are available they all work in the same way. Load wood into the open front, then light to create a fire. Some models are even available with cooking grills that allow them to be used as BBQs.
Chimeneas are available in 2 distinct styles:
Clay chimeneas come in a variety of traditional designs and bright colours and make stunning centrepieces, especially when surrounded by garden furniture.
Metal chimeneas can be more expensive than clay models but they tend to last longer as they're more robust.
Cooking on fire pits and chimeneas
You can cook just about anything on a fire pit or chimenea that you would on a regular BBQ. Whether you're cooking up succulent burgers or toasting marshmallows, all you'll need is a grated grill. Skewers are great for tasty treats like marshmallows and veggies – simply hold them carefully over the flame. Alternatively, you can purchase foil trays and place these directly on the fire to cook food.
You can find chimeneas that come prepared with a grill, although they're easy to slot into place if the model you choose doesn't feature one. The result? An unmistakably smoky feast and very impressed guests.
Take a look at the helpful video below for more outdoor entertaining tips:
What fuel is best?
Outdoor Heating Fuels Pros & Cons
Type
Pros
Cons
Gas
Doesn't require an electric outlet, can be moved around, affordable, sturdy.
Some models can be heavy.
Wood
Renewable energy source, traditional feel, natural warmth.
Must have a supply of dry logs available.
Electric
Easy to use, safe for use in small areas, light to carry.
Requires a plug socket – restricted placement, slower to heat up.
Natural Gas
Heats up quickly, efficient.
Usually has to be installed by a professional and has to be fixed to a single location.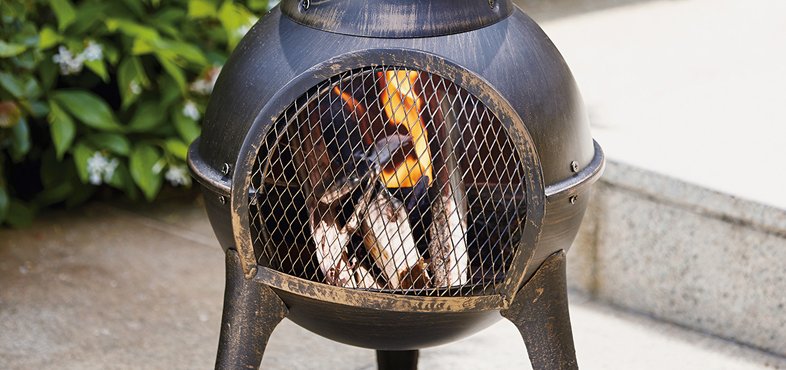 Protect your outdoor heater with a suitable cover
How should you look after your outdoor heater?
Whichever form of outdoor heater you choose, you'll need to maintain it to ensure it continues to serve you well throughout the years. Here are some top tips for keeping them in the best condition:
Electric
Replace bulbs when necessary. Store safely away or use a protective cover when not in use for extended periods.
Open flame
Once cooled after use, wipe down with an oily rag to safeguard against rust. Firepits, bowls, baskets and chimeneas will stand up against the occasional summer shower but will need protection from harsher conditions. As it's not so easy to store them away like smaller electric heaters, it's a good idea to buy a suitable cover to keep them protected.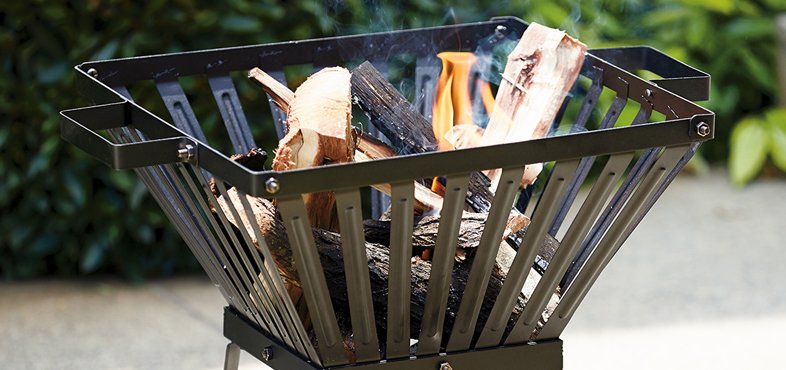 Keep water close by in case you need to extinguish your fire
Any important safety considerations to think about?
Whether you choose an electric or open flame outdoor heater, there are a few simple rules to stay safe:
Electric
Keep the electrical cable that connects the heater to the power outlet tucked safely away to avoid accidentally tripping over it.
If you choose a floor or table top heater, make sure children are prevented from touching the heating element.
Any maintenance should be carried out by a professional electrician.
Open flame
Whichever type you buy, make sure they're used only on a level surface.
Don't use too much wood or create a fire that's too large.
All open flame forms of outdoor heating should only be used outside, and children and animals kept a safe distance from the fire.
Keep water handy in case you need to extinguish the fire.
Top tips:
If you choose a clay chimenea, you'll need to cure it before initial usage.
Curing entails lighting a few small fires in the chimenea, which coat its interior with soot and seal the pores in the clay.
This is an essential process that protects the chimenea against moisture damage and cracking.