As the latest trend in at-home entertaining, a garden kitchen will create the space for you to enjoy cooking, dining and socialising outside all year-round. Whether you have a large garden or smaller patio, we have a range of outdoor kitchen ideas to suit your needs, budget and available space.
Get ready to take your al-fresco cooking to the next level.
Before you start  
Creating your own outdoor kitchen may require product assembly and the use of power tools. Read our DIY Safety Tips, along with your tool manuals, to keep everyone safe.
Location and size
First, decide where you want your outdoor kitchen to be and how much space you want to dedicate to it.
If possible, a great spot is nearby to your indoor kitchen. By connecting your indoor space to the garden with similar colours and glass doors, you can create a cohesive, open plan area that makes your space feel bigger.
Draw up a plan that gives you enough prep and cooking space. If you're restricted on square footage, opt for a U-shaped, integrated design – or, fit your garden kitchen along just one wall.
Don't forget to also take into consideration where the best views are in your garden and where the sun sets.
Top tip: If possible, locate your outdoor kitchen in an area that is sheltered from the wind and not fully exposed to sunlight.
Zoning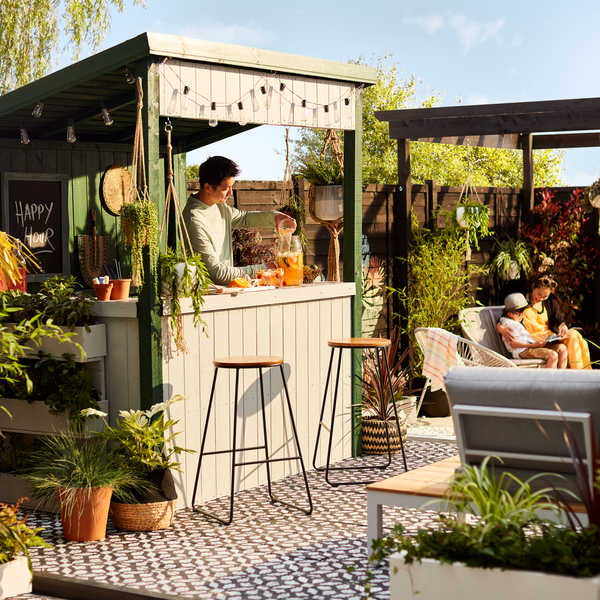 Section off your outdoor kitchen to distinguish it as a more functional working space from the rest of your garden.
One way you can do this  is by building your outdoor kitchen on a decking area. If you're unsure on how to plan and lay decking, check out this handy guide.
An alternative outdoor kitchen idea is to lay outdoor tiles on top of some free grass space and secure walls tiles or self-adhesive tiles to a plasterboard border to create a striking backdrop for your garden kitchen. Or, take a look at our How to Make an Outdoor Garden Bar guide to see how you can create the perfect entertaining space.
Top tip: If you are locating it next to your interior kitchen, use similar outdoor tiles for a seamless transition from indoors to outdoors.