As the latest trend in at-home entertaining, a garden kitchen will create the space for you to enjoy cooking, dining and socialising outside all year-round.
Whether you have a large garden or smaller patio, we have a range of outdoor kitchen ideas to suit your needs, budget and available space.
Get ready to take your al-fresco cooking to the next level.
Before you start  
Creating your own outdoor kitchen may require product assembly and the use of power tools. Read our DIY Safety Tips, along with your tool manuals, to keep everyone safe.
Location and size
First, decide where you want your outdoor kitchen to be and how much space you want to dedicate to it.
If possible, a great spot is nearby to your indoor kitchen. By connecting your indoor space to the garden with similar colours and glass doors, you can create a cohesive, open plan area that makes your space feel bigger.
Draw up a plan that gives you enough prep and cooking space. If you're restricted on square footage, opt for a U-shaped, integrated design – or, fit your garden kitchen along just one wall.
Don't forget to also take into consideration where the best views are in your garden and where the sun sets.
Top tip: If possible, locate your outdoor kitchen in an area that is sheltered from the wind and not fully exposed to sunlight.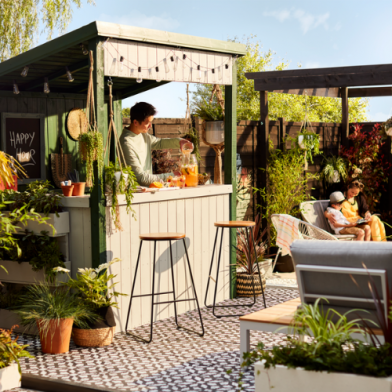 Zoning
Section off your outdoor kitchen to distinguish it as a more functional working space from the rest of your garden.
One way you can do this  is by building your outdoor kitchen on a decking area. If you're unsure on how to plan and lay decking, check out this handy guide.
An alternative outdoor kitchen idea is to lay outdoor tiles on top of some free grass space and secure walls tiles or self-adhesive tiles to a plasterboard border to create a striking backdrop for your garden kitchen.
Top tip: If you are locating it next to your interior kitchen, use similar outdoor tiles for a seamless transition from indoors to outdoors.
Shelter and storage options
You'll need plenty of shelter and storage in your outdoor kitchen.
Whether it's a pergola, awning or garden screening, think about adding some shelter for shade and privacy.
Incorporating storage options will mean you can neatly store away everything you'll need for al fresco cooking. Our Hartington Wooden Outdoor Kitchen range is a great integrated option, it features a worktop space, drawers and cupboards to hold your cooking essentials. Every product in this range is freestanding, so it can be stored away in Winter if needed.
Fix floating shelves to a nearby wall or fence to hold essential spices and condiments, and use free wall space to add hooks to hang BBQ tools, tea towels and even pots and pans.
If this isn't possible in the space you have, don't worry. Other outdoor kitchen ideas include using a storage trolley, so you can easily wheel out all the ingredients you need for your al-fresco cooking session. A wine rack is also a good idea for a place to store beverages and soft drinks, or you could fill a garden planter with ice to create your own DIY drinks cooler.
Cooking appliances
Of course, you can't forget the showstopper of your garden kitchen – the cooking appliances. A BBQ is a must-have for any outdoor kitchen. If you're stuck deciding which one to choose, check out our BBQ Buying Guide for a little inspiration. Also, make sure you've got all the BBQ accessories you need, so you don't have to keep dashing inside!
Alternatively, a Chimenea will help you to fire up a storm while also providing a source of heat to toast some tasty treats over after dinner.
Top tip: If you want to take your garden kitchen to the next level, installing a sink outside will help make hosting BBQs even easier.
Seating area
Set up a bar area close to your outdoor kitchen to create a relaxing space for friends and family to socialise. Take a look at our How to Make an Outdoor Garden Bar guide to see how you can create the perfect entertaining space.
Alternatively, you could have your garden kitchen in the same location as your outdoor dining area – you'll just need to think about how to keep the smoke from the BBQ at bay.
Dress up your outdoor dining set with stunning serveware, glassware and crockery to make your al-fresco dining experience feel a little more special.
One of our most popular outdoor kitchen ideas is to set up a firepit nearby, so that everyone has a space to gather round and keep warm. It also ensures that your drinks and after-dinner snacks are well within reach for socialising late into the evening.
Top tip: Be cautious around open flames, especially with children.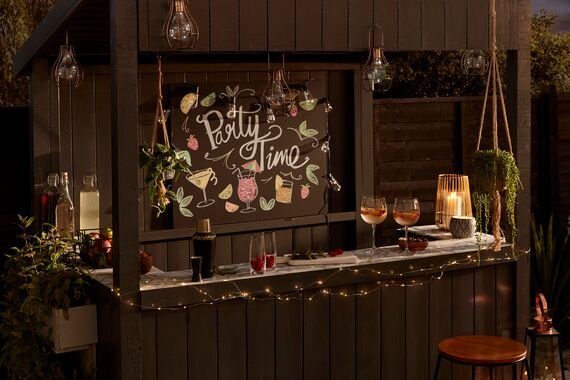 Add a little personality
Finally, don't forget to add some personality and character to your outdoor kitchen, to really make it your own.
Paint a wooden board with chalkboard paint to create your own menu board, or keep potted herbs like mint, oregano and parsley nearby. These are great for adding home-grown produce to your meals.
Don't forget to think about lighting options – string lights or lanterns are great for creating a soft, warm ambience, while solar lights are perfect for lighting up pathways or borders and will automatically illuminate at dusk.
And those are our outdoor kitchen ideas! Don't forget to share your outdoor kitchen creations with us @Homebase_uk on Instagram, and check out more of our garden ideas here.