Whether you paint an on-trend colour on your walls and fireplace or replace your lighting and flooring, simple changes can update your living room and create a completely new look. From fitting new blinds to adding statement art and storage, here are some stylish living room ideas from Julia Kendell.
1. Replace curtains with blinds to maximise light and space
Curtains of any type are notoriously light-absorbing and if you want an open, lighter look, replacing curtains with blinds will dramatically enhance any room. Wood slat blinds are a great choice to maintain privacy levels and allow as much or little light in to the room as you need. While timber finishes provide a statement look, painted versions reflect more light into the room and maximise available light and the feeling of space. Venetian blinds are similarly practical, but the metal construction gives a masculine/commercial feel whereas wood slats give a 'softer', elegant look. Try spraying blinds with a suitable paint to create your own look to suit your colour scheme. Temporarily fix the top of the blind (preferably outdoors in a sheltered location) so you can drop the blind fully. Build up several light coats to the top, underneath and sides of the slats for even coverage.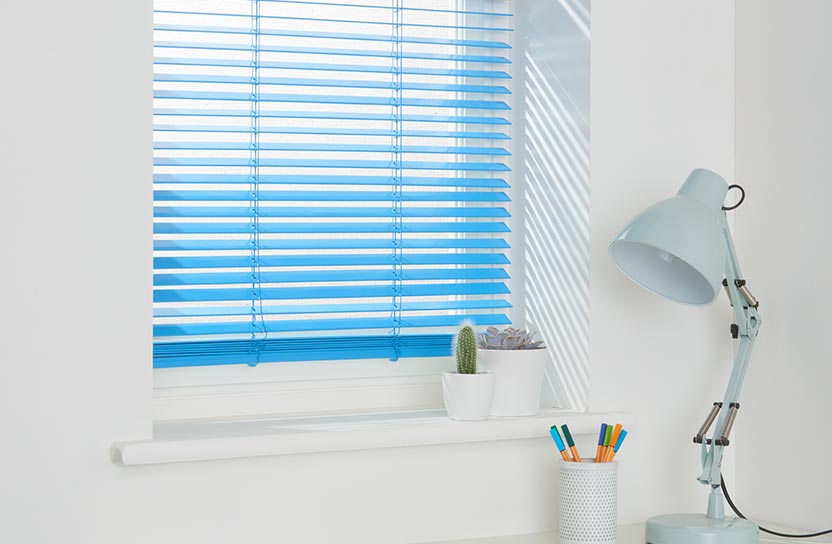 Products featured: Chalk Wood 25mm Blind and Rust-Oleum Spa Blue spray paint
2. Swap old carpets for elegant wooden floors
As with curtains, carpets also absorb natural light and minimise the illusion of space in any room. Swap out an old carpet for an elegant wooden floor that will increase light and space, with the benefit of adding value to your home. Not only that, furniture generally looks more desirable against a solid floor than carpet too. For a budget alternative and to create a bespoke colour for your interior, paint the floorboards with a hard-wearing floor paint for a practical, light-reflective surface. Prior to painting fill any draughty gaps with slithers of timber or use a flexible caulk for minor cracks and gaps.
Products featured: Farrow & Ball Blue Green no.84 Modern Eggshell and a Noodles Rug
3. Line cabinets with bold wallpaper
Breathe life back into an old cabinet or shelf unit using a colourful, patterned wallpaper to line the inside. This is a great way to try out a new shade and it adds a punch of colour and pattern to a room without having to totally redecorate. Choose a colour that complements the items you're displaying and the palette of the room. Edit your display items to achieve a good balance of interesting shapes and finishes and an uncluttered overall look.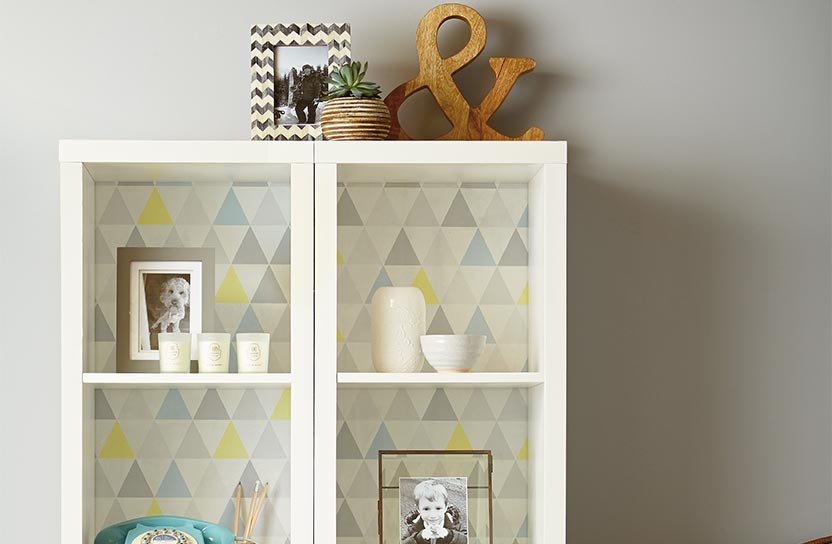 Products featured: Clever Cube Storage
4. Add clever storage for a clutter-free look
3Organising your living room with plenty of storage solutions will instantly produce a harmonious and tidy environment. Cube storage with internal drawers, pull-out boxes and open shelves provides, neat, flexible storage to suit most situations. Pull-out canvas and wicker boxes are perfect for keeping children's toys in order and out of sight after bedtime. Choose a combination of finishes to complement your interior scheme and use storage to add more colour or texture to your room.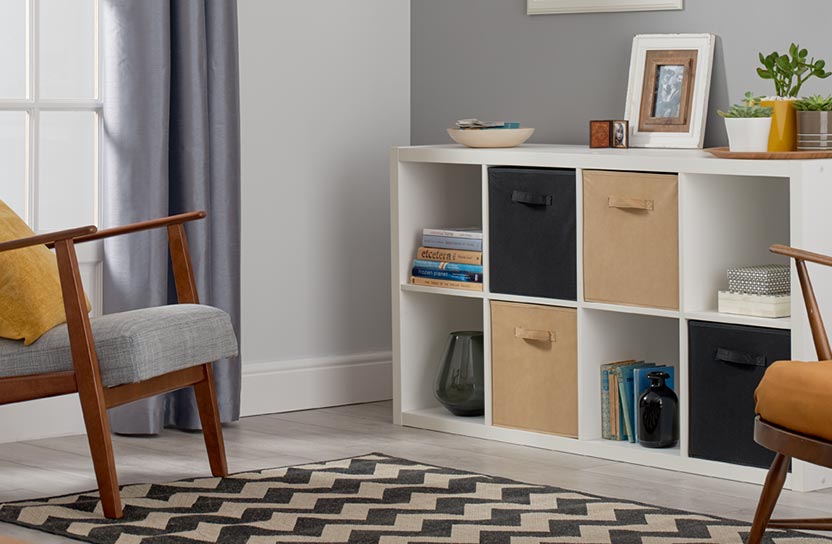 Products featured: Clever Cube Storage, Flexi Clever Cube Coffee Fabric Inserts and Flexi Clever Cube Black Fabric Inserts 
5. Use lighting to transform your space and change the mood
Good quality lighting can transform a room, changing the atmosphere and mood as much as the light levels. For a quick-fix, add in a statement lamp or two to add light to a dark corner, accent a feature or provide a little extra light for reading. Choosing a tall lamp will make a real impact, adding height and interest to the space. Choose a warm white bulb for a cosy ambience and cool white for a contemporary, urban look.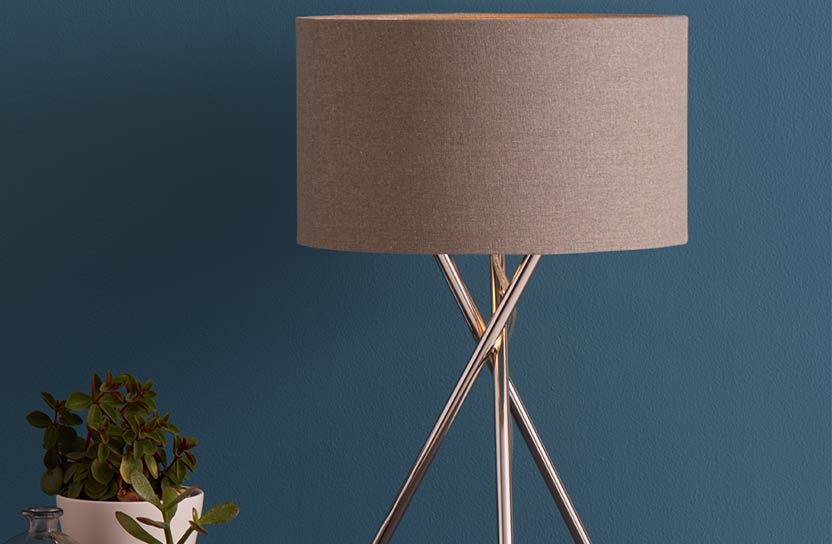 Products featured: Infinity Tripod Table Lamp
6. Refurbish accessories and furnishings with specialist paints
With the latest developments in specialist paints it's easier than ever to refurbish accessories and furnishings, quickly and effectively. Transform a table top, lamp base, picture frame or any item that looks dated or tired with a striking marble, patinated metal, metallic or concrete finish. If your room needs brightening, painting a few dark elements with a lighter or metallic finish can make a huge difference to the overall feel of the room.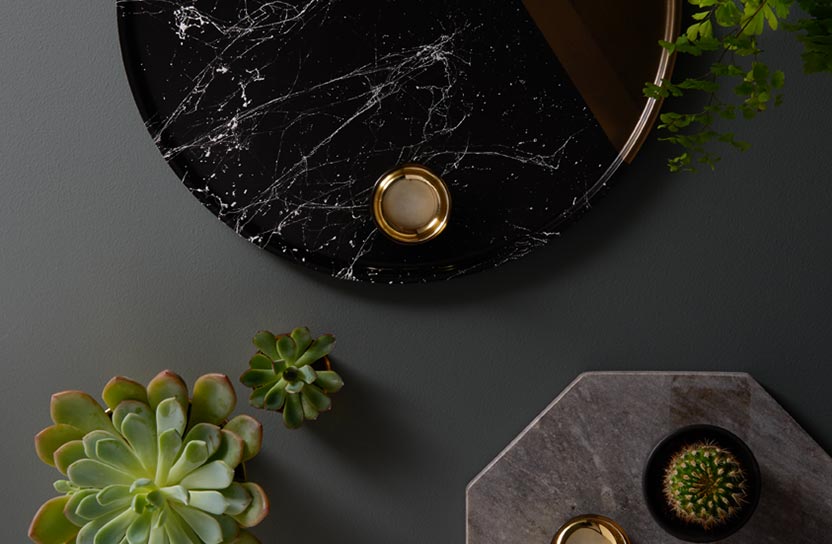 Products featured: Craig & Rose Artisan Marble Effect Spray Paint 
7. Paint walls in on-trend sage
Sage will be a strong trend neutral for 2018 and is a very easy and calming colour to live with. Redecorating from beige to sage will revive and modernise a living room and is a perfect backdrop for warm metallics and deeper greys. Combine with live greenery for a fresh and energising space for spring and summer to come.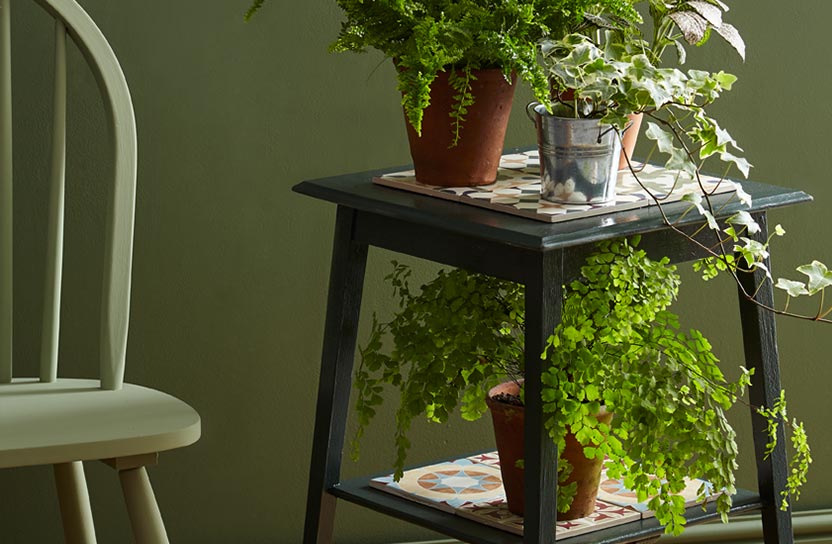 Products featured: Craig & Rose 1829 Eggshell Deep Adam Green Paint

8. Create your own statement art
In interior design circles, the gallery wall is last year's news. Create 2018's latest look, 'statement art,' using a sheet of mdf, timber architrave to frame it and a fabulous wallpaper! Paint the architrave a colour to complement the wallpaper or to match the woodwork in the room. This easy-to-make decoration is a great solution to bring large-scale pattern and impact to your home if your wallpaper skills aren't as good as they could be! It's also a perfect way to make a big impression in a rental home where changing the decor isn't an option.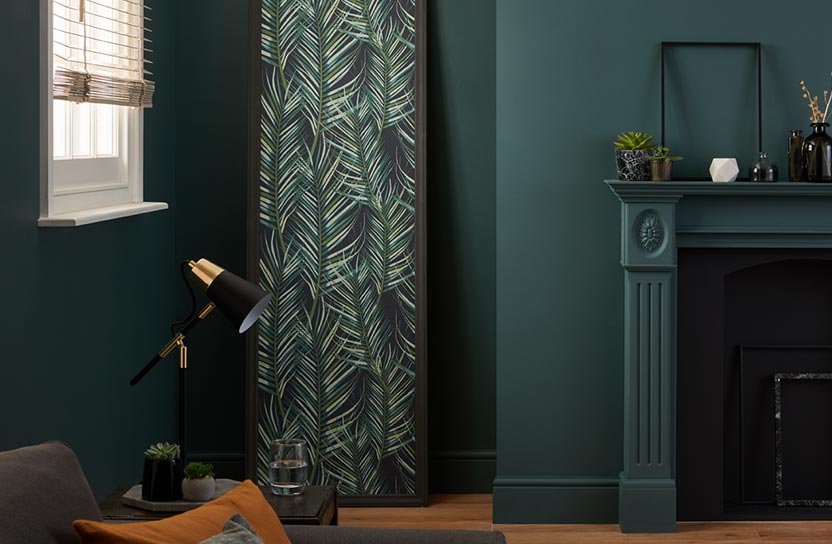 Products featured: Farrow & Ball Estate Inchyra Blue No 289, Superfresco Palm Leaves, Rust-Oleum Graphite Chalky Furniture Paint (paint on architrave), Hockey Pine Moulding, Chalk wood Venetian Blind, Cotton Duck Ochre Cushion, Chenille Dark Grey Cushion and Classic Oak Solid Wood Flooring
9. Paint your fireplace
The fireplace is generally the focal point of the living room, but if it has a drab and old-fashioned wooden surround it can let the whole room down. A fire surround that isn't a great shape but can't be easily removed will benefit from painting to match the wall colour. This will help to disguise it within the overall scheme and in turn will make the room appear more spacious. To make the fireplace stand out as a feature, update it with an on-trend, bold colour.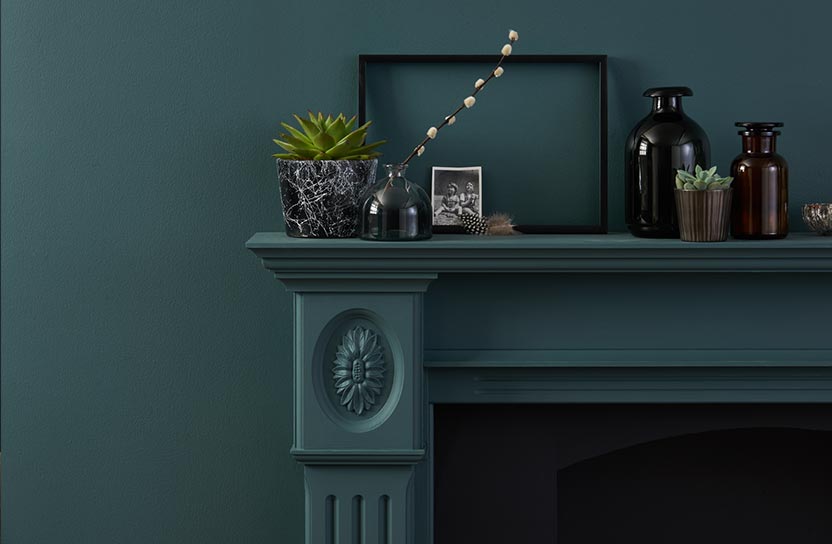 Products featured: Farrow & Ball Estate Inchyra Blue No 289, Craig & Rose Marble Effect White Spray Paint, Panna Pot, Echeveria Plant Mix, Succulent Indoor Plants and Mini Ceramic Plant Pots