If you're ready to pick the perfect tree for your home this Christmas, we've got a veritable forest of firs on offer – from pine scented Spruces to family-friendly Firs. Before you buy your tree, you need to make sure you find the one that's best for you, we've created this handy guide to real Christmas trees.
Real trees from Homebase
At Homebase, we're incredibly proud of the quality of our real Christmas trees, all grown right here in the UK and Ireland for up to 12 years. Plus, they're lovingly nurtured for us by our growers – from seed to store. If you're buying a real tree, you'll need to think about its size, shape and scent. Does it hold its needles well? Is it strong enough for heavy ornaments? Is it suitable for young children? Find out all this and more with our in-depth breakdown of Homebase's most popular Christmas tree varieties.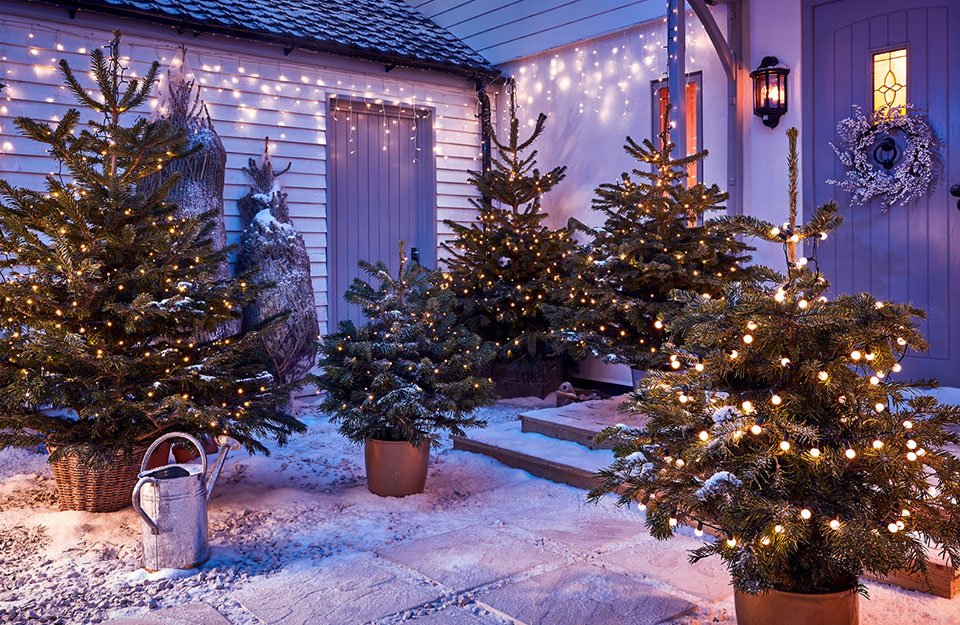 Why choose a real tree?
With almost 8 million sold across the UK every year, we've got many excellent reasons why you should choose a real Christmas tree:
Timeless and traditional
The soft, aromatic smell of pine
Eco-friendly – a fully bio-degradable choice, Christmas tree fields are undisturbed for most of their 8-12 year growing cycle – meaning they're great for wildlife too
What's more, our "green trees" are just that – it would take 10 years of using an artificial tree from new for it to be as eco-friendly as a real tree
Fun for all the family – "choosing the tree" is a classic family activity
Farmer-friendly – Christmas trees are specially grown on otherwise wasted land
Job-creating – taking care of our trees brings jobs into often remote rural areas
Clean air – 1 acre of real Christmas trees removes over 500 pounds of carbon dioxide every year
All sizes and shapes – we have trees in a range of heights to make sure we've got the size you need to perfectly fit your home
Before buying a real tree
Before you go out and buy a real Christmas tree, we recommend you remember the four 'F's.
The four 'F's:
Fit: While you're at home, measure the height and space of the room your tree is going in. We've got sizes to suit every room – so you'll easily find the right one for you.
Freshness: Put your hands on your tree's trunk about halfway up and lift. The heavier the tree is, the fresher it is – because it's full of water.
Foot: Make sure there's enough space at the bottom of your tree to get it in your stand without sawing too many branches off.
Foliage: Look over your tree from all angles to make sure there are no big gaps in branches or needles. For a proper test, bump the base gently against the ground to make sure the needles are staying on easily.
It's always best to check out your tree before it's been netted. But if that's not possible, try and find the most recently cut one you can.
Top tip: Need a new stand? We've got a wide range to keep your tree safely secured – as well as all the Christmas tree lights and decorations you could want too.
How are you getting it home?
Once your tree has been netted, it's time to take it home. But that's sometimes easier said than done. If you can, start by folding your back seats down and sliding your tree through from the boot, point first. If it still won't fit, then your best option is to secure it safely to the roof with rope or bungee cords. Just make sure you tie it tight
When should I buy my tree?
If you really want the best tree this Christmas, our message is simple – buy early!
Many people often hold out until the last minute to buy their tree, but buying early actually means you get the freshest tree – as Christmas trees across the country are cut in November, before waiting in the field to be bought.
So, if you want the greenest tree – pick yours our early. Plus, it also means you get the greatest choice, as you can see every tree that's just been cut.
Worried about where to store your tree until the big day? If you don't have the space indoors, it's easier than you think. Just pop it in a bucket of water outdoors to keep it fresh until you're ready to bring it inside. So, just remember, for the best Christmas tree – buy early!
When it comes to real trees, we've got a wide number of varieties to choose from…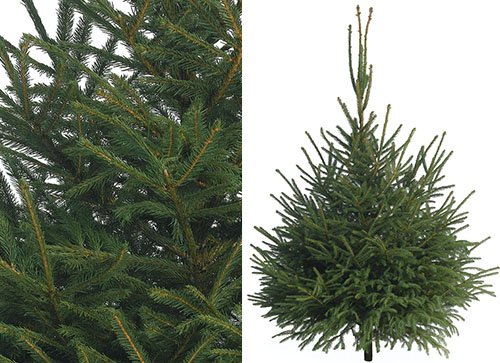 Norway Spruce Trees
Despite its name, the Norway Spruce is grown throughout Britain, and is often considered the traditional style of Christmas tree – as well as one of the most popular. With regular pruning and shearing by our expert growers, expect a bushy, classically-shaped tree, packed with short green needles and a lovely pine scent. It'll stay nice and fresh throughout the Christmas season if you keep it topped up with water, although it's prone to dropping many of its needles over the course of the festive period.
Attractive pine scent
Requires regular and thorough watering
Height range of living (pot grown) trees: 60cm – 140cm/2ft – 4.5ft
Height range of cut trees: 150cm – 270cm/5ft – 9ft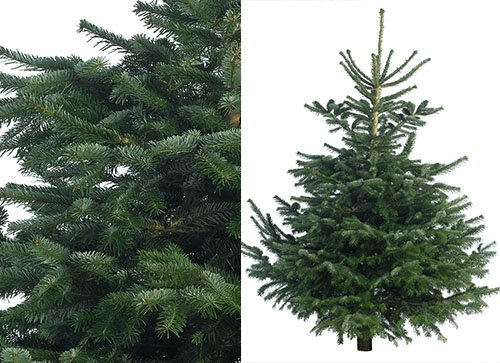 Nordman Fir Trees
With a well-balanced 'A' shape and strong branches well covered with needles, the Nordman Fir is by far the UK's most popular Christmas tree variety. Known as the "family" pick thanks to its soft and long-lasting green 'needlelast' needles, it's ideal for little ones to decorate – especially as the well spaced, glossy branches show off baubles beautifully.
Dense and glossy olive-coloured foliage
Excellent for displaying large baubles
Soft, waxy, family friendly needles
Holds its needles all Christmas long
Height range of cut trees: 120cm – 300cm/4ft – 10ft
Height range of living (pot grown) trees: 60cm – 120cm/2ft – 4ft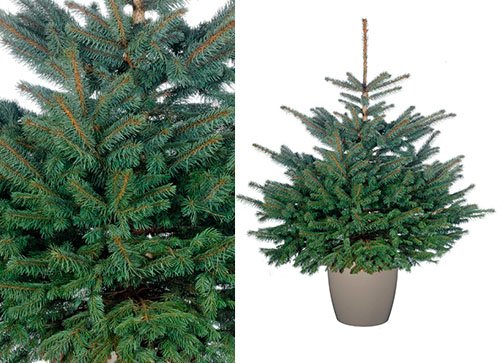 Blue Spruce Trees
A real trend-setter in Europe, the Blue Spruce mixes a good width with a beautiful blue and silver tint – caused by the resin it produces to protect its needles. A stunning addition to any home, be careful around small children, as its needles are the prickliest of all our trees.
Nice wide shape
Eye-catching blue/silver foliage
Prickly needles
Height range of living (pot grown) trees: 40cm – 120cm/1.5ft – 4ft
Real Christmas tree FAQs
How long do real Christmas trees last?
If they're looked after and regularly watered, a real Christmas tree should usually last for four to six weeks. Check out our guide on Christmas tree care to find out more.
When should I put up my Christmas tree?
Decades ago, Christmas trees were traditionally put up on Christmas Eve – but why miss out on enjoying it for longer? These days, there are no real rules, so you can put yours up any time from December 1st.
When's best to take down a Christmas tree?
Once Christmas Day has been and gone, the debate often starts about when to take down the cards, decorations and, most importantly – the tree. Historically, Twelfth Night is meant to mark the official end of Christmas – falling on either the 5th or 6th of January, depending on which tradition you choose.
That means you can still enjoy your sparkly decorations for a few weeks once the big day is over. After this point, many people believe it's bad luck to keep your decorations up. Some also feel it's bad luck to have decorations up after New Years Eve, but it's all a matter of personal preference.
Cut tree, pot-grown tree – or both?
Our real trees come both cut or pot-grown, it all depends on where you're keeping it. Cut trees come in larger sizes, so they'll look great in a living room, dining room or hallway. Pot-grown trees, meanwhile, are ideal for outside, so why not place them in your front garden, porch or even on a balcony as a festive welcome for family and friends?
Pot-grown trees also don't need a tree stand or skirt, so they're easy to move around – plus they'll stay fresh long after the festivities are over. In fact, if well-watered, you'll even be able to display it next Christmas! Alternatively, pot-grown trees are perfect for planting in your garden to add a touch of evergreen colour.
So, cut trees or pot-grown?
Depending on how much space you have available, you might not have to choose. Why not treat yourself to both cut and pot-grown trees to bring festive cheer both inside and outside your home?
We hope this guide has helped you to choose your perfect real Christmas tree. If you need more festive inspiration or advice – check out our dedicated Christmas Ideas & Advice hub today.