The good weather is upon us which means it's time to transform your garden into an outside area you can get plenty of use out of.
The easiest way to do that, is to keep your grass trim and tidy so you can enjoy your garden as soon as the sun peaks through the clouds.
To help, we've got our brand-new Powerbase range of grass trimmers for those hard-to-reach lawn spots. Whether you prefer petrol, electric or cordless, we've given you the lowdown on all the features on our new grass trimmers to ensure you make the right decision.
Before we start, let's discuss what your grass trimmer's features mean.
Cutting system
A line cutting system is most popular with grass trimmers. In this case, it is the wire, attached by a spool inside the head of the trimmer, that rotates very quickly to cut the grass. However, they can be anything from plastic blades, to a metal brushcutter.
Cutting width
The bigger the area you need to trim, the bigger the cutting width you should look for. If you think you will need your grass trimmer to cut both large and small areas, it is best to look for a smaller cutting width overall as a large one will make those hard-to-reach areas still difficult.
Power output
V = volts. This is the power of your cordless grass trimmer's battery – the more power, the better the performance.
W = watts. This is the power of your electric grass trimmer's battery – the more power, the better the performance.
Battery power
Ah = ampere hour. This measure's the electric charge and capacity of the grass trimmer's battery. The higher the capacity, the longer the battery will last until needing recharged.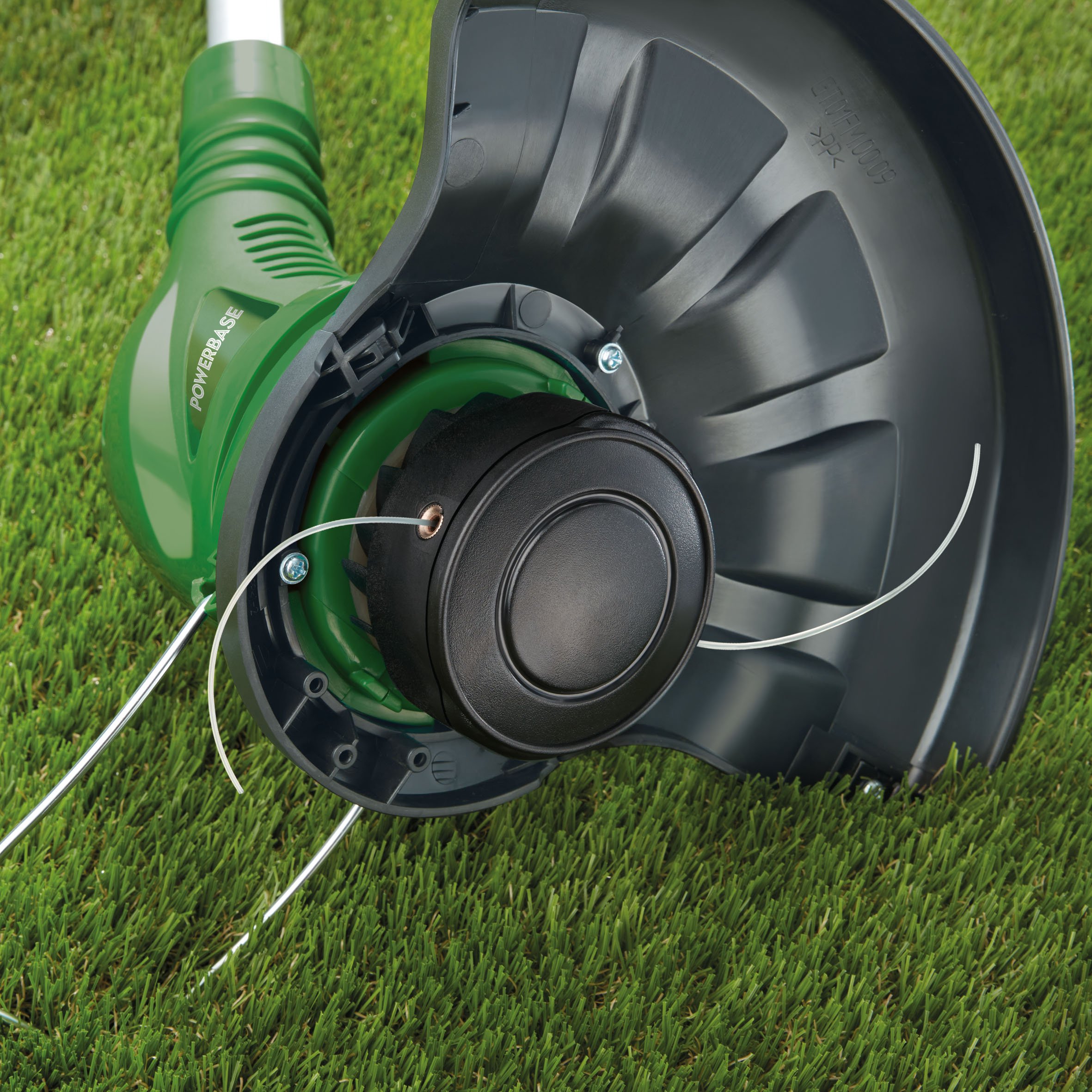 This powerful Powerbase Electric Grass Trimmer is perfect for trimming lawn edges and around trees and shrubs.
It's ideal for small and large areas of the lawn or for finishing off those more fragile zones such as around raised beds and patio edges.
The cutting head can be rotated for extra precision to give your lawn a clean finish, while the telescopic shaft and adjustable handle ensures you can finish the job off comfortably.
It also comes with an automatic double line 1.4m feed meaning that should the line snap, more will be fed out so you can continue to trim without interruption. Plus, it comes with a pop-down plant guard to prevent you from cutting up those valuable plants.
The Powerbase 20v Cordless Grass Trimmer is perfect for unrestricted clipping due to it being cable free.
It's packed with features such as a telescopic shaft, plant protector, adjustable cutting angle for trimming under shrubs or immovable obstructions and rotating head for edging the lawn. Plus, it's got an easily adjustable front auxiliary handle for additional user comfort.
As the name suggests, this cordless grass trimmer comes with a 25cm maximum cutting width and spool with a line cutting system. Battery wise, it comes supplied with a 20v, 2.5Ah battery and 1.5-hour fast charger.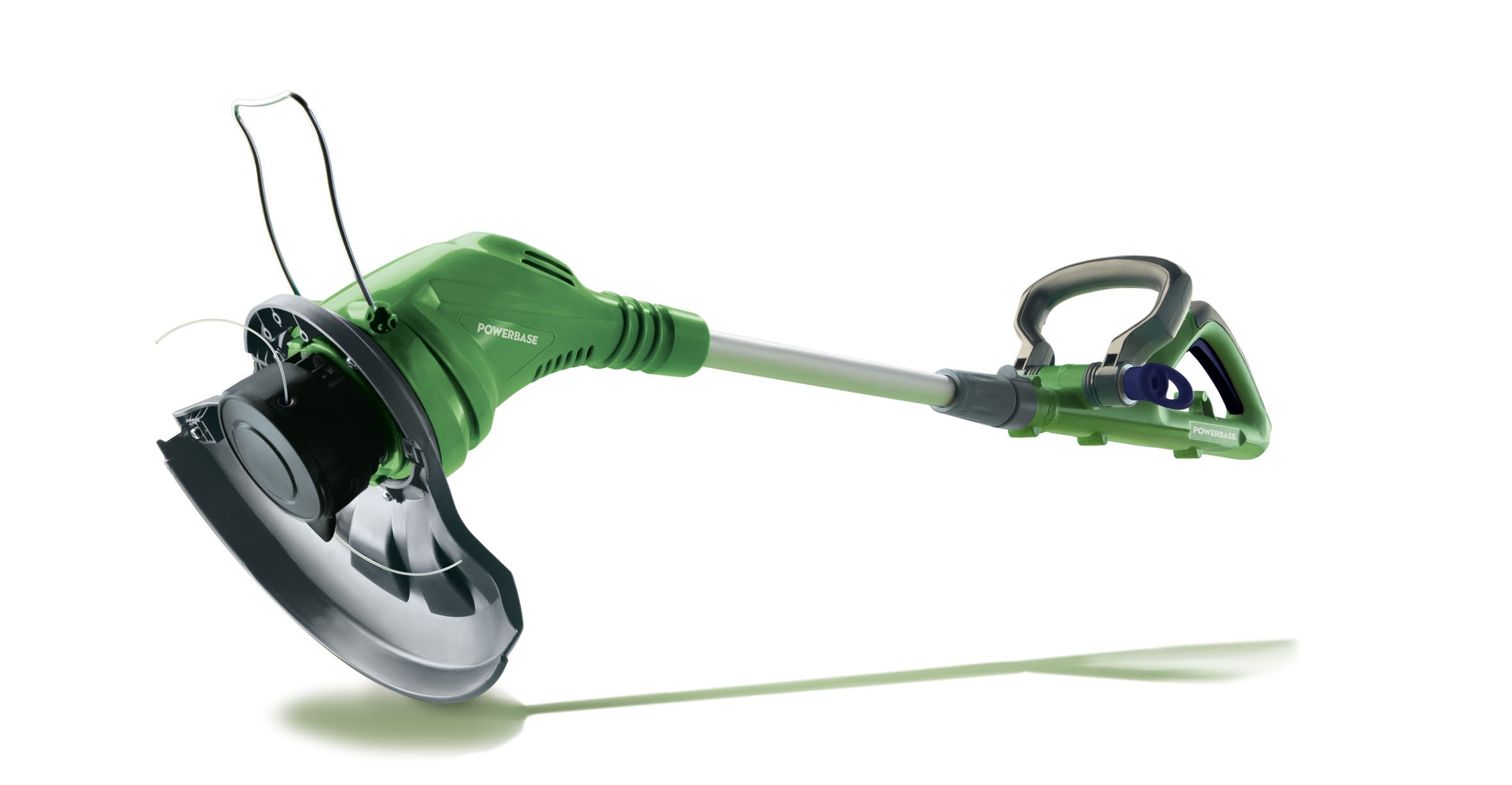 The above is also available with a 30cm maximum cutting width, making it perfect for those slightly larger garden areas.
This powerful Powerbase 40v Cordless 2-in-1 Grass Trimmer is the ideal choice if you have a larger garden or allotment.
It comes with two powerful 20v, 2.5Ah batteries and a 2-hour dual port charger and a host of features. Such as a 'bike handle' design front auxiliary handle for optimum control and comfort and a trimming spool with a cutting diameter of 25cm.
Plus, it comes with an interchangeable 35cm metal blade – perfect for trimming back overgrown bushes.
How to choose
One thing that will help you choose which Powerbase Grass Trimmer is right for you, is by thinking about the tasks you plan to tackle with it.
When it comes to taking the cutting width into consideration, it's recommended you look for:
20-30cm for small to medium lawns
30-40cm for thick grass and medium to large lawns
40+cm for areas with overgrown, thick grass
If you need a grass trimmer for a small area or light use, our 20v Cordless Grass Trimmer will be more than enough.
And don't forget to think about whether you will have access to a power socket where you plan to use it.
Safety first
Whichever Powerbase Grass Trimmer you choose, you must ensure you always wear the appropriate protective gear such as ear and eye protection while using it.
Check out our Powerbase Chainsaw Buying Guide here.