When it comes to fitting laminate flooring, there's a number of important steps to follow including measuring up correctly, choosing between laminate wood flooring or real wood flooring, preparing your surface, choosing your underlay and more. Fitting your flooring correctly around pipes, architraves and skirting boards is also important if you want a professional looking finish. This helpful 12 step guide on how to lay laminate flooring will show you how…
These tasks may be tricky so will suit you if you're experienced in DIY, or simply love a challenge. Before you get started on any of our 'how to' guides, please take a moment to read through our DIY safety tips.
What You'll Need:
Step 1: Where to fit laminate flooring
Laminate flooring is ideal for living areas and hallways.
Certain ranges are great for bathrooms and kitchens. Check details on packaging.
Laminate boards are protected with a special resin coating finish but can be scratched by grit. So put strong doormats at entrances and exits of external doors and brush up loose grit. Protect furniture with furniture felt pads.
Step 2: Measuring up
Measure the width of your room at the widest points, then measure the length. Multiply them together to give you the area of your room in m2. Add 10% for wastage. Example: width 5m x length 4m = 20m2+ 10% = 22m2of laminate flooring.
To work out how many packs you need, check the pack size – say it's 1.243m2<. Then divide your room size by that number. Example: 22m2divided by 1.243 = 17.6 packs. Round this up to 18 packs.
Watch how to measure up for laminate flooring
When laying laminate flooring, it's important to get the correct measurements. This guide will show you what to do when measuring up.
Step 3: Choosing the right flooring
Engineered, veneered or real wood top layer flooring is made up of softwood or man-made board with a thin layer of solid timber bonded to the surface.
Laminate flooring is typically man-made board with a protected film.
Both types of flooring have interlocking profiles along the edges that are pushed together to give a smooth surface.
Some are glued and some use a dry click-together system that allows slight movement if there's a change in temperature or humidity.
Laminate boards can't be sanded if they get scratched. So for places that get a lot of wear, you might want to use engineered boards. The best engineered boards can be sanded and relacquered up to three times.
Laminate and engineered boards are more stable than solid timber. Central heating has little effect on them, so joints stay tightly closed.
Step 4: Preparing the sub floor
You can lay laminate flooring on any smooth, flat sub-floor as long as it's dry, firm and level.
Make sure floorboards are firmly screwed down and flatten all nails with a hammer.
If you have a newly laid concrete floor it must be completely dry.
If you have an old, uneven concrete floor use a self-levelling compound. This is a free-flowing, self-smoothing material that dries flat and level. Always follow the manufacturer's instructions.
Before fitting boards over concrete always put down a damp-proof membrane (DPM) to stop moisture coming through.
Watch how to prepare the subfloor for laminate flooring
If you are laying laminate flooring, it is important to correctly prepare the subfloor. This guide will show you which type of underlay is most suitable for your project.
Step 5: Putting down an underlay
Polyfoam underlay
This is the thinnest type of underlay used under laminate flooring and is good for any firm, dry and level sub-floor such as chipboard, plywood or hardboard.
Prepare the floor and lay a combined underlay and DPM if necessary. Lay the underlay over the entire floor area and trim to fit. Cut a 16 mm gap around pipes.
Lay lengths side by side and secure them with masking tape.
Combined underlay
The good thing about combined underlay is that you only have to fit one layer not two, whatever the sub-floor.
It's thicker than polyfoam underlay so absorbs very slight irregularities in the floor. It gives you good sound insulation too.
Make sure you tape the joints to keep the product damp-proof.
Wood fibre boards
This is the thickest underlay. Use if you have floorboards or a slightly uneven sub-floor. It gives good heat and sound insulation.
Always 'acclimatise' the boards in the room for 24 hours before laying. This lets them expand or contract according to the conditions. Prepare the floor and lay a DPM if you need to.
Lay the boards. Stagger the joints, leaving a 10mm expansion gap around the edge of the room and 5mm between boards.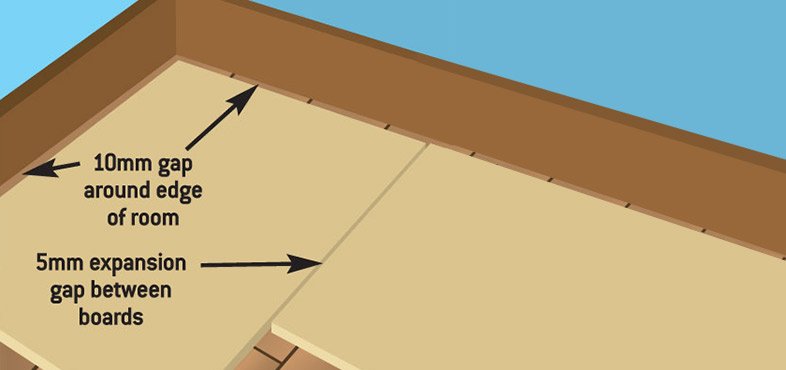 Step 6: Planning the direction of boards
Lay your boards in the same direction as the longest straight wall. But if you have matching flooring in a next-door room, it's probably best to lay them in the same direction.
In a square room, lay the boards in the direction of incoming light.
Step 7: Before starting
Remove skirting boards so they can be refitted over the top of the new floor. If this isn't possible, fit the new floor and use thin timber mouldings (sometimes called scotia or quadrant) to hide the edges.
Vacuum the floor to remove grit and dirt.
Step 8: Laying the flooring
Start in a corner and lay the first row of boards along the longest straight wall. The tongue side of the board should face the wall.
Place plastic spacers between the board and the wall at 60cm intervals.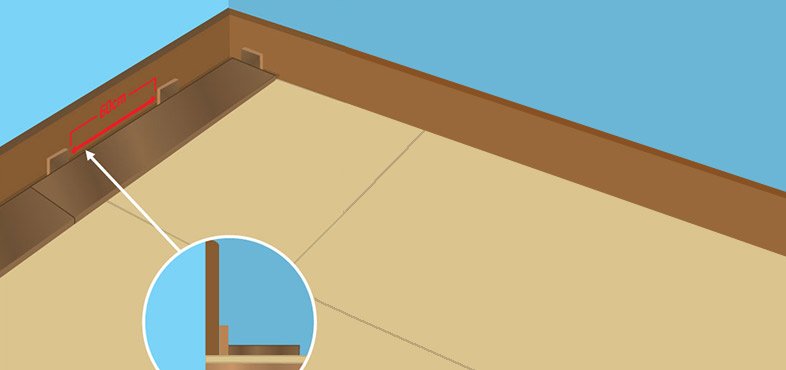 Make sure the spacers are wide enough to form the manufacturer's recommended expansion gap all around the edge of the floor – usually 12mm.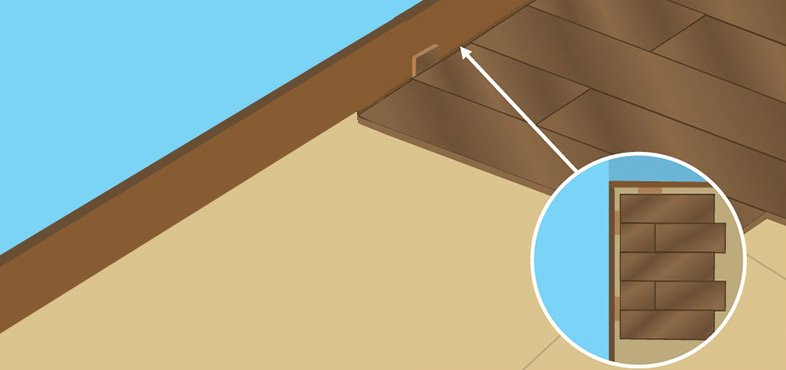 The ends of the boards will be tongue and groove. Join them by using adhesive on the top of the tongue locking mechanism. Many boards use just click systems that don't need adhesive.
You'll probably need to cut the last board of the row to fit it in. Mark it with a try square and saw it with the finished surface facing up.
Begin the second row, starting with the off-cut from the first row. Always stagger the end joints of adjacent rows by at least 30cm.
Continue across the room, pushing the completed rows firmly together and adding more plastic spacers along the two side walls as you go.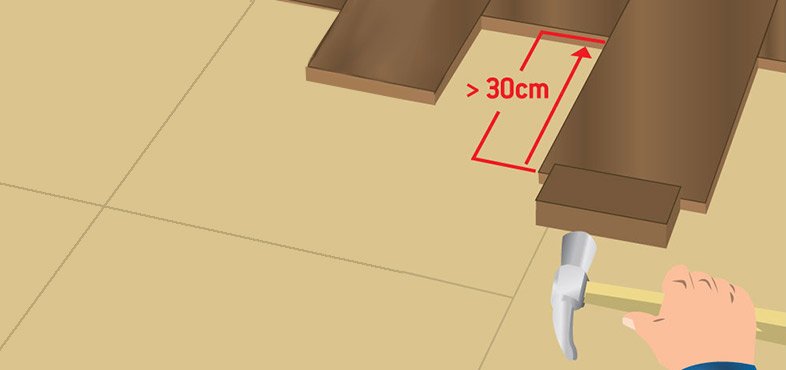 Step 9: Going around the pipe
If you need to go around any pipes, mark the position of the pipe on the board you're laying.
Drill a hole about 16mm larger in diameter than the pipe and make two angled saw cuts from the board edge to the sides of the hole.
Fit the board and carefully glue the small off-cut wedge behind the pipe. Check there's an expansion gap around the pipe.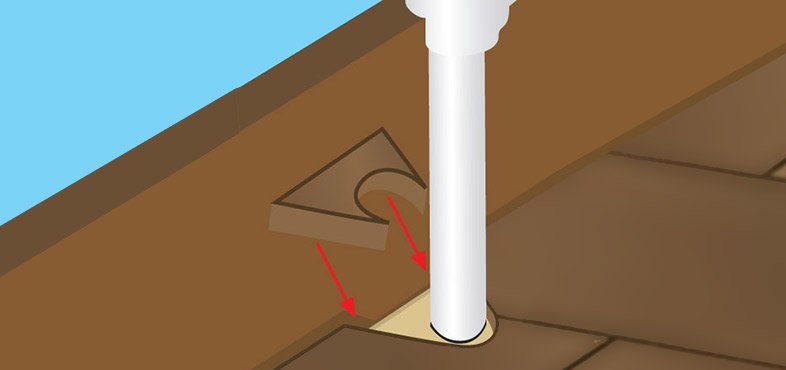 Step 10: Fitting around architraves
It can be very tricky to cut boards to fit around architraves (the moulding around a door or cupboards) while leaving an expansion gap.
Instead, saw out a piece from the bottom of the architrave. This will need to be cut 15mm into the architrave. Work out the height by the thickness of the board, plus the underlay, plus about 2mm extra to allow freedom of movement for the flooring when laid.
Then simply slot your boards under the bottom of the architrave.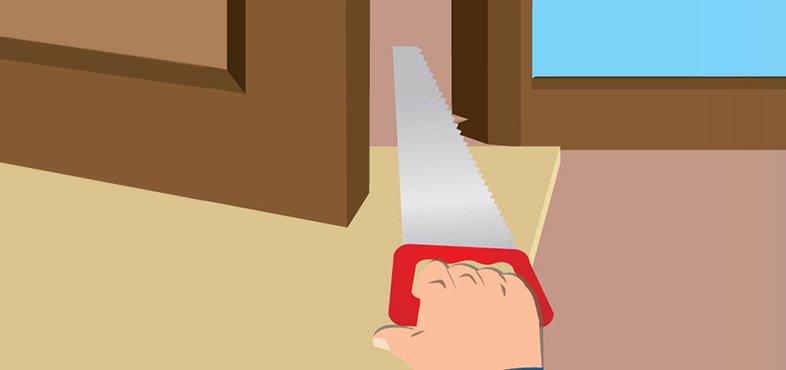 Step 11: Real wood flooring
Laying real wood flooring is very similar to putting down laminate. You'll need spacers to fit real wood flooring – as you're creating a floating floor you have to leave room for expansion.
Solid wood will require a little more expertise, but with care anyone can do it! For solid wood, you'll want to use tension straps, as you'll be pulling together the glue between each slat.
If you feel gluing each individual slat will be just too messy, we sell very handy self-adhesive underlay. It glues each slat automatically simply by you pressing down.
Step 12: Finishing off
When you've finished laying the boards, remove the spacers and put the skirting board back over the new boards. Alternatively, fix a scotia or quadrant moulding over the expansion gap around the perimeters of the room. Pin the moulding to the skirting board, not the floor, and paint or varnish as needed.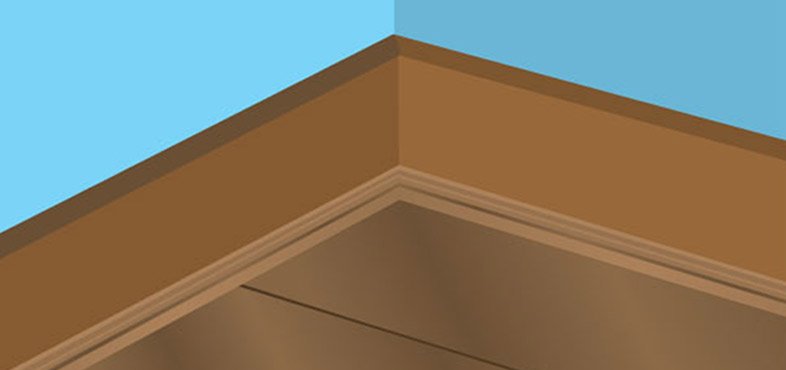 Fit a metal or wooden threshold over the edge of the flooring in all the doorways.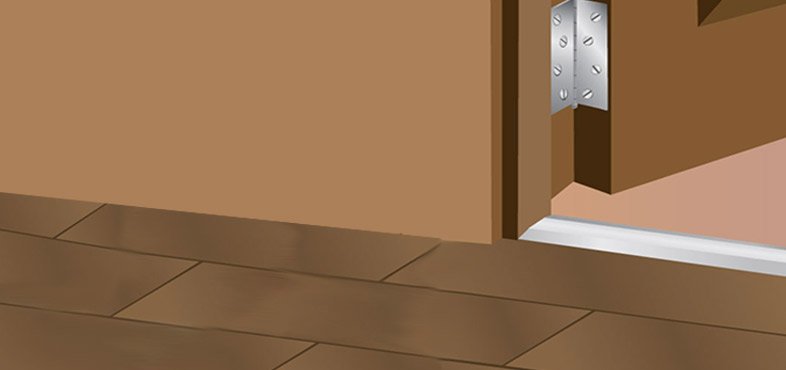 Helpful hints…
To get a smooth edge around your radiator pipe, drill a hole 16mm bigger in diameter than the pipe itself. This will allow for expansion. Radiator pipe rosettes round the fitting off nicely.
When finishing off your flooring into a doorway, place a piece of laminate flat next to the architrave. This gives you a guide for where the flooring will come up to. Then you can saw just the right amount off the bottom of your architrave, and place the laminate firmly and snugly underneath. The video here shows you how to do this.
To finish off the laminate flooring altogether, use a threshold strip to create a neat connection between the other flooring.
Finally, you can remove the spacers and fix scotia to skirting boards to create a neat finish.
Watch how to care for laminate flooring
Here are some useful tips for the maintenance and care of laminate flooring.
When it comes to selecting floors for your home, laminate flooring is a popular choice and it's easy to see why – it's easy to fit, versatile and very durable too. You can lay laminate flooring on concrete, or on any smooth, firm and level surface, making it ideal for any room in your home.
At Homebase, we stock a wide range of laminate and real wood flooring in a variety of colours and designs to suit your individual style. We also stock all of the tools, edging and underlay that you'll need for fitting laminate flooring.
Take a look at our range of laminate flooring and tools below or visit your local Homebase store.
Find your perfect product