A street party is a classic British tradition and a fantastic way to bring friends, family and neighbours together. As with any event, planning a street party requires a little organisation to ensure everything runs smoothly.
If this is your first time planning a street party, don't worry – we've got you covered! This guide will tell you everything you need to know. From how to organise a street party to our top street party ideas, we'll ensure your neighbours will be talking about what a great time they had for years to come.
Before you start 
This Summer we are having to do things a little differently. When planning a street party, be sure to stick to the guidelines to keep yourself and your neighbours safe.
How to organise a street party
It's all about the planning
The first step you need to take when organising a street party is to inform your local council. We recommend the smaller, the better! This will ensure your street party is contained to only your close neighbours and can be easily managed.
Anything big that requires public road closures or properties being affected, is at risk of being declined. So, keep it strictly residential!
Simply search for your local council's website online and there will be a dedicated how to organise a street party section. This will tell you all you need to know about what you can and can't do.
Top tip: You need to let your local council know 4-12 weeks in advance if you're planning a street party.
Organise a neighbourhood meeting and send out invites
Planning a street party doesn't have to be a one-person task! Ask a handful of residents to attend a meeting to discuss some street party ideas.
This is a great way to find out who has any hidden talents or skills, such as face painting or baking!
Discuss what day and time suits everyone best and give them an area to manage.
Tasks include:
Making your local council aware
Sending out invites
Purchasing or making street party decorations
Organising entertainment
Managing any queries residents may have
Top tip: Get your invites out as early as possible to ensure most of your neighbours can attend!
Make the front of your house presentable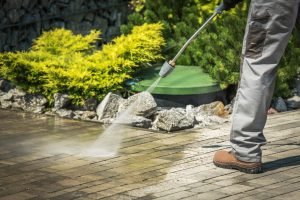 In the run up to your street party, ensure that the front of your house is looking its best!
Give your driveway a clean with a pressure washer and get your windows sparkling with a little window cleaning.
Don't forget to give your front door a freshen up by brushing off any dust or debris and using glass cleaner on the windowpanes.
For stained doors, use a wood polish to bring out that beautiful glow or, if your front door is painted, you could give it a refresh with a new lick of paint.
Top tip: Hang up some bunting around the front of your house to really get into the party spirit!
The big clean up
One of the most important elements to planning a street party is ensuring everything goes back to its original state after all the fun.
Dotting outdoor bins around the street will encourage everyone to do their bit in keeping the area clean and tidy throughout the day.
Ask your neighbours to do their part by hosing down their front paths after the party. Or, give the kids a bucket of soapy water and a scrubber so they can help as well.
Pack away any communal garden furniture that was used in a safe place, ready for your next big street party!
Street party ideas
Set a theme
Not that we think you need an excuse to plan a street party, but if you've never organised one before – here are some great reasons to celebrate:
Your residential street being 20, 50 or maybe even 100 years old
To celebrate the significant birthday of a resident
To honour and learn about the many different cultural backgrounds your residents come from
Decorate the street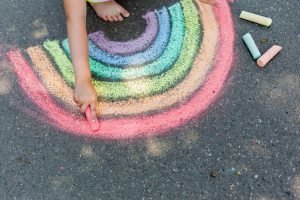 On the morning of your street party, get a group of neighbours together to help decorate the street. Things like temporary bunting and banners are all fine to be hung from fences and trees.
If your street has received the green light from the local council, wheelie bins make for a great make-shift road closure barrier.
Let the kids go wild by creating their own chalk drawings on the driveways, and you could even make your own party sign by painting chalkboard paint onto a wooden frame.
Hang up some string lights in your front garden for when the sun starts to go down, and create a magical setting with a lantern on either side of your front door.
Create your own comfortable seating area on your driveway with a few seat pads, cushions and throws or dot a few camping chairs around for your family.
Bring your own food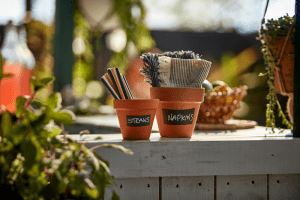 Nothing brings a celebration together like party food. At a traditional street party, each household would bring a dish that everyone can tuck into. However, this year, it may be a better idea to only make food for your own family.
Set up a trestle table and dress it up with table linen, stunning serveware and enough dinnerware for the whole family. Nibbles and finger food always go down a treat at a street party, and you could even bake something delicious for dessert.
Get creative with your table decorations and turn some small terracotta pots into cutlery and napkin holders. Then, you'll have a new pot for a small plant once the street party is over!
Top tip: Keep an ice bucket outside so you can keep your drinks cool without having to go back and forth inside. Or, make your own using a garden planter.
Entertainment ideas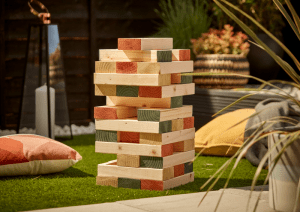 Of course, every street party needs some form of entertainment!
Keep the kids entertained with a game of musical statues or ask your neighbours to set up a range of different garden games on their front lawns.
We've got a great selection of DIY garden games for you to try out, such as your own penalty shoot-out game or giant Jenga.
You don't need a licence to play music or have someone sing live – just keep the volume to a reasonable level!
You'll also want to consider a wet weather plan. Protect yourself from the rain (or sun) with a gazebo, or bring your garden parasol round from the back garden. Even if the weather does take a turn, you can still have fun in your wellies and waterproofs!
And there you have it – that's how to organise a street party! If you enjoyed our street party ideas, be sure to take some snaps of your celebrations and share them with us on Instagram @Homebase_uk.