If you have some old wooden pallets lying around – or can easily get your hands on some – upcycling and repurposing them is a great way to help the planet and create a bespoke piece of garden furniture at the same time.
Alongside being cost effective, building your own garden pallet furniture will let you create something that fits your space and style perfectly. There are a whole multitude of furniture pieces you could make from upcycling wooden pallets and this guide will show you show.
Before you begin, we recommend you read our DIY Safety Tips guide, along with your power tool manuals to keep yourself and others safe. Always reach out to a certified expert if you're in need of assistance.
Here are our wooden pallet upcycle ideas
Vertical planter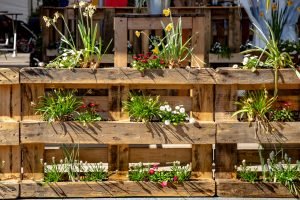 Upcycling wooden pallets into a vertical planter will give you so much more space to grow your plants, and keep away any small animals who might like to munch on your leafy greens.
Simply upend one pallet and secure some planks of wood underneath the horizontal struts. Use your drill and drill bit to make the necessary holes, then fix with screws.
Fill some small plant pots with herbs to create your own herb garden. Mint, oregano and parsley are all great options to try.
Don't forget to place your vertical planter on a level floor to prevent it from tipping over.
Tool storage or BBQ buddy  
Using the same method as the vertical planter, you could also make a barbeque buddy or storage for your garden hand tools with your wooden pallets.
Attach hooks to easily hang your tools from and you are good to go! You could hang anything from barbeque to gardening tools, and even some potted plants for decoration.
Garden bar  
Using just wooden five pallets, you could make your own garden bar.
Stand four pallets vertically and arrange them into a square shape. Make sure the pallets are securely fixed together before adding the fifth on top to create the bar surface. Then, go ahead and add your own drinkware and bar accessories to get the party started!
Snuggle chair or comfy sofa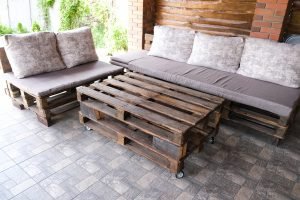 One of the best pallet upcycle ideas is to create seating space in your garden. To make a chair from wooden pallets, place two pallets flat on top each other. Then, prop another pallet vertically at the back of the top pallet to create the back rest. Finish by securing everything in place with your drill and screws.
Add some cushions and throws to make your new outdoor seating area nice and comfy. If you want to expand your sofa into a larger piece of garden furniture, combine multiple chair segments together. You could even create a comfy corner sofa for you to relax and unwind on.
How to upcycle pallets
You'll want to add a bit of personality to your pallets, and the easiest way to do this is with some outdoor paint. Remember, you don't have to paint your pallets all one colour!
Start by sanding your pallets down and smoothing out any rough edges. If you have opted to use the same colour all over, simply use a paint roller to cover your pallets in paint. Or, use a paint brush for more intricate details.
Stir the paint thoroughly beforehand and apply 1-2 coats depending on your desired finish. Try to paint outside, if possible, for maximum ventilation. Leave the paint to completely dry.