Give pallets a new purpose with our simple guide on how to create some fun and functional garden furniture.
The story so far…
The trend for upcycling and repurposing everyday household objects is still in full swing and now working its way outside into the garden. Giving anything from scaffolding boards to zinc watering cans and old welly boots a new lease of life can look great and be kinder to the environment.
Create a totally unique piece of furniture
As well as being great value, one of the best things about pallet garden furniture is that you can build furniture that looks unique and is exactly the size you need it to be. You can be as imaginative as you like with both the design and finish so you'll end up with something that's truly bespoke.
Some ideas to get you started
There are so many things that you can create from pallets but here are a few of our favourite designs for inspiration: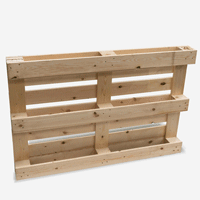 A vertical planter
By upending one pallet and attaching some planks of wood underneath the horizontal struts, you can create a space-saving vertical plant holder that's a haven for herbs.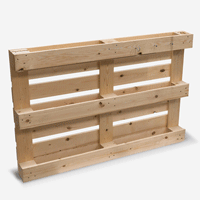 A barbecue buddy
Made exactly the same way as the vertical planter this barbecue buddy is the simplest storage solution for every alfresco chef. By including some hooks, you can easily store your barbecue tools as well.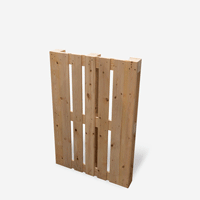 A garden bar
Lots of people dream about having a bar outside, and with just five pallets you can make it a reality. To give it a bit more zing you can paint it in any number of tropical tones.
Tip – ensure that pallets are securely fixed together to avoid injury.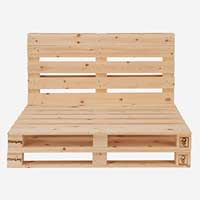 A snuggle chair
Create a base for your chair by using one or more pallets, then just add another pallet to create a back rest. Finish it off with one of our pallet-sized outdoor seat pads and some scatter cushions for a cosy seat for two.
Tip – ensure that pallets are securely fixed together to avoid injury.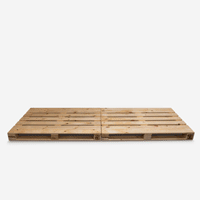 A substantial sofa
Just combine two snuggle chairs and you've got a sofa that'll comfortably fit four people.
Tip – ensure that pallets are securely fixed together to avoid injury.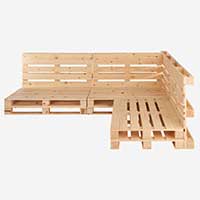 A comfy corner sofa
If you want to create an intimate corner where all your family and friends can relax and unwind, group together three snuggle chairs. You'll need one extra pallet to fill in the missing back panel.
Tip – ensure that pallets are securely fixed together to avoid injury.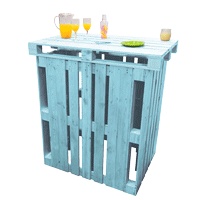 Protecting your pallet furniture
Painting or staining is the best way to both customise and protect your pallet furniture from the elements. Just make sure that you cover all of the wood, even the bits that might usually be hidden from view.
Customising your pallets
The most obvious way to customise it is with a couple of coats of your favourite coloured wood treatment or paint. You don't have to stick to one shade, as you can paint alternate planks in different colours for a striped effect. Once that's dry you might want to add piles of soft cushions, thick throws and seat pads to ramp up the comfort factor.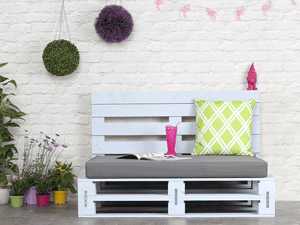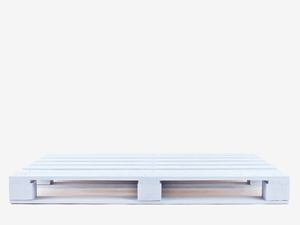 Get the look
To create this stylish on-trend project we've used:
Find your perfect product