Christmas is the perfect time of year to let your imagination soar with some fun and festive outdoor decorations. From tree lined walkways to festive front porches and mailboxes, we've got all the Yuletide inspiration you need to make it a Christmas to remember. What's more, we've rounded up our favourite outdoor Christmas decoration ideas up in one handy guide, just for you – so let's get started…
1. Update your outdoor furniture for a festive feeling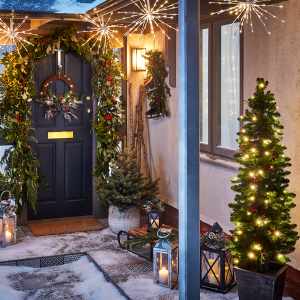 If you haven't got the time or energy to swap your garden decorations in and out of storage to celebrate each holiday, we've got a simple solution. Just update your décor to match the seasons. So, instead of moving your garden bench to make room for a reindeer decoration or illuminated tree, you can decorate your bench with Christmas decorations instead – like a plaid blanket, festive cushions, or even a sprig of spruce or holly along the back. Best of all, you can turn it into a cosy winter spot with a candlelit lantern on either side too.
2. Discover the magic of dining al fresco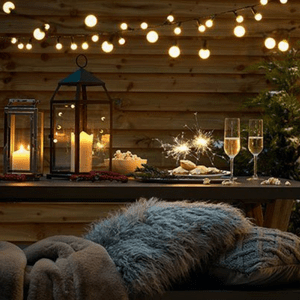 If you're giving your outdoor furniture a festive makeover, why not take it one step further and enjoy some al fresco feasts too? Whatever the weather, winter is a wonderful time for dining outdoors – especially if you set the table with some Christmas decorations for a sprinkle of festive magic too. From sparkling wine to mince pies, fairy lights to lanterns, and maybe a sparkler or too – wrap up warm with soft cushions, cosy layers and even some faux fur, and get ready to enjoy your outdoor dining table all year round.
3. Give your front porch a festive makeover
If you fancy making your front porch look extra festive this year, we've got just the inspiration you need. As your home's focal point, it's easy to transform your entrance from mundane to the magical this Christmas with gorgeous green, leafy garlands. Especially effective if you can enhance any existing house architecture like columns or posts by wrapping them round – with a few added fairy lights for extra sparkle too. If you don't have columns, draping your garlands from your porch hooks or roof edges can be equally beautiful, perhaps with some pinecones too.
4. Try a fire pit to give your outdoors a festive glow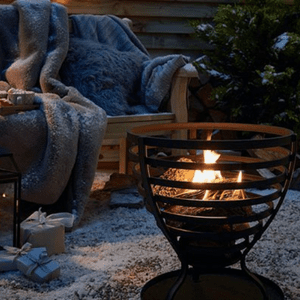 Who says outdoor Christmas decorations can't be practical too? If you love the glow of candlelight indoors at this time of year, then you'll love the flicking festive feel of a wood burner too. Not only do crafted metal fire pits bring a sense of classic style to any outdoor space, but they also open up a whole new world of evening entertainment. The weather outside might be frightful, but with a beautiful wood burner – you and your guests are sure to stay delightfully toasty too.
5. Deck your outdoors with some classic Christmas greenery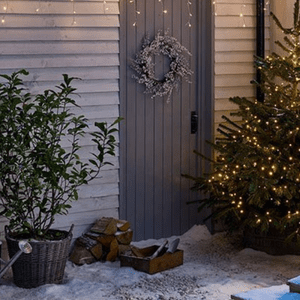 A Christmas tree isn't the only natural decoration that works just as well outside your home as inside. There's also a selection of festive flowers and shrubs, ready to bring a beautiful array of colours to your outdoors. From rich red poinsettias and deep green holly to wonderfully wintery Christmas roses, hanging baskets and even a cactus or two, a few festive plants are the perfect way to get your home into the Christmas spirit. What's more, once the New Year starts, they make an excellent addition to any garden or year-round planters too.
6. Give your guests a festive welcome with a beautiful wreath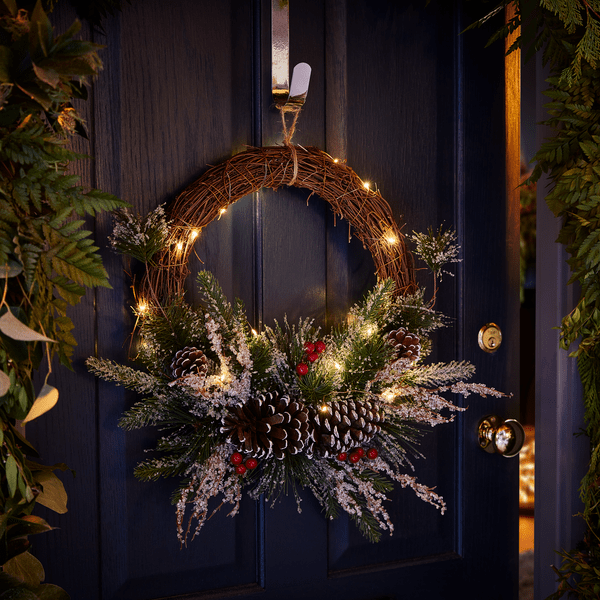 There's something simply special about hanging a Christmas wreath on your front door, tree or even garage – signalling the start of the most wonderful time of year. Whether you want to make your own with a little help from our handy guide, or purchase one pre-made, they're a quick and inexpensive way of bringing festive cheer to your exteriors. If you want a traditional looking wreath, pick one with tree foliage, holly and pinecones, or go for a more modern version – complete with baubles, lights and even tinsel too.
7. Liven up your walls and front garden with our festive lighting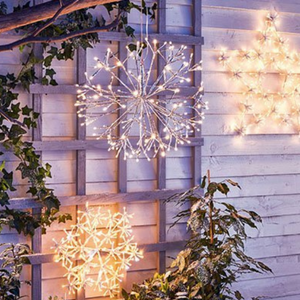 When it comes to decorating your outdoors with lights this Christmas, the ideas are almost endless. You can decide to keep things simple with bright white icicle lights running along your guttering, or go all out with a giant woven silhouette light – available in a variety of shapes, like a reindeer or twinkling star. If you'd rather pick a low-maintenance option that still offers plenty of options instead, our projector lights could be just the thing. From festive shapes to falling snow – just choose your filter, plug it in and watch the side of your home come to life with a beautiful light show.
8. Enjoy a bigger Christmas than ever with some oversized decorations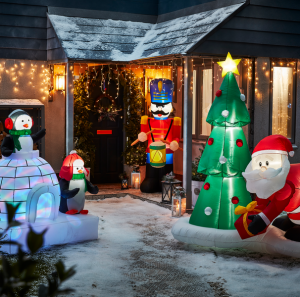 They say bigger is better, and that's definitely true when it comes to our outdoor Christmas decoration ideas – as well as the decorations themselves. Perfect as a fun project for the whole family, it's easy to create an oversized decoration – in fact, the only limit is your imagination. From giant stockings to big paper baubles and even a bumper-sized wreath or two, it's amazing what you can make from a little tinsel and cardboard. What's more, if you want to make them stand out even more – you can always add a few fairy lights once you're finished too.
9. Make your home part of the magic with exterior decorations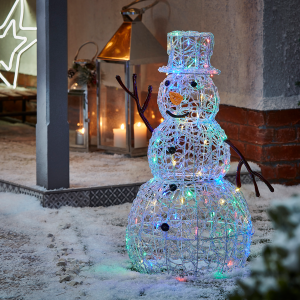 Last but not least, some of the best outdoor Christmas decoration ideas don't go in the garden at all, but instead become part of your house's exterior to create an exciting festive scene. Whether you want to try a traditional look with a suspended nativity display, make a fun sight for the little ones with an abseiling Santa or let the Elf on the Shelf have an outdoor adventure – there are tonnes of options to choose from. Plus, most of our outdoor decorations are sturdy and long-lasting, meaning you can hang them on your house for years to come too.