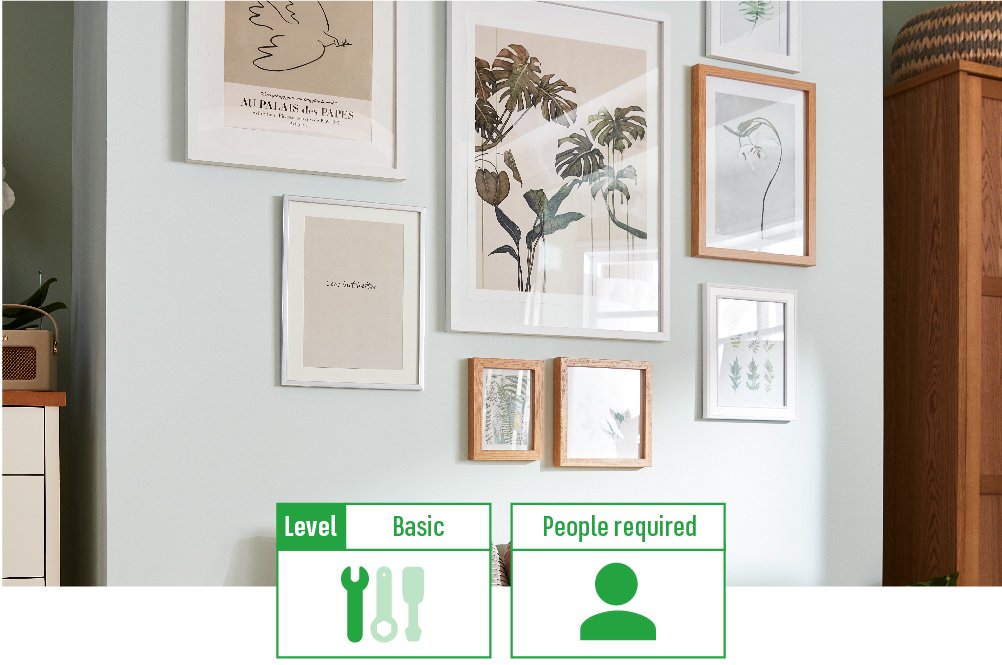 Knowing how to hang a picture frame should be something everyone should get to grips with.
Whether your hanging pictures of your favourite memories and creating a feature wall with striking artwork, this how to guide will ensure you'll be a pro in no time.
Not one to start small, we'll teach you how to hang a picture frame of a larger size that has some weight to it.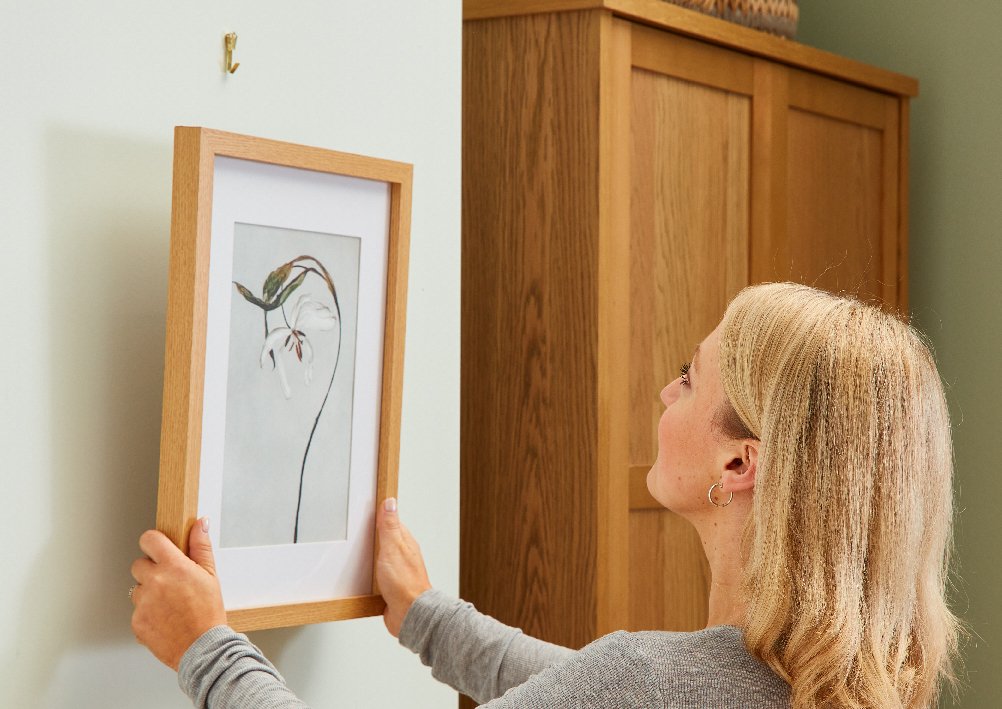 Let's start with what you'll need.
Materials:
Tools:
Drill with masonry and screwdriver drill bits (for concrete or brick)
Screws & Wall plugs (if your frames do not provide these)
Ear defenders (if using a corded power drill)
Electronic wire and pipe detector
Read our DIY safety tips and manufacturer instructions

Before you begin any DIY work, we recommend you read our DIY Safety Tips guide along with your power tool manuals to keep yourself and others safe and protected while completing this How To guide.

If your wall has any holes or cracks, you can find out how to repair them here.

If you're in doubt about anything, you should reach out to a certified expert for assistance.

Check the type of wall

First, you need to know what type of wall you are going to be working with. Different wall types require different fixings and can hold different weights.

Top tip: Plasterboard can hold a max of 5KG, whereas Masonry/Brick and Block walls can go up to a max of 10KG – or more with the appropriate kind of fixings and plugs. 

Ensure there are no hazards

Use the electronic wire and pipe detector to ensure there are no hidden hazards behind the wall you will be drilling through.

Hold the device in one hand against the wall and place the other hand flat against the wall, about 20-30cm away, to ensure grounding.

Never drill directly above or below a light fitting or power socket because that is where its supply cable will most likely be.

Top tip: To avoid confusing the detection device, remove any jewellery. And to check the device works, pass it over another electric point where you know cables will be behind the plastered wall – like at a plug socket or light switch.    

Make your marks

Give your wall a quick wipe down and measure how high you want the frame to be on the wall. Mark a line where the very top of your frame sits on the wall with a pencil.

Then, at the back of the frame, pull the string taut up towards the top and measure the distance from the top of the sting to the top of the frame.

Now transfer that measurement onto the wall below the first mark you made for the top of your frame. Mark it with an 'X'.

Top tip: Use your spirit level to ensure your marks are level with one another.

Drill your holes

You will need safety goggles for this part – and ear defenders if using a corded power drill.

Check the packet of your screws and wall plugs to determine the size of the masonry drill bit you need for your hole. Then using the hammer action, drill a hole as straight and cleanly into the wall as possible.

Install your wall plugs

Now take your hammer and gently tap your wall plug into the hole you've just created.

Always use the same size masonry drill bit as the raw plugs you use, the numbers are in millimetres and should be stated on the side of the plugs and drill bits or on the packaging.

Top tip: If the wall plugs starts bending it means the hole is too tight. Take it out and slowly make it a little larger with your drill and masonry drill bit.

Fix your screws

Using your drill and screw bit, fix the screw into the wall plug.

Top tip: The screws should sit out from the wall at about 12.5mm.

Hanging your frame

Simply, rest your wire loop at the back of your frame on the part of the screw sticking out from you wall.

Top tip: Use your spirit level to check the frame is sitting level and not crooked.

That's your how to hang a picture frame on a wall guide complete.

Don't forget to upload an image of your new picture frame to social media, tag and follow us @Homebase_uk