Spring is a wonderful time to be in your garden – you can see all the plants and animals re-emerging after a long cold winter.
It's lovely to see the familiar favourites such as snowdrop, daffodils and crocuses bringing back some much needed colour.
For your first weekend project of the season, take a general look at your spring garden to make it look its best now and to get it ready for the warmer weather ahead.
Project Overview
Tasks
Time needed
Step 1
Start with a general clear up – Removing leaves, debris and weeds
About 2hrs
Step 2
Tackle soil preparation – Digging over, mulching
About 1hr
Step 3
Give your plants some TLC – Plants to lift, divide and prune/trim
About 1hr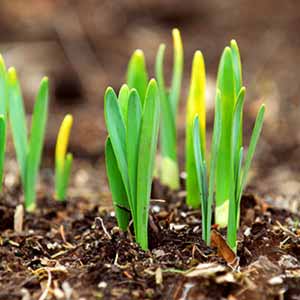 Step 1 – General clear up
Take stock of your spring garden
Begin by stepping outside and taking a closer look at what's going on in your garden. Look for delicate green shoots breaking through winter-hardened soil, or blossom, catkins and new leaves appearing on trees and bushes. Splashes of colour might already be brightening your borders in the shape of early spring plants, such as the deep violet Iris reticulata or the crisp white scented snowdrop.
Assess any winter damage and tidy up
While you're working your way around your garden, start to assess the wear and tear of another winter. Tidy up debris, rake leaves, tie in climbers and adjust tree ties as you go. You may want to remove winter protection from trees and shrubs too – but be careful to replace these if a late frost is forecast.
Now step back and review. Look out for neglected areas and think about what you need to do to get your garden ready for the growing season.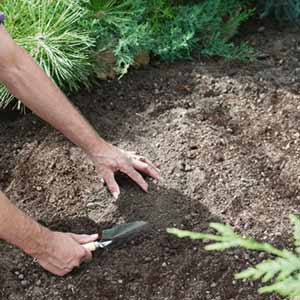 Step 2 – Soil preparation
Focus on your soil
If your soil isn't too wet, start digging and aerating by turning it over and adding plenty of organic matter as you go. Not only will this make the earth easier to plant in, it'll make it healthier for spring garden plants to grow. Dig out the entire root of any perennial weeds you see re-emerging.
Once you're happy your soil is weed free, you can start with a little light mulching to seal in moisture around new plants, established beds or specimen plants. Use biodegradable mulches , such as compost, manure or bark chips to boost fertility, too. Make sure you water your soil first if it's feeling dry, as it'll be easier than waiting until after you've mulched. Save your feed, such as a slow-release organic fertiliser, for a warmer spell giving the earth a chance to warm up and allowing the plants to reach a strong growth phase so they truly benefit.
Don't forget any hanging baskets and planters. A hand trowel, watering can and container compost are all you need to clear debris and weeds, remove dead plants and replant with some of your favourites to give you continued seasonal colour.
Take a look at our helpful video on how to use mulch on your plants in spring below:
Step 3 – Give your plants some TLC
Prune your plants
Take the next step towards creating your spring garden by removing any plants that didn't survive the winter, before moving onto those in need of pruning and trimming. Use a pair of secateurs to remove any dead growth on deciduous grasses and herbaceous perennials taking care not to cut into any early spring growth. Then turn your attention to woody shrubs, while you have your secateurs in hand, it's worth spending a little time trimming back any damaged shrubs and hedging, pruning them into shape to help promote new growth.
Divide your perennials
After you've finished pruning your flower beds and borders, divide your perennials to help maintain their heath. It's best to get this job ticked off early on in the year, when the ground is dry enough to work with and before they've begun to bloom. Tackle any perennials that have flowered less than usual or are starting to form large clumps. Use a spade to dig around the plant's perimeter, then slide a garden fork underneath the roots and lever it out of the ground. Some plants can be easily pulled apart and replanted, while others may need to be cleaved in two with a sharp knife or axe. Plant your divisions as soon as possible and provide them with plenty of water.
Take a look at our helpful video on how to prune spring flowering garden shrubs below:
Project complete
Completed all 3 steps in this spring garden guide? Now that your garden's looking tidy and ready for the important growing season ahead, why not take a look at our selection of spring plants for your garden borders? If you want to create beautiful garden borders, but don't know where to start, you'll love our innovative garden on a roll kits.
For more spring gardening tips, take a look at our helpful guide: How to maintain your lawn in spring.
You'll find all the tools you need to get your garden ready for spring at Homebase. Visit your local store or browse our range of garden digging tools, pruners, rakes, compost, bark and mulch.