Creating kerb appeal isn't just about adding value to your home. It's about creating a great first impression for anyone who arrives at your home – and of course helping you feel house proud.
When it comes to general home maintenance, there's no doubt that refreshing your home's exterior will transform its appearance. Tackling peeling paint and unruly gardens can turn a property from run-down to pristine in just one weekend. To help you out, we've put together some simple yet effective front garden ideas – so you can enhance your home's kerb appeal.
Before you start
Read our DIY Safety Tips and your tools' instruction manuals.
A lick of paint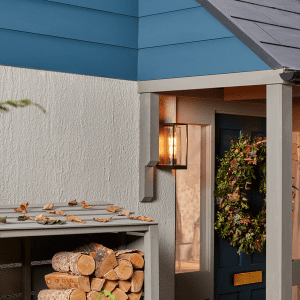 A fresh coat of exterior paint will immediately enhance your home's kerb appeal, giving it a clean, updated look.
You could also refresh your garage door with an on-trend colour for a modern edge. Painting your front door is an inexpensive way to give your home a revitalised feel and deliver that great first impression.
Add planters to windowsills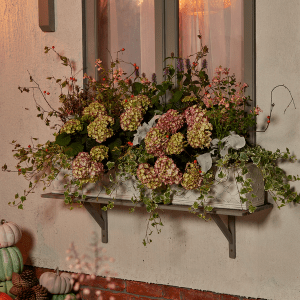 Bring an element of greenery to your windowsills with planters.
To do this, turn one of your planters into a spice garden, herb garden or just fill them with lots of colourful blooms to add interest and vibrancy to your front garden.
Create a personalised doormat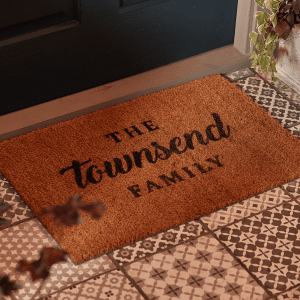 Add a unique twist to the entrance of your home and create kerb appeal by turning a plain doormat into a personalised one.
Simply personalise your doormat with your family name or welcoming slogan – it's completely up to you! Follow this easy how-to guide to find out how to create your own.
Let in the light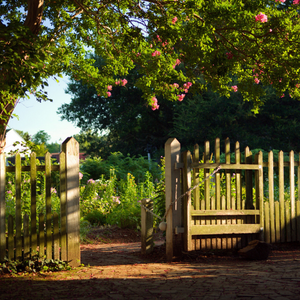 Forget about hedge maintenance – remove hedges and replace them with fencing to let in the light and turn your front garden into a more usable and secure space.
Although hedges are great for noise reduction, they can easily become untidy, unhealthy and steal light from your front garden, which can result in your front lawn becoming patchy. Installing fencing with a gravel base (to deter weeds) is a smart, maintenance-free solution.
Top tip: Check out all our Garden Fencing Ideas here.
Decorate your doorstop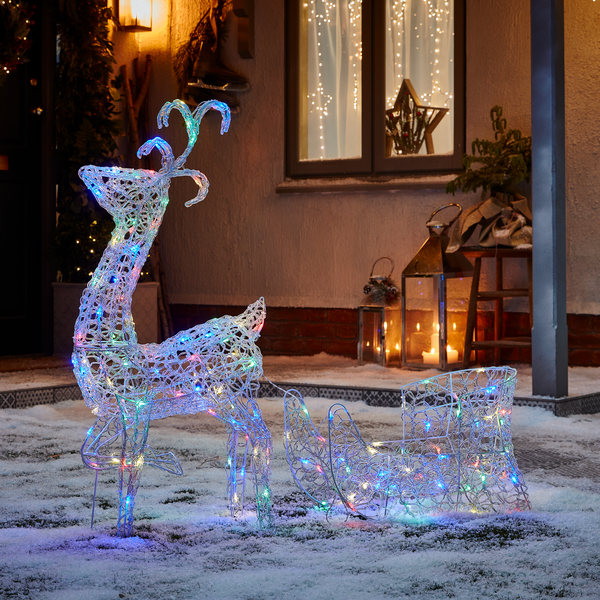 Get creative and bring a little personality to your doorstep with some decorative pieces.
Check out our Outdoor Lighting Buying Guide and Outdoor Security Lighting Buying Guide to discover how to brighten up your doorstep and add visual interest, while also protecting your home. You could even add a few lanterns, string lights or light up the pathway to your front door with automatically illuminating solar lights.
Top tip: Incorporate seasonal decorations – such as Christmas silhouettes – to refresh the feel of your home with the changing seasons.
Hang a wreath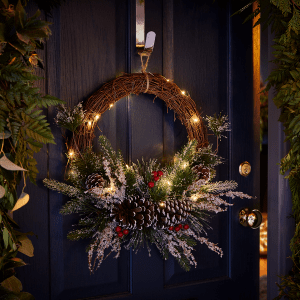 Wreaths are for all year round – not just for Christmas!
No matter the season, you can adapt your front door wreath with a little creativity and imagination. For Spring and Summer, hang a wreath with bright, colourful blooms to celebrate new life. In Autumn, switch up the colours to focus on burnt oranges and warmer toned natural foliage and then in Winter, pine, crisp red berries and deep green tones are a seasonal favourite.
Top tip: For the festive season, you could even create your own Christmas wreath.
Be bold with patterns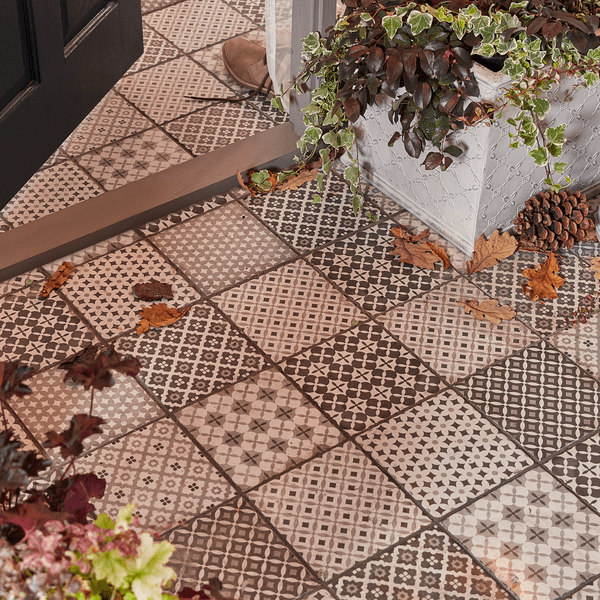 Create contrast and achieve the wow factor with patterned tiles leading up to your front door.
Eye-catching yet easy to maintain, tiles are a great way to create kerb appeal and make the front of your home feel well-thought-out. With an array of shapes, sizes and designs available, you're sure to find something to suit your front garden design.
And that's it! Those are our ideas to create kerb appeal so that your front garden will be the envy of all! Don't forget to share your favourite front garden ideas with us on Instagram @Homebase_UK and check out our other Garden & Outdoor ideas here.