Christmas is the most wonderful time of year, and illuminating your indoors with some fairy lights is a big part of bringing that festive atmosphere home. But where and how to hang fairy lights? We've got you covered. From hooks to nails, there are plenty of options when it comes to Christmas lights, which is why we've created this handy guide to help you get them looking their best without damaging your home.
Types of fairy lights
From balls to stars and everything in-between, fairy lights come in all shapes and sizes, but they can always be divided into two main types – plug-in and battery operated.
Plug-in lights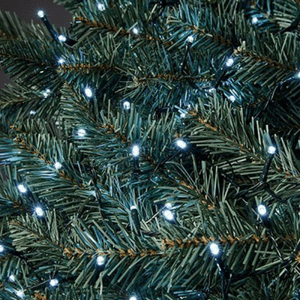 Like most lights, plug-in lights have the benefit of never running out of battery – meaning you can invest in longer, larger or more ornate designs, like our Wire Garland Lights, without worrying about running out of power every few days. However, when you come to hanging your fairy lights – bearing in mind how and where you do it is crucial, as you'll need to be close enough to a plug socket or invest in a surge-protected extension lead to reach. across the board.
Battery operated lights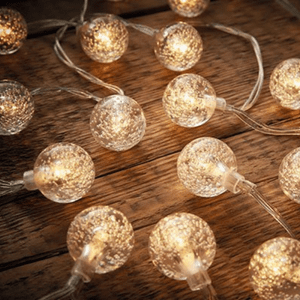 Unlike their mains-powered counterpart, battery-powered fairy lights let you cut the cord quite literally – meaning they're easy to hang anywhere in your living room and all around the house, opening up all-new creative designs. The only thing to worry about it hiding and securing your battery packs, as you can tear the wire if you let them dangle.
How to hang your fairy lights
Once you've chosen the type of fairy lights you want, it's time to decide how you're going to hang them.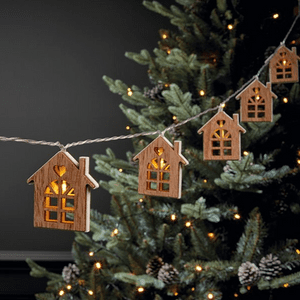 Nails
If you're hanging your fairy lights in a straight line or zig-zag pattern, many people choose to support them with a few sturdy nails tapped in at regular intervals – with the lights threaded between. If you want them to blend in, you can always pick nails that match the colour of your fairy lights' wire too.
Thumb tacks
For those keen on keeping the strength and support that nails offer, but without making as much impact on your walls, thumb tacks are a great solution. The go-to option for many of us, they're simple to use as you go too – just push your pins into the wall between your strands of fairy lights as you trace out whatever pattern you prefer. Just like nails, choosing pins with a similar coloured end to your wire is an easy way to keep them disguised.
Blu-tack
Many of us don't want any holes or marks on our walls at all – especially if you're taking your lights down after Christmas. With that in mind, Blu Tack can be an excellent way to hang your fairy lights – in particular if you're draping your fairy lights in a horizontal or curtain design.
Simply stick one of your lights to the wall, either from the bulb or the wire, and let the rest dangle down in a festive trail. Just bear in mind to use short lengths of fairy lights for this, as anything longer or heavier may fall off the wall.
Wire suckers
Short on wall space? Wire suckers are a handy way for making the most of your unused decoration space at Christmas, especially your windows. A simple combination of a pincher or hook and a suction cup, you can create everything from spelled-out words like 'LOVE' or a festive tree pattern in lights just by arranging your suckers and threading your wire through them.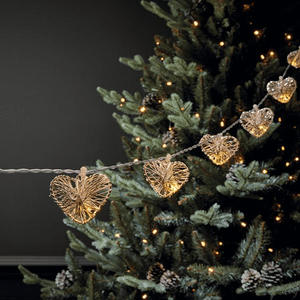 Light clips
A simple and lightweight alternative to suckers, light clips are excellent for hanging your fairy lights from curtain rails, pendant lights and bannisters thanks to their multi-purpose split design. Hook one half round your décor, and the other round your fairy lights, then work out how far you want the trail to stretch – simple!
Adhesive hooks
Adhesive hooks like Command™ are perfect for hanging your Christmas lights with as they don't cause any damage after removing them when the festivities are over.
Often used for hanging artwork, which means they can withstand a lot of weight – so you can use longer strings of fairy lights without worry. Peel off the removable backs and press against the wall where you want them to go, then wait an hour before using them to make sure they're properly stuck.
Where to hang your fairy lights
Fairy lights are one of the most flexible Christmas decorations around, both in design and use. After all, it's not just walls and windows – there are so many parts of your house that can play home to a stylish design that you might not have considered, and they won't even need accessories to keep them in place either. Let your imagination run wild, but we've rounded up a few of the best to get you started.
Home objects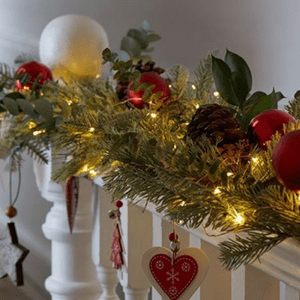 Sometimes you don't even need a hook to hang your fairy lights – but how? With a little inventiveness and imagination, you can wrap your lights around any household objects, from pieces of art to vases and even your TV set. Depending on where you're placing them, it's often simpler to use battery-powered fairy lights in these cases – as you can easily hide the battery pack.
Mirrors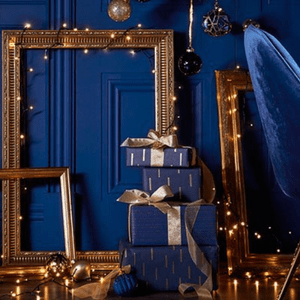 Using reflections to enhance your lights is an easy but effective trick to brighten up any room this Christmas. Whether you've got wall-mounted or standing mirrors, drape your fairy lights from the top corners or use picture hooks and Blu Tack to create a warm and welcoming atmosphere with more illumination than ever.
Mantlepieces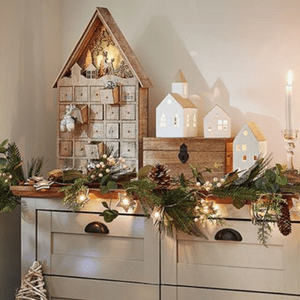 Last but not least, there's one place in your home that doesn't need any hooks to hang your fairy lights from. From disco balls to stars, all you need to do is choose your design and drape it across your mantelpiece from one end to the other. Then switch them on, dim the main lights and enjoy the ambience.
And that's how to hang fairy lights! If you want to learn more about how to give your home a festive feel, check out our other Christmas guides here.