Getting the right outdoor lighting is key. Whether you're looking for garden spot lighting to entertain your guests al-fresco, garden wall lights to create a safe path or garden security lights to discourage intruders, our outdoor lighting ideas and buying guide will help you to find the right lights for you.
Regardless of the size of your garden, patio or balcony, the right garden lighting will instantly transform your outdoor space into a welcoming area that will also keep you safe and secure.
What should I consider when buying garden & outdoor lighting?
There are many different factors to consider when choosing outdoor and garden lighting:
Sizing
Larger areas work well with floodlights whilst smaller areas, such as entrance ways, are more suited to task lighting and subtle garden spot lighting.
Function & appearance
Decorative lighting, although easy on the eye, won't deter intruders – think about what you're trying to achieve and make sure you've got the right lighting for your intended purpose.
Top tips:
When using task lighting, it's a good idea to position switches close to the areas they're being used in – this will save you a lot of fumbling about.

Position deck lights into deck floors carefully to avoid glare. Alternatively, opt for adjustable deck lights for extra flexibility.

Garden security lights

with either a built-in PIR detector or a stand-alone detector are great for

surrounding your home for all-round protection.
What bulbs should I choose?
When choosing bulbs, the most important factors to consider are the size and type. For safety reasons, you'll need to make sure they're suitable for outdoor use. Most bulbs are safe to use outdoors, providing they are completely protected from rain and snow. You'll also want to ensure they are the right brightness level – no one wants to be blinded whilst enjoying evening drinks.
Top tip: Our Light Bulb Buying Guide tells you everything you need to know about choosing the right fittings.
What safety tips should I follow?
When investing in garden and outdoor lighting, ensure your lighting is weatherproof, waterproof and safe for the purpose you're using it for.
How should I install my garden & outdoor lights?
Unless you've bought low-voltage or solar garden lighting, it's a good idea to invest in the services of a reputable, fully qualified electrician, who will be able to install mains powered garden lights safely and according to the manufacturer's instructions.
How can I create ambience with garden lighting?
Outdoor and garden lighting can be used to create various effects.Spotlights on fences and trellis will create intimate pools of light, whilst lighting placed near water can produce spectacular, magical reflections. When it comes to patio lighting ideas, candle-lit hanging lanterns will create a warm, intimate mood.
Garden lighting ideas
There are five types of lighting to consider when it comes to brightening up your outdoor space:
1. Task lighting
These lights can be placed in or near entrance ways, in porches, garages and sheds, and are perfect for giving you and your guests some much-needed illumination when entering and leaving your property. 
Lantern-style garden wall lights create an inviting feel, whilst flush-fitted wall lights are an ideal option for the side of your home or above a back door.
Shop all Outdoor wall lights >
2. Pathways, driveways, decking & patio lighting ideas
Your paths, driveways, steps and seating areas will always benefit from a little extra illumination. A single floodlight is perfect for lighting up larger areas, whilst rows of solar garden lights can be used to mark out a path or decking section.
3. Accent lighting
If you want to draw attention to certain plants, ponds, sculptures or features, garden spot lighting is a superb option. Place spotlights near the base of a feature or under foliage for an intense, focused beam. Alternatively, mount two spotlights either side of the feature for a softer, more flattering effect. 
Threads of coloured lights strung across patios and trellises, or through trees and shrubs, are ideal for parties and al fresco dining. They're also one of our easiest garden lighting ideas – simply plug them in and you're good to go. Your guests will love them!
4. Garden security lights
A cost-effective and high visibility deterrent, garden security lights are perfect for protecting your valuables that are stored in outbuildings, and for making would-be burglars think twice before targeting your home. Activated by either heat or movement, they illuminate a wide area in a bright light, drawing attention to any undesirables.
Security light fittings can include either a built-in PIR detector, or a stand-alone detector. To stop intruders interfering with security lighting, it's important to mount your detector at least 2m from the ground. You can also invest in lights with a manual override facility, allowing for a constant source of light.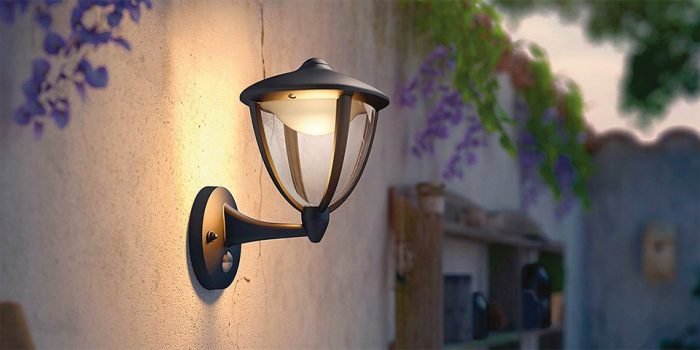 Security lighting is an essential addition to your outdoor spaces, it can add reassurance, deter unwelcome guests and also add interest to your outdoor space. Outdoor lights can be activated by a switch but more popularly there are many motion detector lights available and these are perfect for added security around your home.
5. Solar garden lighting
Outdoor solar lighting doesn't require electricity, making it a practical and environmentally friendly choice. Powered by specially designed batteries that store energy from the sun during the day and automatically switch on at dusk, solar garden lighting provides a soft glow for several hours at night. 
When placing solar garden lights, it's a good idea to position them in a sunny spot so they get a full charge during the day. They are also great for entertaining areas, helping to provide low-level accent lighting throughout the evening.
Remember to have fun with your garden lighting ideas, and you'll be able to create your perfect outdoor space in no time. Take a look at our Garden Ideas & Advice for more inspiration and share your own outdoor lighting ideas with us on Instagram @Homebase_UK.