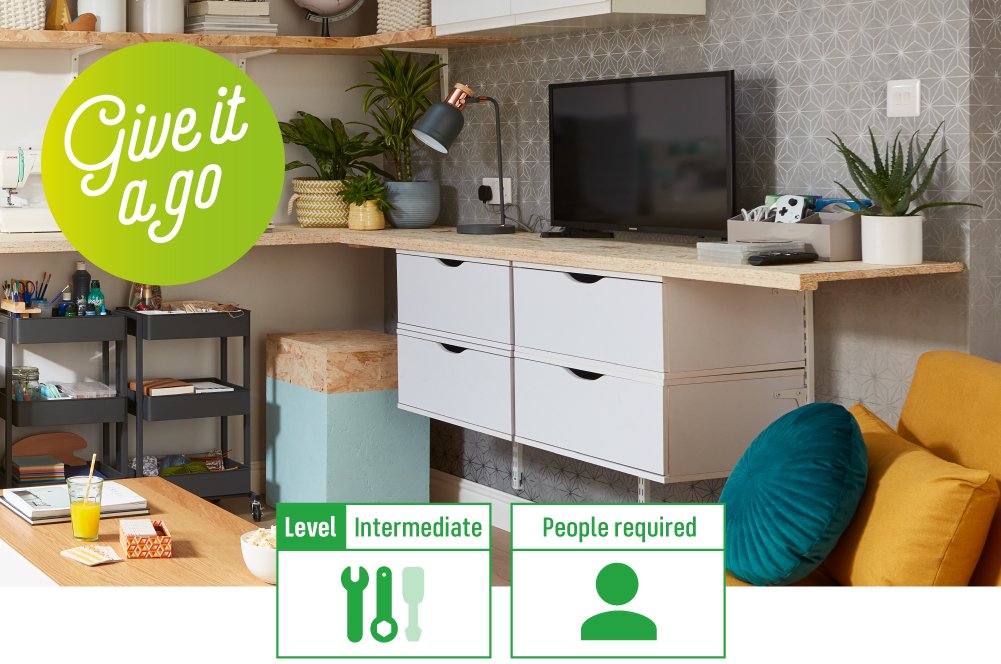 Sometimes the simplest things can create the biggest impact. And that's just what this TV and gaming console stand made from plywood is set to achieve.
As the focal point in most living areas, your TV deserves a stand that creates that wow factor. That's why we're helping you to give it a go and build your own DIY TV stand that you can then decorate and style how you like. Plus, it's a great way to flex out those beginner DIY skills.
Let's start with what you'll need.
Materials:
The number of plywood pieces you need will depend on your TV and console size, and the room space you have available for your new stand.
Tools:
Read our DIY safety tips and manufacturer instructions

Before you begin any DIY work, we recommend you read our DIY Safety Tips guide along with your power tool manuals to keep yourself and others safe and protected while completing this project.

If you're in doubt about anything, you should reach out to a certified expert for assistance.

Start by cutting your exterior pieces

Grab your circular saw – you can also use a table or jigsaw for this – and place your pieces of 12mm plywood on top of each other onto your workbench.

You'll need five pieces in total in your desired length for: a top, bottom, two sides and vertical partition.

Don't forget your eye protection, dust mask and ear defenders when using any electrical Table Saw, Jigsaw or Circular Saw.

Top tip: Cut your top and bottom pieces at the same time to ensure they're identical and use something with a straight edge as a cutting guide.

Assemble the outer edges

Now we need to start putting it all together, so this will be where your clamps come in handy.

First, start by gluing the two side pieces to the bottom panel – followed by securing it further with screws using your drill and screwdriver drill bit.

It is wise to also drill a small hole first to stop your board from splitting when driving in your screws – this will then help you drive in your screws easier.

Then mark where you want your vertical partition to be positioned in pencil and install it with your wood glue.

Top tip: To create a more contemporary look, place your vertical partition slightly closer to the end rather than the middle of the console.

Creating your shelf

Using your circular saw, cut to length you short shelf and long shelf to go either side of your vertical partition.

Top tip: You will know what lengths you need to cut by measuring the openings – it's always better to cut too long and then take it down to size slowly. Don't forget your eye protection, dust mask and ear defenders.

Assembling the rest

Add your wood glue to the sides of your shelves and slowly slide them in before clamping them down to make them stick. Finally, glue the top in place and secure it with clamps.

Next, secure it further with screws using your drill and screwdriver drill bit.

Finishing the interior panels

This step is going to help create a "stepped-in" look that adds an element of high-end quality to your console stand.

You'll need to take your 9mm pieces of plywood and cut them, so they fit around the interior borders of your stand. You'll need 16 pieces in total.

Use your clamps and wood glue to install all of these pieces.

Top tip: Measure your pieces ever so slightly 'too long' and then use your saw to slowly nibble away at the lengths until they fit.

Attach the back

Using your thicker piece plywood and wood glue, attach two strips to the back of your stand with a slight gap between the shelving for your wires to feed through.

Secure it further with screws.

Top tip: This step can be skipped as the stand will be sturdy enough without it. But we recommend it for good cord management.

Sand and finish

Sand down your wood and smooth out your edges.

Then you're free to leave as is or finish it with a wood stain or paint of your choosing. Check out our Paint Ideas & Advice if you need some help with this step.

Attach the legs

You've made it to the final step!

Flip your stand upside down and mark where your four legs will go. Then it's just a case of using your drill and some screws to secure them.

Top tip: Attach your legs inset a bit for a more contemporary look instead of the very corners of your stand.

And there you have it, your very own TV and Gaming Console Stand. 

Don't forget to upload an image of your new TV and gaming console stand to social media, tag and follow us @Homebase_uk