Decorating bedrooms for your little ones can be a struggle. Not only do you want to create a magical bedroom for them, but you need to strike the perfect balance between their bold colour choices and the interior of the rest of your home.  Luckily for you, we have Crown Paints® Breatheasy® range.
With their bright and playful colours, they've given us plenty of paint ideas for transforming your little girl's or boy's bedrooms – from feature walls to murals.
Below, we take a look at what makes the Crown Paints® Breatheasy® range so special and show you some of our favourite painting and decorating ideas for kids' bedrooms.
Little boys' and girls' bedroom paint ideas
Choosing the colour scheme for your little one's playroom or bedroom can be particularly difficult. As parents, it's imperative that we don't follow the old-school stereotypes of the classically associated girls' and boys' bedroom colours. Think more about the emotions they'll radiate out and the ambience that will be created within the room.
Tranquillity and peace
Decorating bedrooms and adorning the walls with colours such as Lavender Cupcake®, Crème de la Rose® or Moonlight Bay® will help to invoke peace in your little ones. If you're looking for a darker shade, the deep and soothing colours of Cover Story® and Scrumptious® are sure to delight.
The natural adventurer
For the child that likes to get lost in their own wondrous imagination, use colours that take inspiration from the rainforest regions.
With Khaki Twist® and Dance Fever™ , you can create a portrayal of the roots of the rainforest and encapsulate feelings of adventure within your child's bedroom.
The Breatheasy® Gentle Olive® and Soft Lime is sure to make them feel like they're exploring the beauty of the rainforest landscape in front of them – albeit if it's only in their imagination.
Painting a feature wall in the bedroom
We all know the struggles of involving young children in the design process for their bedroom. When you're deciding on the paint colour you're going to use, a child may often choose the most exciting shade that is in front of them – not necessarily the colour that is going to flow with the rest of the house.
Based on a more mature colour palette, ask the kids to choose from the Duck Egg, Palm Springs® and Sunrise colours for a feature wall that will make them feel like it's truly their decision. Don't worry, we won't tell!
To ensure that your feature wall is cohesive with the rest of your interior, you may want to consider choosing other colours from the same palette. But remember, it's not a feature wall unless you're brave with your choice of paint colour!
If you already have walls that are painted neutral colours, try a complementary colour that's a few shades darker. If you want a room that feels alive with colour, but your walls are already  dark, don't worry. Consider a paint colour on your feature wall that contrasts with the others, like Mustard Jar™ or Old Gold. Painting and decorating is all about the pairings!
Painting a wall mural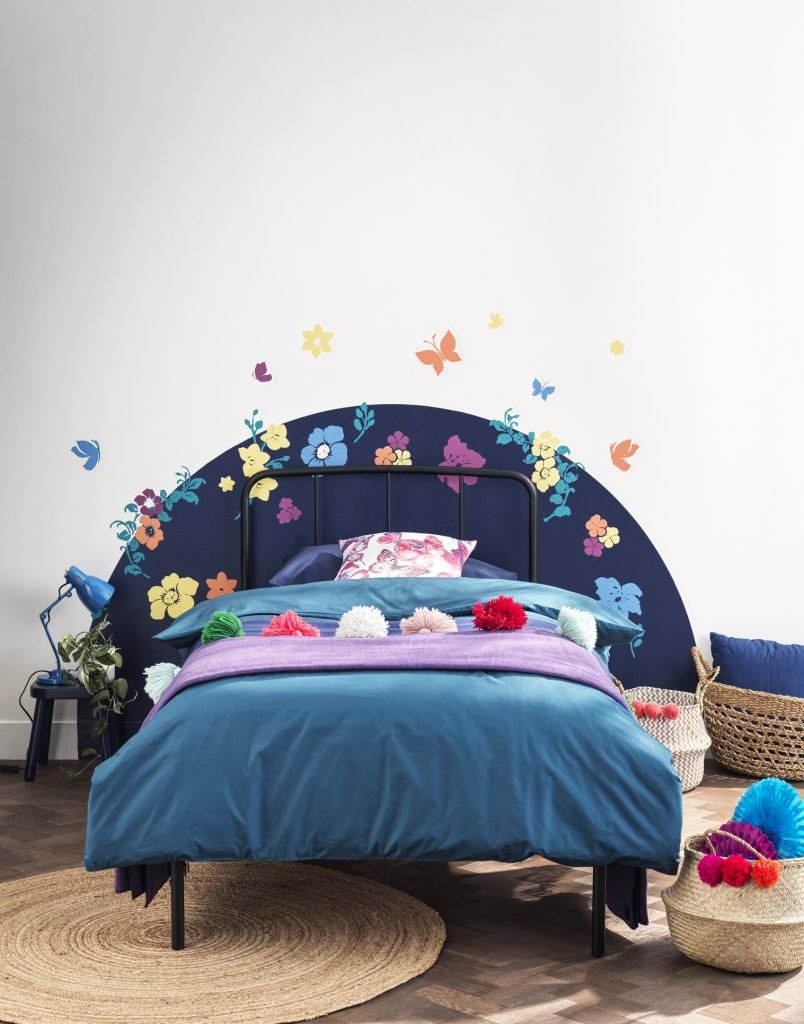 It's every child's dream to have a room that they can truly get lost in. One of the simplest ways to do this is to create a wall mural.
Try matching Chalky White and Peek a Boo Blue®, or Midnight Navy® with Spotlight®. Once you've prepped the room and your tools, you need to map out the area that you're going to paint.
The easiest way to paint a wall mural for your little one is by creating a half-moon shape.
Follow our steps below to learn for yourself:
Measure the width of your bed, then add 30cm and note this down.
Cut a piece of string to this noted length.
Find the centre point at the bottom of the wall, directly behind the bed and attach the string to it using Sellotape.
Attach a pencil using Sellotape to the other end of the string.
Then, starting on the left-hand side, draw a line on the wall from one side to the other – this should leave a half moon shape on the wall.
Now, paint below the semi-circular line to create a half-moon shaped mural.
Once dried, this space is now the perfect place to personalise with your little one's favourite TV/movie characters or animals and shapes. You can use stickers for this, or shop our range of paint stencils.
What makes Crown Paints®Breatheasy® range special?
The Breatheasy® range is also now asthma and allergy friendly, giving you peace of mind that it's entirely safe to put in your child's bedroom. Have a browse of the Crown Paints collection to accompany you on your next project.
If you're in search of some more decorating inspiration beyond children's bedroom painting ideas, take a look at our Ideas and Advice hub.