Camping is a great way to spend some time outdoors, recharge and enjoy quality time with family and friends.
However, camping trips can involve lots of packing, planning and travel. Instead, take the weight off your shoulders by choosing the easier option – camping at home!
Camping at home will allow you to experience all the excitement and adventure of camping without the hassle and more importantly, with a little more luxury. To help you make the most out of camping at home, we've put together a selection of garden camping ideas for the ultimate staycation activity.
Before you start  
Some of these garden camping ideas may require the use of power tools. Read our DIY Safety Tips, along with your tool manuals, to keep everyone safe.
Set up your campsite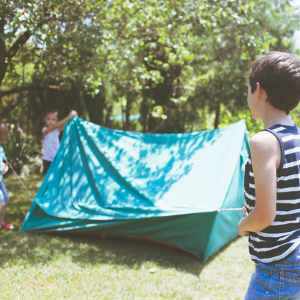 To set the mood, create your own cosy campsite! Pitch a tent (or two), fill it with cushions and throws for added comfort and add a rug or outdoor mat at the entrance. Alternatively, build an outdoor fort by throwing blankets and sheets over a clothes line and securing them with clothes pegs.
The best thing about camping at home is that you get to bring a few more home comforts with you. Create a place to relax and eat outside of your tent area with a few garden seating options. Camping chairs are a great idea, as they're easy to move around and pack away.
Choose a theme
Whether you're catering for kids, teens, adults or all of the above, make your camping retreat truly special by giving it a theme.
You can be as extravagant or as simple as you like – you could even turn your campsite into a festival!
To help inspire you, we've put together a few of our favourite garden camping ideas.
Camping at home ideas
Woodland campfire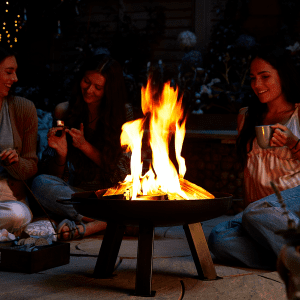 Stick to the classic camping theme and build your homemade campsite around a warm and inviting firepit. Encourage the kids to toast some marshmallows, and have a go at sharing some campfire stories.
Camping at home also means you have a lot more freedom when it comes to food options. So, fire up the BBQ and serve up a traditional camping feast. Create a trail mix bar by putting options like dried fruits, seeds, nuts, chocolate chips and pretzels into different food storage containers, so everyone can create their own little snack dish.
Top tip: Be cautious around open flames, as you don't want anyone getting hurt.
Nature hunt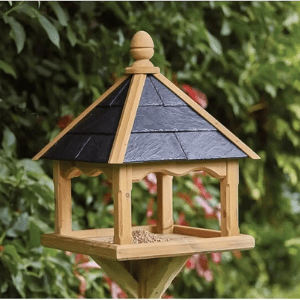 One of the best camping ideas for kids at home is an adventurous scavenger hunt!
Get everyone to pair up or split into small groups and come up with a list of around 10 things that must be found. Have a drinks trolley or an ice bucket handy to keep the drinks cool – as this game will be thirsty work!
Set up a folding garden table with plenty of nature-themed snacks and serve ware to keep the kids happy. Challenge everyone to a bird watching competition and encourage feathered friends to stop by with a bird bath, bird feeders or by sprinkling bird food onto a bird table.
Top tip: Keep the little ones entertained by suggesting they build their own fairy den using natural materials around the garden like twigs and leaves.
Obstacle course competition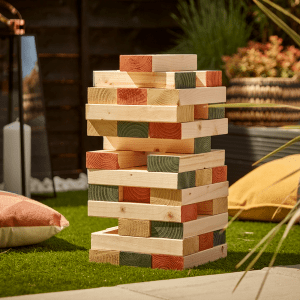 If you're feeling active, plan a sports-themed camping at home experience. Set up an obstacle course with activities like frisbee throwing, ring tossing or a penalty shoot-out competition.
Once everyone's worn out, set up a game of giant Jenga or scrabble to continue the competitive fun (also, to allow the adults to have a bit of down time).
The great joy of camping at home means you can also let the younger ones play on their ride-on toys without having to worry about things getting lost or left behind.
Starry night spectacular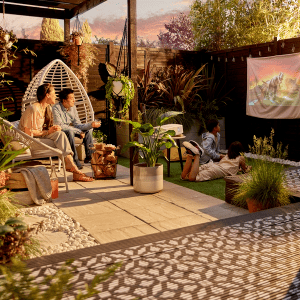 Camping is all about spending time outside and with nature – particularly after the sun goes down. So, make the most of it when you're camping at home!
Grab a star chart, some binoculars and get stargazing. You could make it into a game by challenging each other to see who can find certain constellations the fastest.
Hang up some string lights around the trees to create a magical atmosphere and create pools of light by dotting solar stake lights or lanterns around your campsite.
Torches aren't just good to light up the dark, you can also use them to create shadow puppets on the walls of your tent or to play flashlight tag. Or, for a VIP camping at home experience, set up an outdoor home cinema to keep the whole family entertained under the stars.
And there you go! Those are our fun garden camping ideas for camping at home. Don't forget to share your snaps of your camping set up with us on Instagram @Homebase_uk and if you're looking for more Summer activities, check out our other ideas here.