If the kids have maxed out their screen-time and are complaining of being bored over the half term, then it's time to get creative.
DIY isn't just for adults – there are many DIY projects the kids can get involved in. To help give you a little inspiration, we have put together this handy blog to show you a handful of ways the kids can get put to work with some simple, low-cost DIY projects.
Not only will a DIY project give the kids a great sense of achievement, you'll also end up with some fabulous and  unique home-made creations.
Before you start
Painting and decorating is a great place to start when it comes to DIY – as long as you've done the necessary prep beforehand. Make sure you have securely covered all surrounding furnishings and flooring, and always paint in a well-ventilated room or outside.
Don't forget to always read the paint manufacturer's instructions for the recommended drying time and if any paint gets in contact with anyone's eyes, rinse immediately with cold water.
Upcycle an arts and crafts table
An easy and lasting DIY project idea is for the kids to create their own designated arts and crafts station. All you need is an old table to upcycle, or you can take a look at some of the simple kids desks we have in stock and get them to inject their own personality into it. Let's start with a simple chalkboard crafts table.
If you have an old wooden table to hand, simply grab some chalkboard paint and paint over the entire wooden table-top surface. Let it completely dry and then you will be left with a scratch-resistant finish that will allow the kids  to have a writeable/wipeable chalkboard surface.
You may also want to check out our Craft Paint range to see what we have on offer. From glitter and rainbow paint, to glow in the dark spray paint, there's lots for the kids to get creative with.
If you don't have an old wooden table to hand, you could treat the kids to one of ours. Once it's assembled, it will need sanded down and primed. This will create the perfect surface for the kids to paint it however they choose. They could finger paint, or get inspired by Jackson Pollock and go abstract. Once completely dry, an adult will need cover the table with a clear gloss to protect the kids masterpiece and to make the surface easy to clean.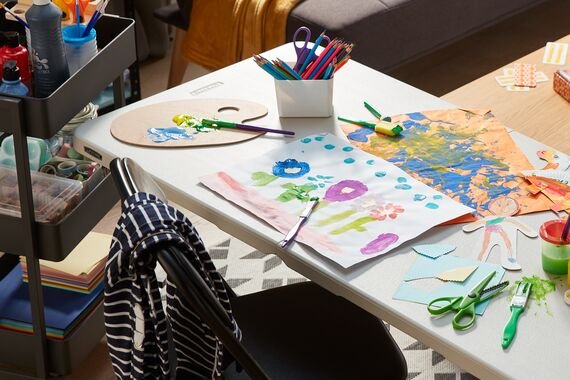 Lemonade stand
Another great idea is to let the kids create their own lemonade stand. A lemonade stand is not only fun, but it'll also teach the kids some great skills, whilst keeping them busy. All you need to start is a long table and an old bedsheet.
Let the kids go crazy with paints, glitter and whatever else they choose to decorate the bedsheet with. Once dry, throw it over the table and they're good to start kitting the stand out.
A handy way to store the lemonade is in a  reusable drinks dispenser, or a get some Clip Top bottles and keep them fresh in an ice bucket.
Use some timber or an old wooden pallet to create your lemonade sign. To do this, simply paint over the surface with chalkboard paint and help them write onto it with some chalk what goodies they've got on offer.
Chalkboard paint will allow the kids to always be able to adapt their sign if they want to change their stall into a bake stand or something else another day.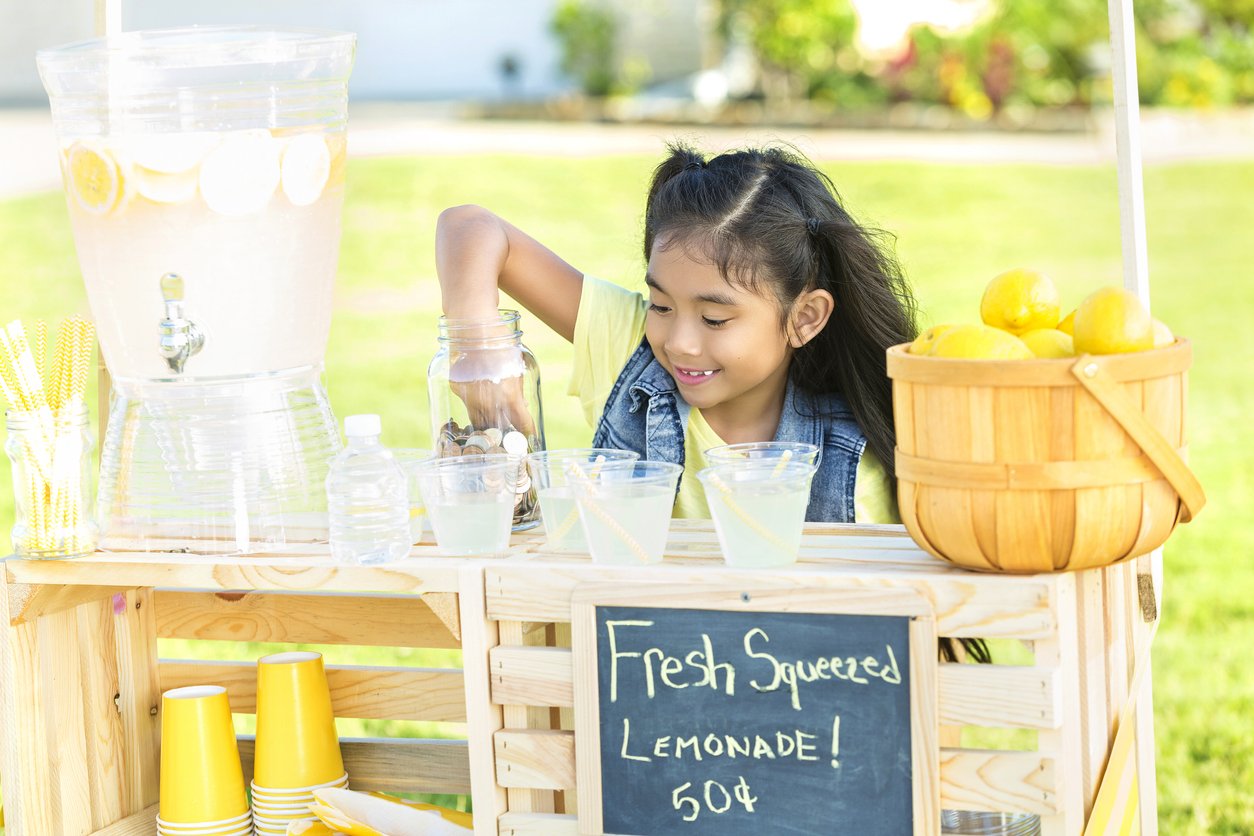 Eggshell seed garden
A simple 'first' gardening project idea for the kids, is to create their own eggshell seed garden.
Simply, rinse out some cracked eggshells – they can be as uneven as you like, as long as you have at least half the shell intact.
The kids can then paint the shells and once dry, pop them back into your cardboard egg carton.
Using a spoon,  fill each eggshell pot with potting mix and drop a couple of seeds of your choosing in, and then cover with a tiny layer of soil. Herbs are a great choice- they're easy to grow and will make excellent gifts, so the kids can learn patience and the importance of sharing along the way.
Leave the egg container in a warm room and lightly mist the soil every couple of days with water. When seedlings start to emerge, snip the weakest ones to allow the largest seedling to grow. Once the seedlings develop their first set of true leaves, you can get the kids to plant them directly into the garden. Don't forget to recycle the egg carton or toss it onto the compost pile.