Organising a kids' garden party is a great idea for celebrating Summer-time birthdays or bringing everyone together during the school holidays.
The handy thing about hosting an outdoor party – especially when it comes to kids – is, it keeps all the mess out of the house, while also providing you with extra space to get creative.
Like most parents, you'll want to throw the ultimate event – so planning is key!
We believe that setting a theme will help everything else fall into place. To get you started, we have come up with some kids' garden party ideas that promise to keep your little ones entertained for hours.
Camping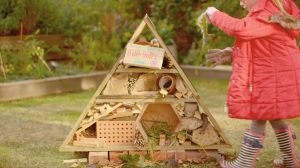 This is a great outdoor party idea if your little one is adventurous and loves spending time in nature.
Set the scene with a tent and ask everyone to bring a sleeping bag with them. With the good weather on your side – hopefully – make a circle just outside of the tent and create seating using the sleeping bags.
Then, with adult supervision, let the fun begin.
Start the day off with an activity such as building a bug hotel or citrus bird feeder, followed by some delicious s'mores round the campfire – or firepit if you prefer the easier option.
Festival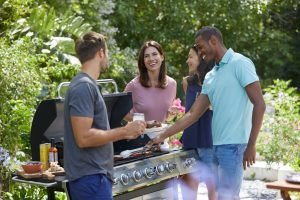 Everyone loves a festival – making this a great kids garden party idea. Though it's a great theme for adults too!
Colourful décor such as bunting and balloon arches are a must. As for the all-important music – will you go down the live entertainment route and have the kids perform? A pergola will make for the perfect stage.
A burger van is a crowd-pleaser at a festival, so fire up the BBQ and dot some picnic tables around the garden.
Finally, got some mini–V.I.Ps to impress? Dressing up a plastic or wooden playhouse will make for the perfect chill out spot.
Mini Olympics
Have you got a sports fanatic in the house? A mini-Olympics is the perfect outdoor party idea – especially as it will help the kids burn off all their energy from the sugary party snacks.
The set up itself will be pretty simple – all you need is some garden games and of course a scoreboard, which you can build with some screwed together timber and chalkboard paint.
We've got a range of great outdoor toys to help with this, such as ball games and climbing frames for a fun obstacle course. Just put down some floor padding and ensure there's an adult to supervise.
Outdoor cinema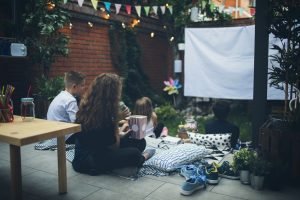 What could be better than an outdoor cinema experience in the comfort of your own garden?
This kids garden party idea is a bit more evening-time friendly, as daylight sun may affect the movie viewing.
You will need some outdoor lighting – string lighting will create a relaxing atmosphere – and comfortable seating. Make things easy for yourself and lay some picnic blankets or throws and cushions on the grass, along with a chimenea or fire pit to keep everyone warm.
Party food wise, hot dogs on the BBQ and a table laid out with nachos and popcorn will be sure to keep everyone happy.
To play the movie, you'll need a projector and a white bed sheet you can hang from a fence – and then it's simply lights, camera, action!
And there you have it – a full range of Kids Garden Party Ideas! Now all you have to do is choose which one is right for your little one.