Many of us make the mistake of believing decorating while renting is a no-go. However, we're firm believers that we all deserve to have a place that it feels good to be home in. While there may be a few obstacles to overcome; just because you're renting, doesn't mean you can't make your bedroom your own unique haven with a few clever decorating ideas.
To help you out, we've put together some of our favourite bedroom decorating ideas that you can easily implement without risking your deposit or upsetting the landlord.
Before you start 
Our rented bedroom decorating ideas may require some DIY, so we advise you to read our DIY Safety Tips guide and the manufacturer's instructions when assembling furniture.
Read your contract or check with your landlord
It's a good idea to check your contract, in case your landlord has created some guidelines for decorating while renting.
Some may allow you to put up shelves, hang mirrors and even paint walls, but may also ask you to return the property to its original state before you leave. However, our rented bedroom decorating ideas are suitable for even the strictest of landlords. Get ready to make that home your own!
Top tip: Get consent in writing to ensure your deposit (and you) are protected.
Get creative with storage ideas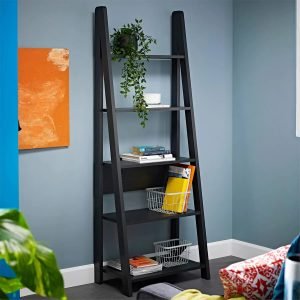 Often, rented housing has a lack of storage – particularly bedroom storage, so it's time to get creative!
Modular furniture, such as cube storage, is great. With it being available in so many flexible options and colours, you can use it to really make your rented bedroom feel like it's your own.
If your wardrobe isn't big enough, use a clothes rail or a hanging storage organiser to give yourself more space.
Ladder shelving is an ideal alternative to wall shelving if you're not allowed to fix items to the wall. Plus, they're great for squeezing into particularly small, rented bedrooms, as it uses up your vertical space instead.
Contrastingly, if you have a larger rented bedroom and want to divide up the space, room dividers can help you create distinct areas.
Top tip: Check out our other Storage Solutions for Your Bedroom here.