Choosing the best lighting for the busiest room in the house, your bathroom, is so important. Bright, clear light is essential as you prepare for the day. Then later, as your bathroom becomes a sanctuary for relaxation, you'll probably want to create a more luxurious atmosphere. Whether you want to keep the lights up or turn them down low, we have plenty of solutions.
Safe lighting
Regulations are very strict in terms of which fittings can be used in a bathroom. The Ingress Protection (IP) rating refers to the amount a bathroom light is protected from water or steam entering the light fitting. Every light fitting is given an IP rating that relates to its water resistance. An IP44 rating or above is an essential requirement for lighting to be deemed safe for use in the bathroom. Bathrooms also have different zones and the zones determine what type of light you may use within that zone.
IP ratings for bathrooms
Protection against solid objects
Protection against fluids
First number
Description/test
Second number
Description/test
0
No protection
0
No protection
1
Protection against solid objects over 50mm, e.g. accidental touch by hands
1
Protection against vertically falling drops of water
2
Protection against solid objects over 12mm, e.g. fingers
2
Protection against direct sprays of water up to 15 degrees from the vertical
3
Protection against solid objects over 2.5mm (tools/wires)
3
Protection against sprays to 60 degrees from the vertical
4
Protection against solid objects over 1mm (tools / wires / small wires)
4
Protection against water sprayed from all directions – limited ingress permitted
5
Protection against dust – limited ingress (no harmful deposit)
5
Protection against low pressure jets of water from all direction – limited ingress permitted
6
Totally protected against dust
6
Protection against strong jets of water, e.g. for use on ship decks – limited ingress permitted
7
Protection against the effects of immersion between 15cm and 1m
8
Protection against long periods of immersion under pressure
Bathroom zones
ZONE 0:
Inside the bath or shower cubicle. Rated IPx7
ZONE 1:
Directly above the bath or shower, up to a height of 2.25 metres. Rated a minimum of IPx4
ZONE 2:
0.6 metres wide and covers the area directly next to ZONE 1, all around ZONE 1, and the area outside of the 2.25 metres directly above the bath or shower. ZONE 2 is also the area around the wash basin. Rated a minimum of IPx4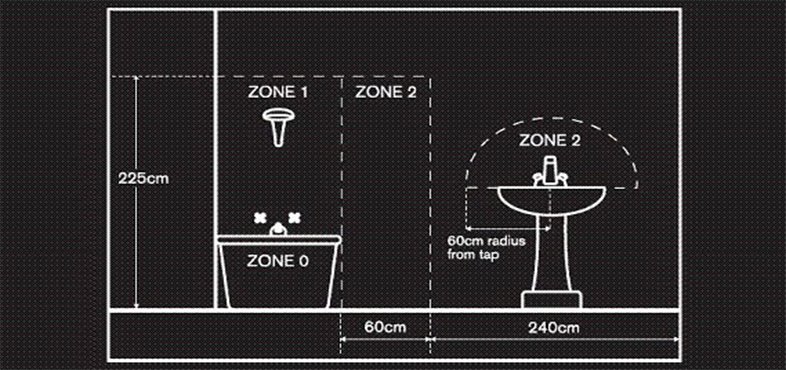 Light switch safety
This can either be a pull cord in the bathroom or a light switch outside the bathroom, both should ideally be located near the door.
Lighting with purpose
Whether it's a light to illuminate the whole room, to brighten your mirror or something subtle to set the mood, we'll help you to discover the perfect fitting.
Task lighting
Task lighting has a specific purpose; these are the ones that give you the best light for shaving, putting on make up, cleaning or cleansing. Lights around a mirror, or the spotlights in your ceiling, will help you to achieve just the right level of light.
Decorative lighting
Decorative lighting is all about style. Maybe your bathroom needs a shimmering chandelier to give it wow factor. Perhaps you'll go for spotlights in your bath or floor lights for a fabulous style statement.
Light up
Spotlights are stylish and modern and can give the kind of light that creates atmosphere. They are very discreet and can be used in ceilings to specifically highlight an area of the room. Installing a spotlight above a vanity mirror, for example, can work really well.
Mirrors featuring lights are perfect if you'd like to use the bathroom mirror for applying make-up, shaving and more. An illuminated mirror brings more light into the room and can add an atmospheric touch. Mirror lighting can be mains or battery powered.
For a luxurious bathroom that's all about indulgence a chandelier makes a wonderful choice. Choose from smaller chandeliers with a hint of grandeur to a larger, glittering fitting to create a stylish statement.
Bath tub lights
Lights beneath the water create a truly relaxing ambience. For ultimate luxury, and a spa-like feel, choose specially created spotlights. The lights can be fitted into the bath and you can bathe in relaxing low light, in the comfort of your own home.
LED floor lights
Lighting your room from the floor up is an exciting and contemporary solution. Floor lights offer atmosphere along with an effective level of light.
Save energy & money
Energy efficient light bulbs
There are two main types of energy efficient light bulbs available:
CFL are cost-effective and ideal for general lighting. Replacing a traditional light bulb with a CFL of the same brightness will save you money.
LED are good for replacing spotlights and dimmable lights. They are more expensive to buy yet they are more efficient than CFL so they will save you money in the long term. By replacing all halogen bulbs with LED alternatives, you could save on your electricity bills.
Less efficient light bulbs
Traditional light bulbs
Traditional light bulbs, also known as tungsten filament, incandescent or GLS (General Lighting Service) bulbs were invented more than 100 years ago. Only about 5 per cent of the electricity they use is converted into visible light so they are extremely inefficient and also, they don't last long because the filament gradually evaporates.
Halogen light bulbs use filament technology but they are slightly more efficient than traditional light bulbs. They are mainly used in spotlight fittings but as they're often used in large quantities, the electricity used to light a room is greater. LEDs are an excellent energy efficient alternative.
Energy saving tips
It's simple to save energy and money by making a few simple changes around the home:
Always turn the lights out when you leave a room, even if you're just leaving the room very briefly
Be conscious about how many lights you use and whether you need them all on
Try to arrange light switches so that it's convenient to turn them off, for example: place switches at the top and bottom of stairs, at each end of a hallway and by the door to a room
Use a sensor and timer on outdoor lights so they are only in use when there's someone outside