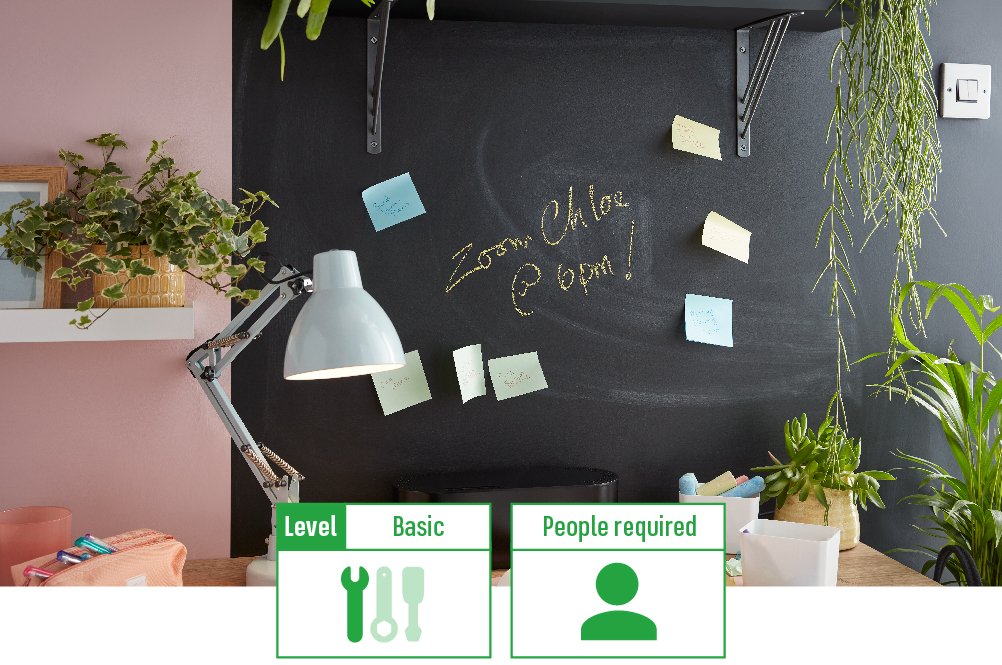 Creating a feature wall is an amazing way of creating a focal point within a room.
One idea is to create a chalkboard feature wall – especially if the room is for children, or an office where you want a space to visually plan things out.
Rather than buying a chalkboard, you can use chalkboard paint to create any size of chalkboard that you would like.
Let's start with what you need.
Materials:
Chalk eraser
Chalk duster
Clean rag
Tools:
Be prepared

If you're a DIY beginner, you can read our How to Paint Walls and Ceilings Guide here. This will tell you everything from what tools you need, to how to buy the right amount of paint. And don't forget to open your windows before starting to properly ventilate the area.

Clean your wall

First, you want to make sure the surface you're working on is clean and smooth.

Use your cleaning materials to get rid of any dust and grime. Then use sandpaper to sand the entire surface down and a duster or clean cloth to get rid of the dust created.

Top tip: Doing this step properly will allow your chalkboard paint to go on smoothly.

Outline your chalkboard space

You can paint the entire wall with chalkboard paint. Or, if you only want your chalkboard to take up an area of your wall, you need to mark it out on your wall.

Use a tape measure to make pencil markings for the outline of your chalkboard and use a spirit level to ensure your lines are straight the whole way across. Then, put down masking tape onto your lines to ensure that you don't paint outside of the measured area.

Top tip: Remember that you will be painting inside your masking tape, so factor that in when planning out how big you want your chalkboard to be.

Start painting

Once you are happy, start painting with your chalkboard paint.

You are going to want to paint at least two coats, though you must remember to leave time for each coat to dry before doing the next one.

Leave to dry for at least 24 hours (48 hours is better).

Top tip: Try to paint in one direction if you can.

Prime your chalkboard

Lay a piece of chalk on its side and rub over your entire board.

Rub in the chalk with a dry rag and then erase.

Top tip: Not priming your chalkboard will risk your first drawing being there permanently.

Start drawing

Now you are done, you can start drawing on your new chalkboard feature wall.

Top tip: You can buy almost any colour of chalk and create anything you would like, from to-do lists to arty sketches.

Don't forget to upload an image of your new Chalkboard Feature Wall to social media and tag us @Homebase_uk.