Difficulty rating: Low
These tasks should be fairly straightforward, whether you have experience doing DIY or none at all.
Before you get started on any of our 'how to' guides, please take a moment to read through our DIY safety tips.
What you'll need:
1: A choice of materials for your shelves
Pine boards
You'll love the versatility of pine. It can be painted, stained and varnished or treated with Danish oil.
Choose timber that's straight, close-grained and fairly knot-free.
Melamine shelves
These come in a white melamine material. They're prefinished so there's no need to paint or seal. Nice and easy!
Wood effect
Wood effect shelves come in beech, maple, ebony and pale oak. You don't need to paint or seal them, and you can choose from three sizes.
MDF
Man-made MDF board is ideal for painting or staining. Always use a water-based primer or undercoat.
Glass
Glass gives you a stylish, contemporary look. Make sure you get safety glass with smoothed edges.
2: Choosing the right fixings
Make sure those smart new shelves stay up! Choosing the right fixings for a specific type of wall is key for secure shelving. If you're using screws, here's how to work out the length of screw you'll need: simply add the thickness of your plaster to the depth of the bracket or track, then add a further 30mm.
On brick or concrete block plaster walls, use heavy-duty plastic wall plugs and wood screws – 3.2mm or 5.5mm.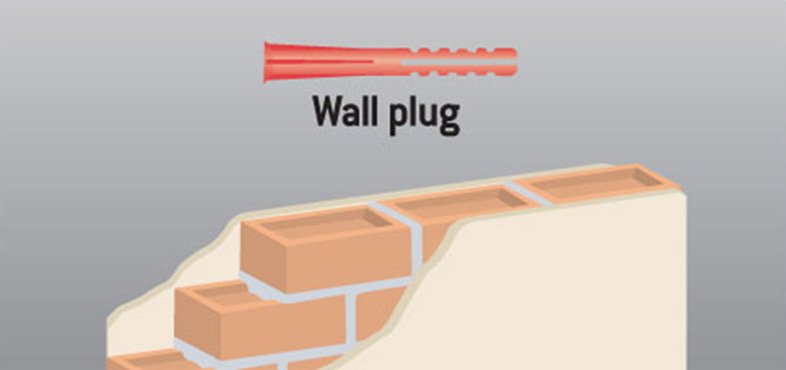 For lightweight block with plaster finish use universal plugs.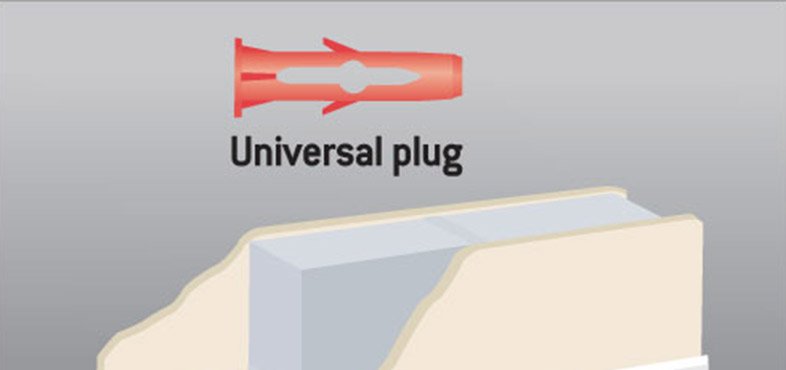 On stud walls with skimmed plasterboard, it's always best to screw into the wooden studs (use a stud detector). And don't use wall plugs – just screw straight into a pilot hole.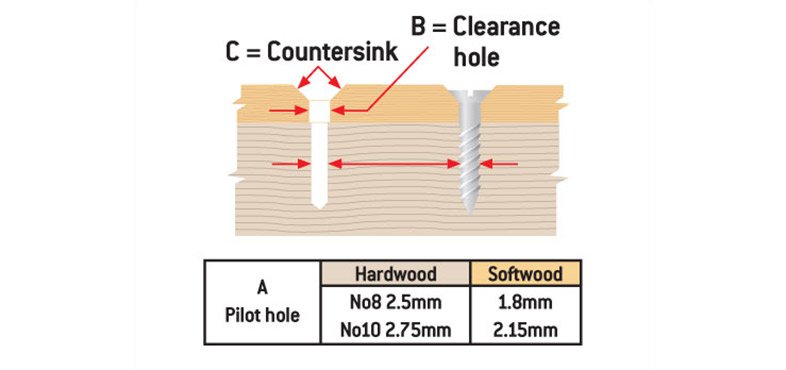 If you can't screw into a stud, use hollow wall fixings but limit the load on your shelves.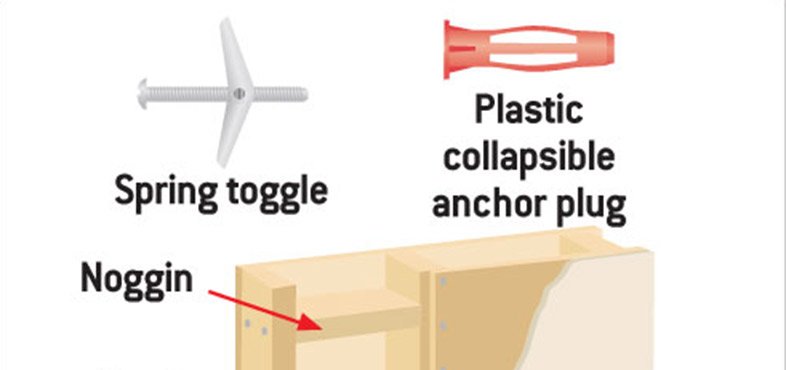 Treatdry partition walls the same way as stud walls with skimmed plasterboard above.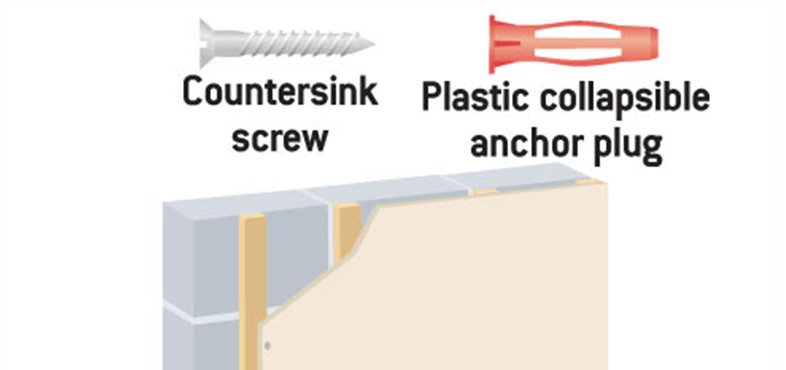 On lathe and plaster walls, use sprung or gravity toggles for very light weights. The strength of the lathes is the limiting factor and it's better to screw into the vertical studs. The studs will be at 406mm or 460mm centres but could be as much as 610mm, so use a stud detector to find and mark them.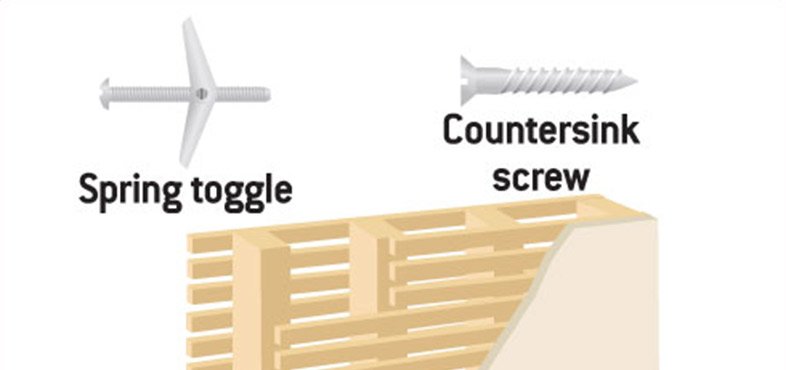 To compensate for the wide span, reinforce the shelf by lipping one or both edges.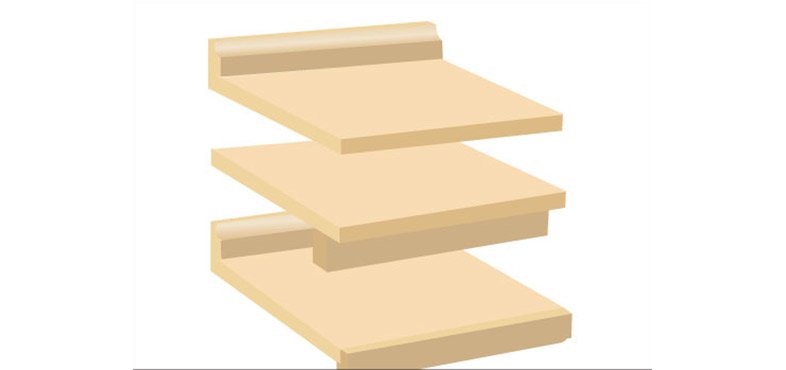 3: Getting prepared
Use a cable and pipe checker and mark the position of cables or pipes.
Move all your furniture out of the way and put down a dust sheet.
4: Hanging a single shelf on brackets
Make a mark on the wall where the bottom of the shelf will be. Draw a horizontal line from this point using a spirit level.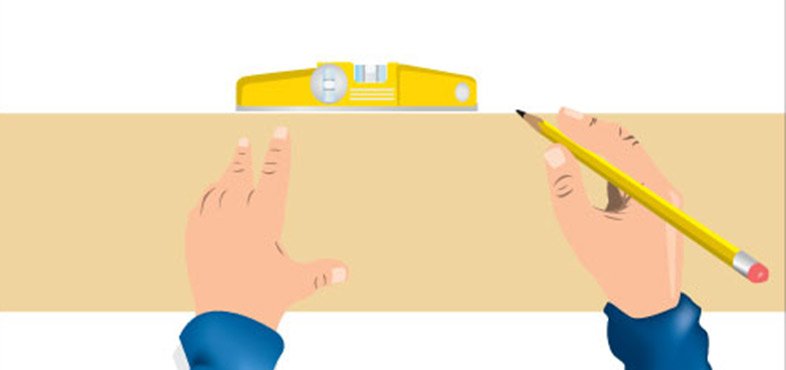 Mark the ends of the shelf on this line and vertical lines where the brackets go – i.e. 100mm-150mm in from either end of the shelf.
Hold a bracket against the wall with a piece of wood on top of it where the shelf would be. Line it up with the vertical and horizontal marks on the wall. Mark the screw holes with a pencil.
Use a hammer drill and masonry bit to drill holes that suit the wall plugs or fittings you're using.
Insert the plugs and screw the brackets to the wall.
Finally, screw your shelf to the brackets – you don't want it to tip!
Putting up more than one shelf? Simply follow the same method but use a spirit level to make sure the shelves all line up (fig. 9).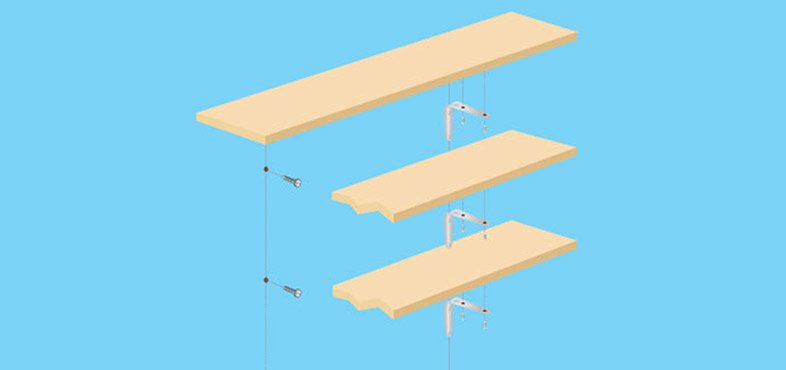 Helpful hint…
Brass or aluminium screws are soft and liable to break – so insert a harder steel screw first to cut a thread, then use the softer screws.
5: Putting up adjustable twin slot shelving
Mark the wall where the top of the track will be. Ideally this should be 150mm above your top shelf. Mark a horizontal line through this point using a spirit level.
The distance between uprights should never be more than 60cm from centre to centre.
Mark the positions of the uprights on your horizontal line. Then use a spirit level to mark the vertical position of all the track centres down the wall.
Next, place the piece of track in its correct position and mark through the top screw hole onto the wall. Measure the distance between screw hole centres and mark the holes by transferring these measurements onto the first vertical line.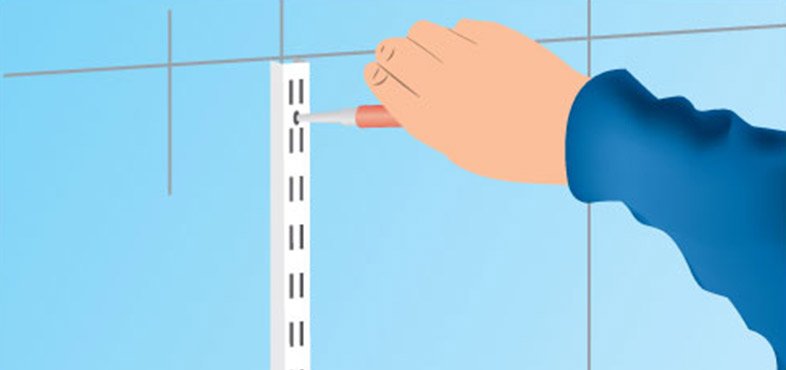 Use a spirit level with a straight batten to mark the positions of further tracks and screw holes across the wall.
Drill the holes, insert the fixings and screw the tracks to the wall.
If your wall isn't straight or flat, you may have to pack out some of your tracking to make it vertical.
Mark the position of the screws on the shelves with a bradawl, then drill pilot holes and screw through the brackets into the shelves with 4mm (no.6) screws. Screw one shelf at a time, working from the top.
Helpful hint…
Getting the correct fixings for a specific type of wall is essential for secure shelving. So always check before you buy.
6: Span chart – recommended distances between your brackets or tracks
Use the chart below to make sure your shelves have enough support. The ideal gap between brackets depends on the material you're using, the thickness of the shelves and what you'll be putting on them.
Span between brackets (mm)
Finished thickness
(mm)
Light ornaments
up to 15kg/m
Paperback novels
up to 20kg/m
Heavy books/magazines
up to 50kg/m
LP records
up to 80kg/m
Hi-fi/TV
up to 85kg/m
Softwood
16
800
600
550
19
800
550
800
21
900
775
900
28
1000
700
1000
18
700
600
600
600
Stripwood
26
800
700
700
700
12
600
500
15
600
450
450
Hardwood
18
700
600
700
21
800
915
800
25
915
915
915
Melamine faced chipboard
15
600
600
400
300
400
Veneered chipboard
16
700
610
400
300
400
12
400
Medium density fibreboard MDF
15
400
18
510
450
510
25
700
600
700
Helpful hint…
If only two tracks are used with your twin slot shelving, all of the shelves must reach across both tracks. If you use more than two tracks, some shelves need only cover two or more tracks. Having more than two tracks allows you to stagger your shelves and create a more interesting look.
Watch how to put up a shelf
Fitting a shelf may look easy but there are simple things that people forget. Here is a short guide to the best ways to get a perfectly fitted shelf.