From beautiful baubles to stylish decorations, choosing what sort of style you want your tree to have is always one of the biggest Christmas decisions there is. So, to give you a helping hand, we've rounded up the finest options on offer this year. Whether you prefer to keep it old-school with classic colours or match current trends with contemporary shapes, find the baubles you need to bring your Christmas tree to life with our handy guide.
Traditional baubles
If you want to capture some classic Christmassy cheer, vintage Christmas tree baubles and decorations are the perfect pick.
Classic colours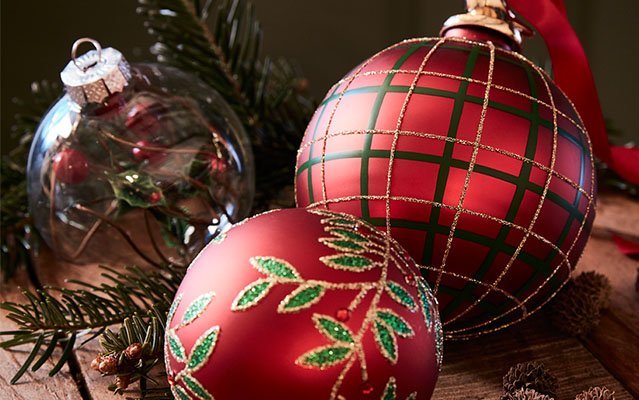 When it comes to Christmas decorations, there are a few festive shades that always spring to mind. Discover our Deco Luxe tree baubles in ruby red, emerald green and glamorous gold, ready to remind you of Christmases past with their vintage colours. Since they're made of glass, they're sure to really catch the shine of your LED lights too. Alternatively, if you want to embrace your tree's natural green and blue shades, our Homeland Flora baubles make the perfect organic throwback colour collection too.
Silver shades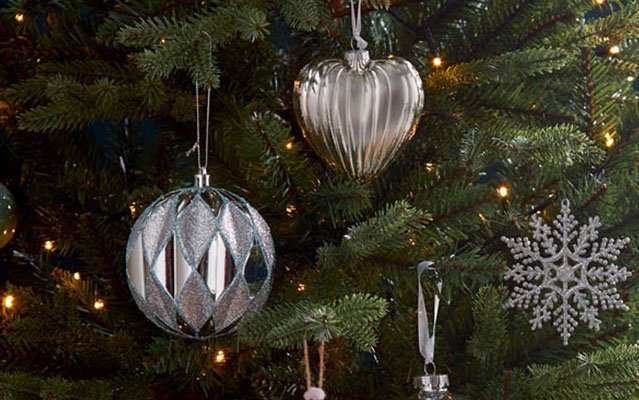 Metallics always add an extra dimension to any tree, so bring a sense of winter beauty to yours this Christmas with some stunning silver coloured baubles. One of the most eye-catching traditional winter tones to stand out against your tree's bold botanical shades, we've got metallic silver decorations in every shape as part of our Silver Shatterproof Pack – with enough to cover every inch of your tree too. Prefer to mix silver and gold? Try our Homeland Flora bauble pack instead.
Seasonal stars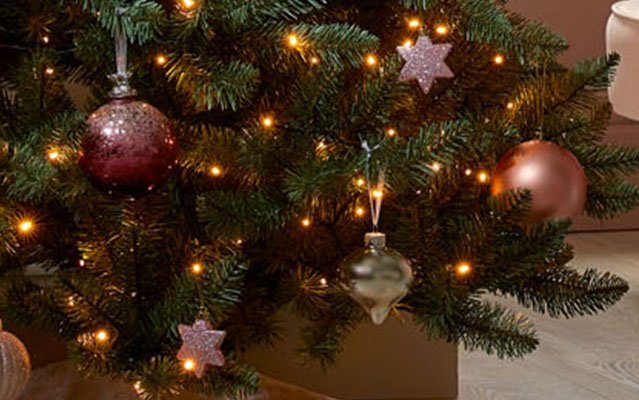 What could be more traditional than a star on a tree? There's no rule against doubling up on festive feeling at Christmas time, so add an extra vintage twist to your tree by including smaller star decorations alongside the main star on top. Whether you prefer circular White Ceramic, classic Wood or even sparkling glass stars, there are plenty of options to catch the eye against the green of your tree this year.
Traditional letters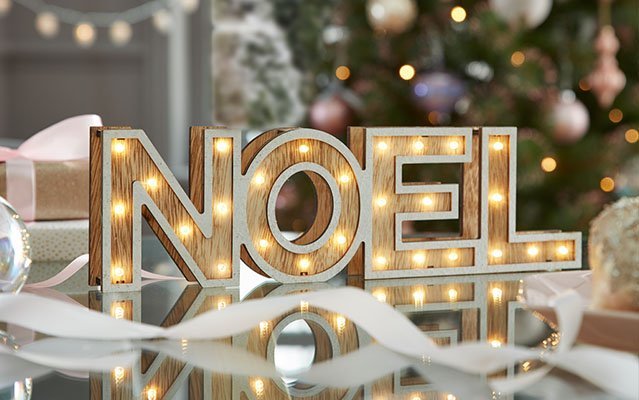 Modern Christmas tree decorations might take personalisation to a whole new level, but there's something extremely satisfyingly about the simplicity of traditional hanging letters. Whether you just want the first letter of your family's names, or you're spelling out festive phrases like 'SANTA' or 'XMAS', our beautifully vintage Wooden Letter Decorations can add sparkling silver beauty to any occasion.
Festive fruit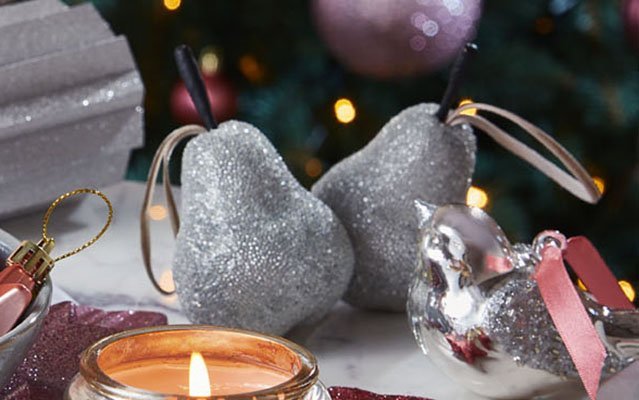 Perhaps the most traditional Christmas decorations of all, legend has it that glass apples were the inspiration for the first baubles back in the 16th century – and now you can bring that same vintage style to your tree this year with some stylish fruit decorations too. For a fresh and festive feel in classic colours, our White Apple Tree pick is perfect for adding depth to your foliage.
Bird baubles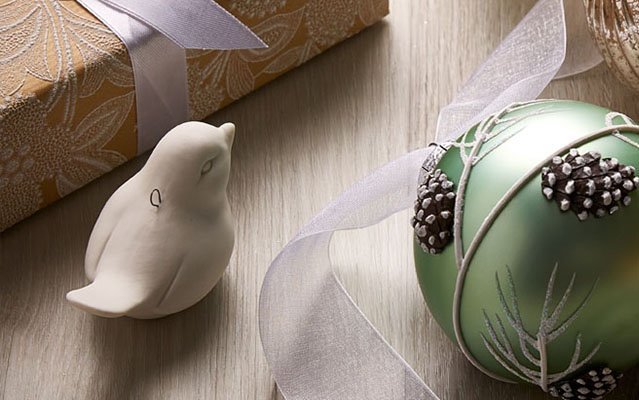 Forget a partridge in a pear tree, what about an owl or robin in your Christmas tree? Celebrate the holiday season by welcoming nature indoors with some oh-so traditional bird baubles on your tree this Christmas – all made from natural materials, with a woven feel to complete the look.
Non-traditional baubles
Making a modern design statement doesn't have to be difficult at Christmas time, and our contemporary tree baubles make it stylishly simple.
Brand new shades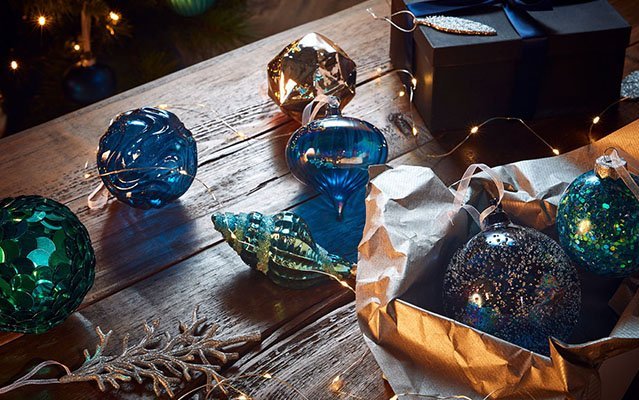 If you want to freshen up your colour scheme from the classic Christmas red, green and gold shades, then it's time to try our mixture of modern baubles instead. Give your home some marine inspiration with our Opulent Treasure tones of deep blues and purples, or discover a fun, family-friendly feeling with the shimmering rosy shades of our Pink Blush bauble selection too.
Child-friendly collections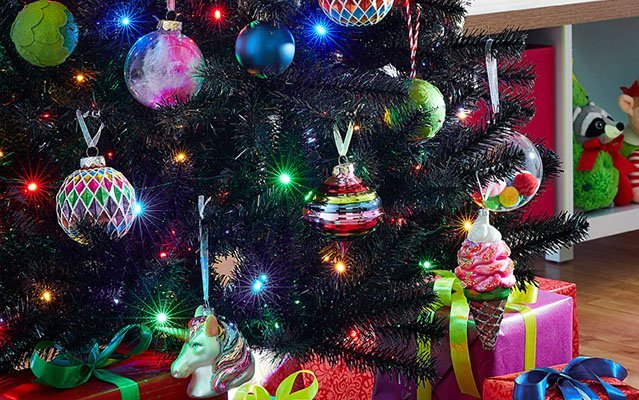 It's not just family-friendly colours that you can enjoy with non-traditional baubles, but family-friendly shapes too. Give your little ones yet another reason to fall in love with the festive season thanks to our fun decoration designs – from Dinosaurs and reindeers to squirrels and Unicorns. Whether they're a reminder of their first Christmas or just something special to look forward to each year, these colourful baubles are perfect for getting into the Yuletide spirit.
Eco-friendly designs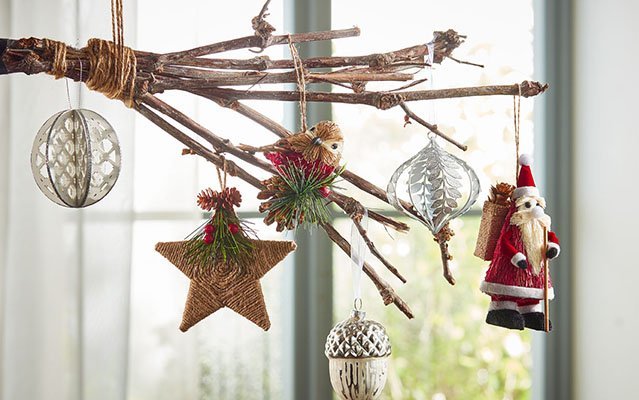 Enjoying an eco-friendly Christmas is easier than you think, especially when you invest in decorations made from recyclable materials, like wood or paper. Now, we're not saying you should replace your Christmas tree baubles every year, but it's nice to know you've got decorations that won't take decades to decompose – while still showcasing stylish designs like our Gold or Silver Concertina baubles or Glitter 3D Angel baubles.
Head-turning baubles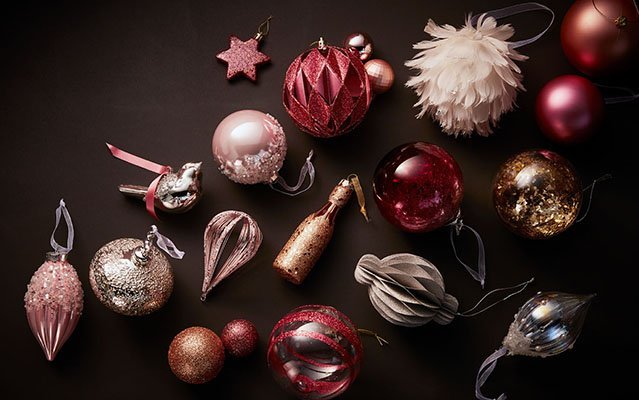 Eye-catching decorations are extremely popular on Christmas trees these days, and we've got a variety of quirky modern baubles to suit any style. Give your room a festive focal point with a contemporary twist thanks to our conversation starting decorations, like Glass Glitter Mushrooms or our range of marine-inspired baubles – from Silver Jellyfish to Turquoise Shells.
Stripped-back style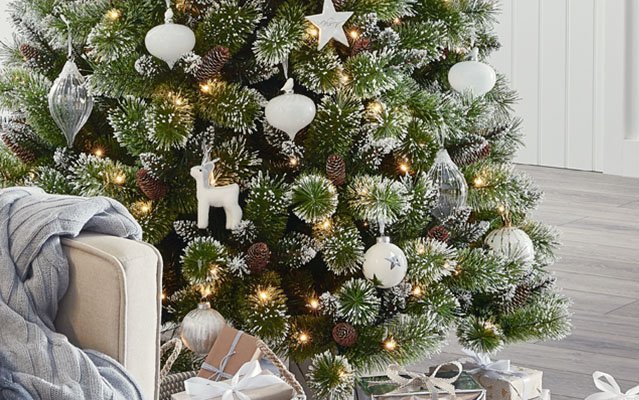 Minimalism is all the rage with modern decorations, especially when it comes to Scandinavian-inspired metal and wood designs. Want to get involved? Celebrate deliberate simplicity this year by adding hygge to your home with our beautiful baubles. Whether it's the signpost-influenced Wooden Tree or the looping iron bands of our White Metal Heart, giving a nod to Nordic traditions is easier than you think – and we've got everything you need.
Glitz and glamour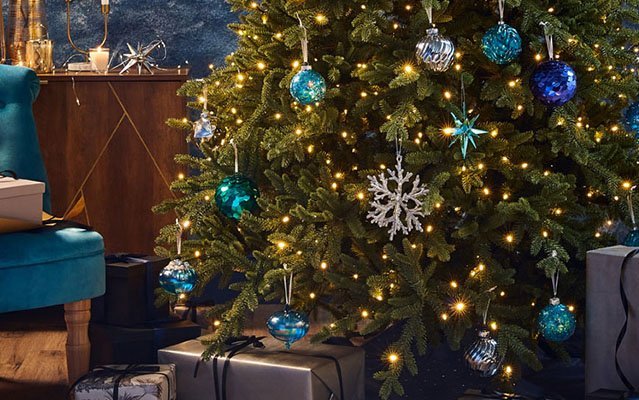 Sometimes your Christmas tree just needs a little bedazzling, and decadently decorated baubles are just the way to do it. Add some shine and shimmer to your festive centrepiece with everything from Gold Confetti Glass decorations to gem-studded Opaque Snowflake baubles for a contemporary Christmas feel. Perfect for showing off when guests are coming, they're also a great way to give your festive spirit a lift by indulging your fancy side this year too.