Finding the right ideas and designs for your outdoor lighting is one of the best ways to give your home a magical Christmas look.
Whether they're draped over bushes and trees, dangled from the gutters on your house or dotted about as standalone silhouettes, there are tonnes of garden Christmas lights to choose from. And no matter if you're a fan of the classic bulbs or want to mix it up with something new, we've rounded up 10 of our favourite Christmas lighting ideas to get you started with this handy guide.
1. Enjoy a classic Christmas with beautiful white bulbs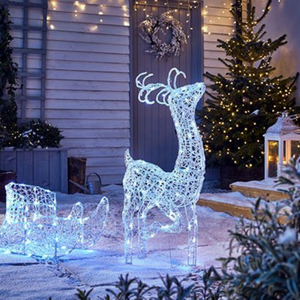 If in doubt – go with a classic. And there's nothing more traditionally festive than beautiful white bulbs. Whether you prefer polar white or cool white shades, capture the feeling of the season with their iconic icy colouring. From doors and drainpipes to sheds and fences, there's no limit to where you can hang white lights either – especially with long-lasting LED bulbs. Plus, they make the perfect base lighting to complement your other outdoor decorations, so surround them with classic Christmas ideas, like traditional colours or fresh foliage to bring your décor to life.
2. Say hello to Scandinavian style with our hanging lanterns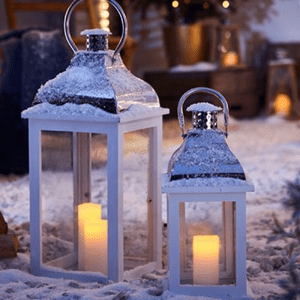 Give your house a sense of Scandinavian style this Christmas with our outdoor hanging lanterns. From porches to pergolas and even tree branches, it's lighting that's easy to hang from anywhere, adding a festive atmosphere to any garden or patio space.
3. Bring eco-friendly glamour to your home with festive solar lights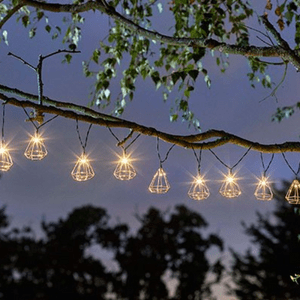 Whether you've got a traditional garden or contemporary outdoors, festive solar lights are one of the easiest ideas to add a little Christmas charm to your house hassle-free, with a wide range of illuminating ideas and styles on offer. What's more, you don't have to worry about replacing the batteries or running power cables across your garden. Instead just make sure they're in sunlight during the day and they'll shine brightly all night long.
4. Discover some old-fashioned festive charm by candlelight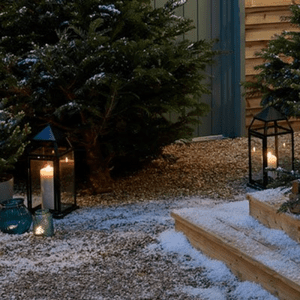 Capture some classic Dickensian charm this Christmas by bringing the power of candlelight to your outdoors. Cosy and warm, these flickering lights are best used outdoors in candle holders to keep them from being blown out by the wind or toppling over and causing a fire risk. Thankfully, Homebase have a range of chic candle holders on offer, with designs ranging from gold leaves to black metal and glass. What's more, if you want to enjoy the beauty of candlelight while keeping the bugs away at the same time, our Citronella candles are the perfect pick.
5. Take your wreaths to the next level with festive lighting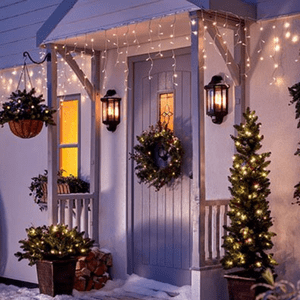 Combine the best of both world with outdoor Christmas decorations that can be brought to life with a little brightness. Whether you prefer homemade or store-bought, there's nothing that tops off a beautiful festive wreath better than a simple string of lights woven into it, ready to be hung on your door or in your windows to give your home a real festive feel.
6. Drape your greenery or fence in bright bulbs with our net lights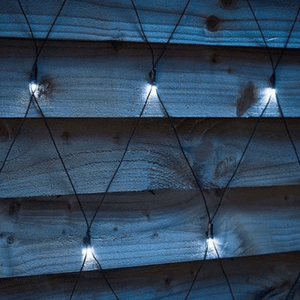 Giving your trees, bushes, fences and even garden ornaments a festive makeover is simpler than ever with our beautiful Christmas net lights. As the name suggests, the white or coloured bulbs are woven into a flexible net, which you can then drape over your garden greenery for a magical festive feel. Available battery-powered or plug in, it's one of the fastest ways to add lights to your outdoors, since it's all one self-contained power source. Most net lights come with a range of functions, meaning you can choose between twinkling, flashing or just static light to create some Christmas cheer outdoors.
7. Be inspired by winter with our roof-friendly icicle lights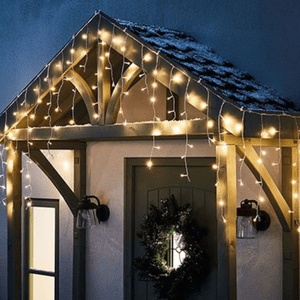 If you want to help your home capture an amazingly authentic winter scene, icicle lights are the perfect way to do it. Traditionally hung from your roof edges or guttering, these versatile illuminations come in two designs – either in a solid pointed shape to resemble actual frozen icicles, or a twinkling string of lights to look like snowfall. Plus, if you want to create a more colourful scene instead, our multi-function LED lights have plenty to choose from, with warm whites and a whole heap of festive shades at the touch of a button.
8. Make your outdoor lights a feature with stunning silhouettes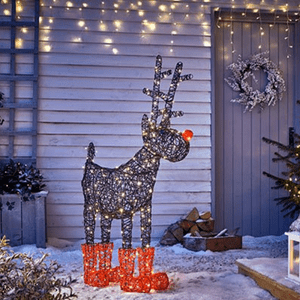 Called novelty lighting in many households, our Christmas feature lights offer some great ideas for taking your outdoor winter wonderland to the next level with a range of shapes and shades. Choose between string or bulb light silhouettes pre-woven into Christmassy shapes like reindeer and giant stars, or inflatable shapes like penguins or snowmen with a single bright bulb inside to bring your garden to life. Typically battery-powered, they're perfect for the whole family – so let the little ones help decide where they should go outdoors, and get ready for that festive feeling.
9. Turn your walls into a festive display with our projector lights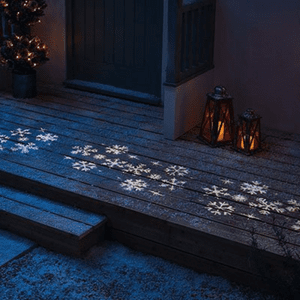 From the walls to the roof, you can bring the exterior of your home to life this Christmas without the effort of installing any lights. All you need is a projector light to brighten up your festive feel. Simple to set up, just pop the plug in an outdoor socket and you're ready to go, with festive shapes and colours projected onto the outside of your house. Choose from a variety of designs, with snowflakes, trees or even just festive shades easy to see on any surface thanks to the bright and long-lasting LED bulbs.
10. Create a wall of glamorous sparkle with our curtain lights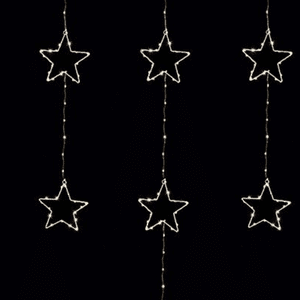 The best outdoor Christmas lighting ideas are all about spectacle, and curtain lights certainly deliver on that. Starting from the top, long strings of bulbs cascade downwards from a single power supply, creating a shimmering curtain effect made of lights. Long-lasting, hardwearing and easy to install, they're often hung from guttering or eaves to create an eye-catching display down the side of your house, but you can create just as impressive an effect by placing them on your trees, hedges or even wrapped round outdoor pillars too.
Find your perfect product