Home insulation does not need to be expensive, nor does it need to involve changing windows or carrying out large-scale projects. With energy bills on the rise, you may be thinking about how to insulate your home with draught proofing and other home insulation options. To help you out, we've gathered our favourite ways to reduce energy consumption at home so you can learn how to insulate your home easily and effectively.
Draught-proofing your home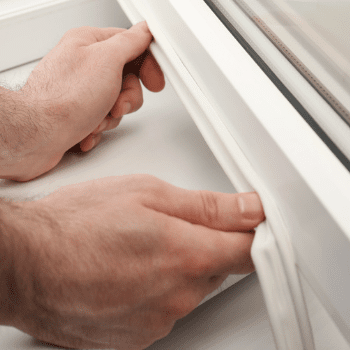 There's nothing better than escaping the cold outside and getting warm in front of the fire. But, this can be all be easily ruined by a cold draught sneaking in through a door, letterbox or window. So, what is draught proofing?
There are many products available to mitigate the risk of the chilly air invading your home, such as draught excluders.
Here are some ways you can insulate problem areas in your home:
External doors
Make sure your front door only has a 2mm or 3mm gap at the top and sides, and a 5mm gap at the bottom.
For extra protection, use self-adhesive foam to seal around the edges and top of the door frame.
Use a draft excluder to stop cold air slipping in through the bottom of external doors. These plastic or metal strips have a rubber seal or rows of nylon bristles that act as barriers against those icy draughts. The seal or bristles must overlap the door frame to be fully effective.
Buy draft excluders in wood or metal finishes to match your door.
Chilly air creeping through your letterbox? Get a letterbox draught excluder.
Skirting boards
Flexible sealant does the job on skirting boards. Squeeze sealant between floorboards and the base of the skirting. Work along the board in a smooth, continuous motion.
For gaps over 5mm, pin strips of quadrant-shaped moulding over them.
Floorboards
Suspended wooden floors in older homes are trickier as they need air flowing underneath them to combat condensation and rot. But you can still make ground-floor rooms warmer and more energy-efficient – simply fill spaces between boards with a clear, flexible sealant or insert thin strips of wood into larger gaps.