What do I need to consider before buying a greenhouse?
Before buying your new greenhouse, you'll need to think about two things that should help you to decide which size and what style to go for:
Where you're going to place it.
Which direction it is going to face.
A good tip when looking for the perfect greenhouse is to mark out the space that it is going to occupy with string or canes – that way, you can get a good idea of how much of your garden it will take up and how it will affect the rest of the space.
Types of greenhouse and alternatives
Traditional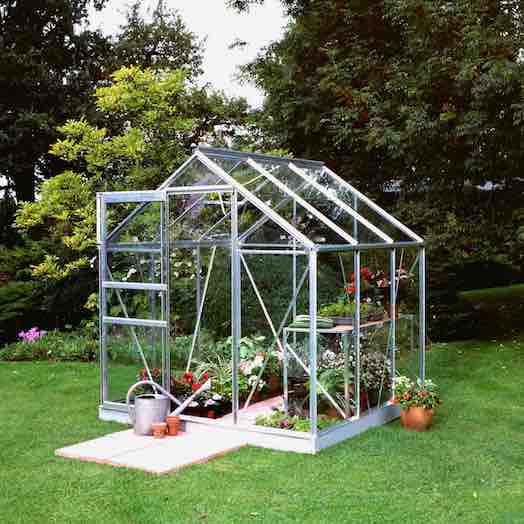 With a pitched roof, rectangular shape and metal frame, traditional greenhouses are the ideal choice for larger spaces. Offering generous amounts of growing space and maximising light, these classic designs blend in well with their surroundings.
Heptagonal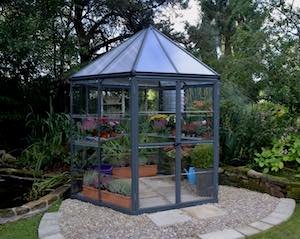 Heptagonal greenhouses are the perfect choice for smaller gardens. They take up minimal floor space, while still providing a useful place to nurture your young and tender plants.
Lean-to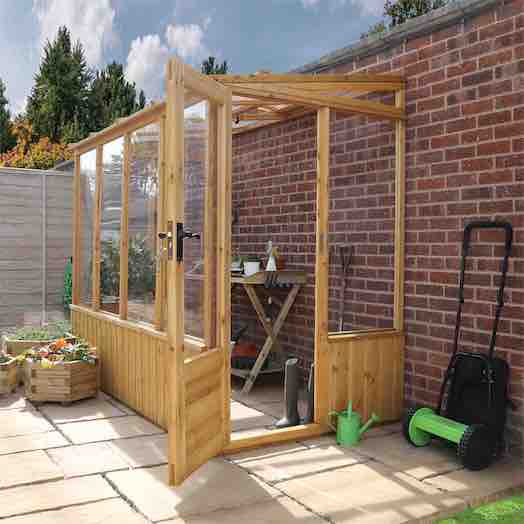 Another great option for smaller gardens, lean-tos are built against a supporting wall like a shed or the exterior of your house. While lean-tos generally offer a smaller amount of growing space, they do offer good head height for ease of working.
It's worth remembering that lean-tos can be prone to overheating, so you may need to install some extra ventilation or blinds to protect your plants during hotter months.
Cold frame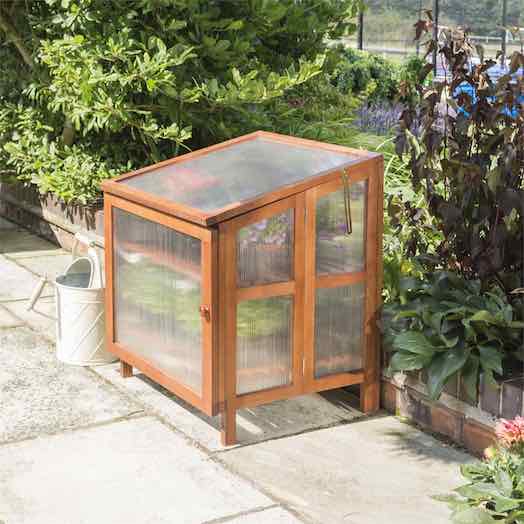 A cold frame is an affordable alternative to a greenhouse. A great choice for novice gardeners and perfect for smaller spaces, cold frames offer a convenient place to store and protect your plants and seedlings away from frost.
Cold frames require no bases, making them portable and easy to install. However, they tend to be much smaller than greenhouses, and don't provide the same level of light or protection as a permanent structure.
Polythene grow rack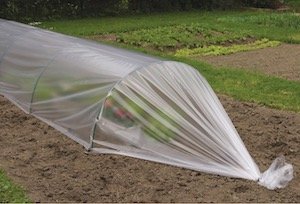 Another affordable option for smaller spaces, clear polythene grow racks offer plants limited protection from frost and a bit of extra warmth over the winter months. Also known as polytunnels, clear polythene grow racks are easy to assemble and can be dismantled and stored flat when not in use. This makes them the perfect choice for smaller spaces and bijou gardens.
Polytunnel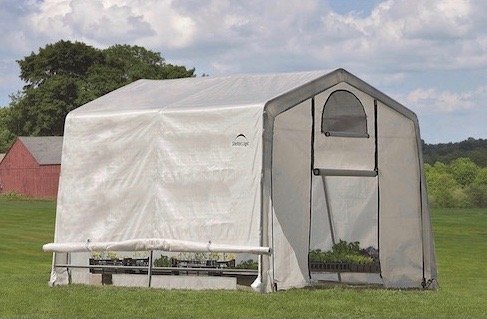 This pop-up alternative to a greenhouse is an affordable option for small gardens and allotments. Polytunnels are super easy to assemble – simply unfold and peg in place. The fine yet strong netting structure provides plenty of shade. It also protects your plants, fruit and vegetables from unwanted pests year-round.
Types of frame materials
Once you've chosen the size and the style of your greenhouse, you'll need to think about the materials for your frame and glass. Both frame options offer their own benefits, so it's worth taking the time to think about exactly what you need before you decide:
Aluminium frame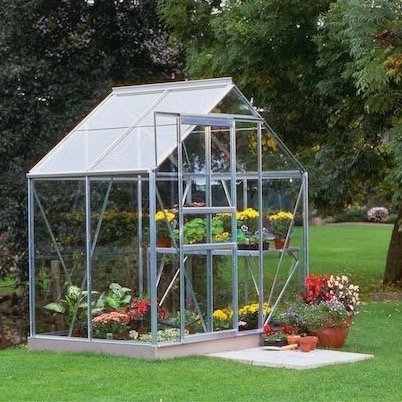 Aluminium frames are available with either natural silver or a powder-coated finish. Lightweight and durable, they're easy to assemble and simple to maintain. With a variety of colours to choose from, aluminium frames can be styled to match your garden. As aluminium doesn't store heat well, these types of frames can be hard to warm up, so you'll need to take extra care to protect your plants in the winter.
Wood frame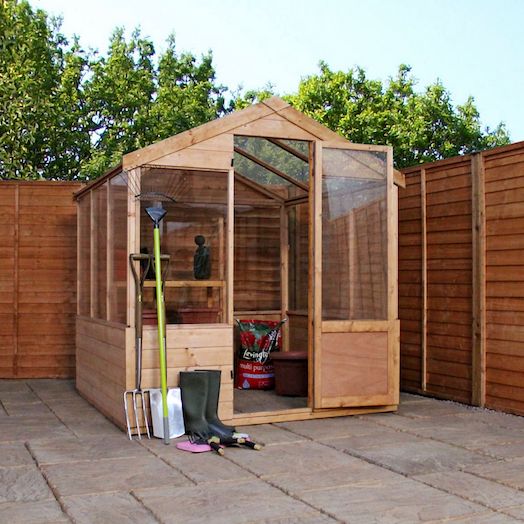 With a natural and traditional look, wooden frames are usually made from durable hardwoods. Delivered in large, pre-glazed panels, wooden greenhouses retain heat more efficiently, making them a smart idea if you're looking to grow year-round. However, they do require more maintenance, which can make them more expensive. In addition, the panels are heavy, so you may need some professional help with assembly.
Types of glass
Once you've picked the type of frame you'd like to use, it is then time to choose your glazing. There are three types, each with their own benefits:
Standard horticultural glass
The most affordable glazing option, standard horticultural glass is clear, practical and looks great. However, this type of glass will splinter when broken and can break very easily – if you've got pets or young children, you may want to look for an alternative.
Shop standard horticultural glass greenhouses
Polycarbonate safety glazing
Light, flexible and shatterproof, polycarbonate safety glazing is a good choice if you have energetic children or excitable pets. With an opaque finish, two sheets of polycarbonate act like double-glazing, offering improved insulation. If you go for polycarbonate, you'll want to check regularly for algae between the sheets, which can be difficult to remove.
Toughened safety glass
Toughened safety glass crumbles when broken, making it the safest option for your greenhouse. Although it is more expensive than other types of glazing, its clear finish, superior strength and improved safety make it a great choice for family homes.
Inside your greenhouse
Shelving & potting benches
An organised greenhouse will give you more space to store and nurture your plants. Fix a wire or aluminium shelf to help maximise your space and to position certain plants closer to the sun. Shelving can also help with draining and gives your seeds a drier place away from the more frequently watered plants.
For transferable storage, equip your greenhouse with free standing potting benches. These shelving units are a great addition to your outdoor furniture as you can move them around your garden when you're planting. Made from timber or aluminium, you can match to your existing outdoor furniture.
Shop greenhouse shelving   Shop potting benches
Propagators
Compact propagators create the perfect conditions to help you grow healthy seedlings and cuttings. The translucent lids bring in enough sunlight and the deep seed trays give enough warmth to nurture your seedlings. From propagators with built-in heaters to reusable root trainers, the range at Homebase is extensive.
Take a look at the video below for helpful tips on propagating plants:
Flooring
Constructing your greenhouse on a base will help to give it strength and stability so that it lasts longer. While you can build your own base out of bricks and mortar, you can save yourself loads of time, energy and hassle by investing in a galvanised stainless steel base.
Once your greenhouse is installed, you'll need to lay a floor to complete the job. Concrete is a popular, permanent choice, but you can also use wooden decking, gravel, patio slabs or even rubber matting to create your floor.
Protecting your plants
Greenhouse shading
Protect your plants from scorching in the summer sun with shading screens. Made from a durable polyethene material and green in colour, the curtain-style shading can be draped and altered in places where shade is needed most.
Ventilation
Improve circulation and airflow in your greenhouse with ventilation aids. From automatic adjustments to manual mechanics, within the Homebase collection, you'll be able to find the option that's applicable with your greenhouse. Ventilation is important to ensure your greenhouse doesn't overheat in spring and summer.
Greenhouse heating
An effective way to insulate your greenhouse and protect your plants during the winter frost is to use a compact greenhouse heater. It'll provide the optimum temperature for growing your fruit, vegetables and plants. Whether you choose a paraffin heater or one powered by electricity, all work to help reduce mould and damage caused by frost or water.
Top tip:
If you're planning on growing all year round, or want to grow delicate seedlings and exotic plants, then using some kind of greenhouse heater is a must.