We all want our homes to look and feel festive when Christmas comes around. So, what better way to do it than with some beautiful lights? Whether you're hanging Christmas lights from your gutters or putting them on trees, knowing how to get them up safely and properly is the most important thing. Which is why we've created this handy guide to walk you through everything you need to know.
What you'll need: 
Safety 
Always use a steady ladder to hang lights somewhere that's taller than you are.
Always get another adult to help hold the ladder
Be careful not to burn yourself when using a hot glue gun
Prepare your outdoors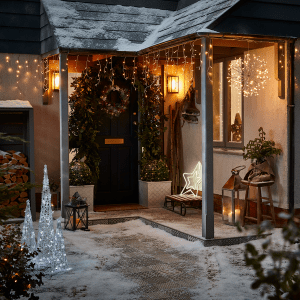 Getting your home perfectly prepared for Christmas lights comes down to three top tips…
Pick the right lights
It might sound obvious, but the most important place to start is choosing Christmas lights suitable for outdoor use, as indoor lights are likely to get damaged or broken. Once you know they're outdoor-safe, you're free to pick whatever style, type or colour you like.
Measure your space
Before you start hanging your lights, it's important you grab a tape measure and map out your lighting area to make sure you have enough. If your lights are mains powered, you're going to want to measure the distance between your outdoor plug and where the lights are supposed to go. If your cable's too short, an extension lead can make all the difference.
Test before you start
It's always the same, you take your Christmas lights down from the attic and some of the bulbs have blown since last year. Well, that can happen to outdoor lights too. It's much harder to fix bulbs once you've hung them up, so be sure to plug them in first and check. And if you've had them a few years and more and more bulbs are going each time – it might be time to invest in some new ones instead.