Some may see it as a challenge when it comes to how to decorate a bathroom with no windows. However, with the right attitude and a little help from Homebase, decorating a windowless bathroom can be made easy – and a great opportunity to add moody tones and contemporary character to your home.
No longer should naturally dark spaces be whitewashed. In fact, the bolder the better when it comes to our windowless bathroom ideas.
To help inspire you, we've put together our favourite bathroom ideas, so you can discover how to decorate a bathroom with no windows and create a space that's both functional and stylish.
Before you start  
Read our DIY Safety Tips guide. Always read the manufacturer's instructions before using power tools and make sure the room is well ventilated when painting.
Not everything has to be white
Decorating a bathroom with no windows is the perfect time to use richer paint colours, such as midnight blues or forest greens.
We believe you should spend less time trying to fake the natural light in your windowless bathroom and more time trying to create a contemporary and mysterious space that will create that wow factor at the flick of a switch.
So, stick to crisp white sanitary ware and tiles, and have fun with the walls!
Don't worry about having to replace your current set up with a completely new suite to achieve this. With bathroom friendly paint, you can easily revitalise your walls, tiles and surfaces. 
Check out our Maison Deco Cool White for your wall and floor tiles and Charcoal Black radiator paint, follow this with a deep green bathroom paint on your walls for a complete transformation. 
Declutter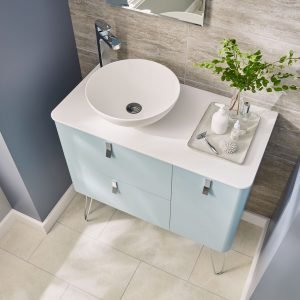 Eliminate as much clutter as possible from your bathroom, as an untidy windowless bathroom will feel small.
Opt for a bathroom vanity with concealed storage or a mirrored bathroom cabinet to reflect light into the space. Floor standing units are also a great way to make use of available space and can store your towels and toiletries.
For things that you use daily, use some stylish storage baskets. Also, secure hooks to the back of your door for your towels and robes.
Top tip: Keeping your surfaces clear will not only make your windowless bathroom feel bigger – but will also make it easier to clean, which we say is a win-win!  
Ensure good ventilation
One of the most important factors to consider when you're decorating a bathroom with no windows is the lack of ventilation.
Installing an extractor fan will help clear any moisture in the air. We recommend you connect it to your bathroom light switch so that every time the bathroom is used, it will be triggered. If you already have an extractor fan installed, check how long it's been there, as they usually stop being effective after 10 years.
Top tip: Extractor fans can start to turn yellow once they've been installed for a while, and if you find the moisture is no longer evaporating – it's probably time for a new extractor fan!
Be transparent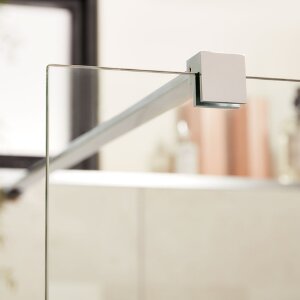 Having transparent fittings and accessories are a clever way to add interest to your bathroom without absorbing light. Being transparent, the items will appear to take up less space than opaque items – but keep in mind not to over clutter!
Glass wet room shower screens, shower enclosures and glass shelving are great when trying to achieve a clean, fresh look.
Top tip: Transparent surfaces will also help to reflect your artificial light sources.
Add greenery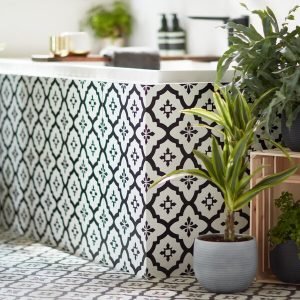 Incorporating a small plant or two into your windowless bathroom can help give your space a fresh, spa-like feel.
Bathrooms with no windows can also feel more humid than usual, so living plants can help to improve the air quality – as well as creating a fresh aesthetic.
However, not all indoor plants can thrive without a natural light source, so take a look at our Best Houseplants For Your Bathroom guide to find the best one for your space.
Top tip: If you've got limited space for greenery, you could create hanging bathroom garden instead.
Be strategic with lighting
Good lighting is essential when designing a windowless bathroom.
Start with an overhead spotlight that holds 2-3 bulbs, followed by lights either at the side or above your vanity mirror for an atmospheric glow.
Choose LED bulbs with around 2,000 lumens, as they create the best light in a windowless bathroom and are energy efficient.
Mirrors are also a great way to make a windowless bathroom feel more spacious.
Keep it clean!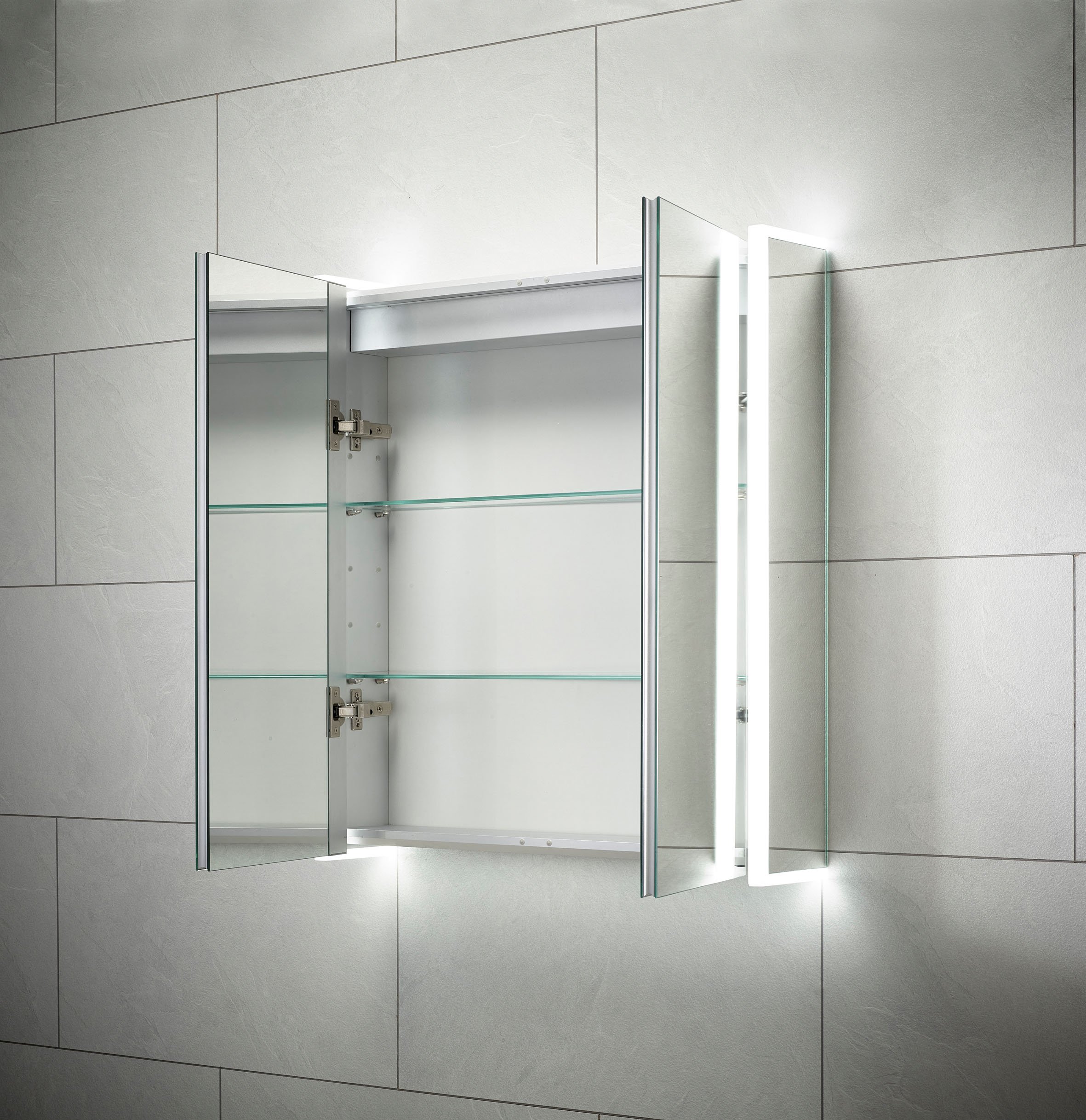 Finally, having a bathroom with no windows means you're more likely to encounter condensation, which can lead to breeding bacteria.
To prevent this, wipe away any standing water on surfaces and invest in a demister mirror (or, simply dry your mirror with a cloth when you're finished in the bathroom). Keeping up with regular cleaning maintenance, alongside using your extractor fan, will help to stop a build-up of bacteria.
And those are our windowless bathroom design ideas! Share your bathroom creations with us @Homebase_UK on Instagram and take a look at more of our inspirational bathroom ideas here.