With schools out, half-term is the perfect time to give your kid's bedroom a makeover!
Designing and revamping your kid's bedroom should be a project that you work on together – so you can create a functional and playful space they can call their own.
Need some inspiration and advice on how to get started? We've put together five children's bedroom ideas to help kickstart your half-term project.
1. Pick a theme for your children's bedroom
Whether you want to base your kid's bedroom on something related to their hobbies, their current favourite animal or movie series, there are plenty of fun and creative themes to create a colour palette with.
Here are some of our favourites:
• Dinosaur themed, with the help of a green colour palette and roar-some bedding
• Dark blues and fairy night-lights for an astronomy-themed bedroom
• Modern monochrome that they can grow into, with greys and whites
Top tip: To maintain a cohesive theme throughout their bedroom – while allowing the children to still get involved – only show them colours and pieces of furniture that can be mixed and matched together – we won't tell!
2. Kids' room paint ideas
Paint scallop edging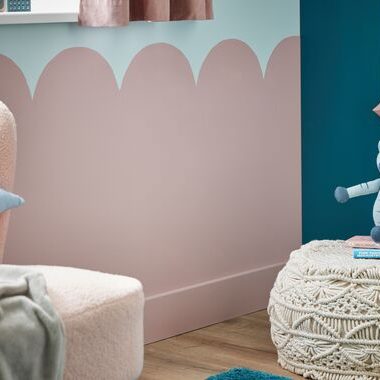 We all know that most childhood obsessions can be fleeting. That's why a feature wall can be a fantastic way to add personality and character to your kid's bedroom, as they'll still appreciate it as they get older!
To create a scalloped wall border, you'll need:
• A spirit level and measuring tape
• Pencil
• Paint and a paint brush
• Masking tape
• A large plate or bowl (or similar round object)
Once you have these:
Decide whether you want your scallop edging to point downwards or up towards the ceiling –
and use a pencil and spirit level to draw a straight line around the whole area you are going to
paint. Use your spirit level and measuring tape to keep checking that that your lines are straight
and even.
Take your plate or bowl and mark the halfway point on it with some masking tape to ensure
your scallops remain the same size throughout.
Place where the tape marker of your plate is onto the straight line you have drawn on the wall
and draw another pencil line around the top of the plate. Repeat along the whole border.
If you meet any corners, use a cardboard template, so you can bend it into or around the corner
to keep your pattern consistent.
Once you've completed the pattern, it's time to start painting! Start with the tricky bits, cutting
in edges first. Ensure the paint is dry before completing a second coat.
Or, take a shortcut and use wallpaper instead. We have lots of wallpaper suitable for a children's bedroom, such as Disney's Winnie the Pooh, Outer Space Glow in the Dark, Woodland Animals, and Colourful Rainbows.
Use chalkboard paint
Let your kids create something new every day, with our magnetic chalkboard paint. Not only will it give your children plenty of creative freedom, but its magnetic properties allow you to attach your chalk colours to it, along with any other bits and bobs that would otherwise be lying around.
Discover how to seal and prime chalkboard paint here.
Top tip: If you want to create a pattern or different shapes on a budget, use sample pots of colour!