Paint has the power to transform the feel of a room – and this is even more true when you haven't got much square footage to work with. The hallway sets the scene for your home and is often the first space your guests will enter, making it one of the most important rooms in your house.
When considering hallway paint colour ideas, there are many designs you can explore to create the illusion of it being a bigger space. Read on to discover our small hallway ideas and find out which paint colours and decorating ideas can make your small hallway look bigger.
Before you start
Always paint in a well-ventilated area and cover any surfaces with a dust sheet to prevent paint stains. We also recommend you read our DIY Safety Tips before carrying out any home improvement projects.
Small hallway paint colours
50 shades of white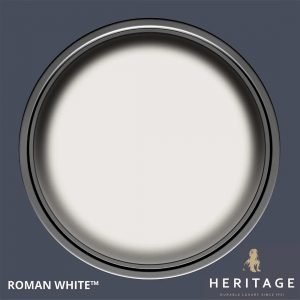 White paint is a classic choice for small spaces.
If your hallway is lacking in natural light, a bright white – free of any undertones – will give it a crisp and clean ambience.
If you're not feeling brave enough for a completely white hallway, there are many off-white shades available. Dulux Heritage have a variety of whites with undertones of greys, blues, yellows, and even greens.
Any of these hallway paint colours will create a luxurious feel to your small space. What's more, they can be creatively accessorised with those warmer, darker tones you once thought you had to avoid.
Top tip: Use more than one shade of the same colour to add depth. Painting the ceiling of your hallway 1-2 shades lighter than the walls will trick the eye into adding depth to the space.