Simple but oh so effective, garlands are a great way to add some festive flair to your home this Christmas. From framing your doorways to brightening up your bannisters, there's unlimited potential for using these gorgeously green garlands all around the house – and we've rounded up some of the best locations and ideas for you in our handy Christmas garland guide. Who knows, they might even steal the spotlight from the tree!
1. Spruced up stairs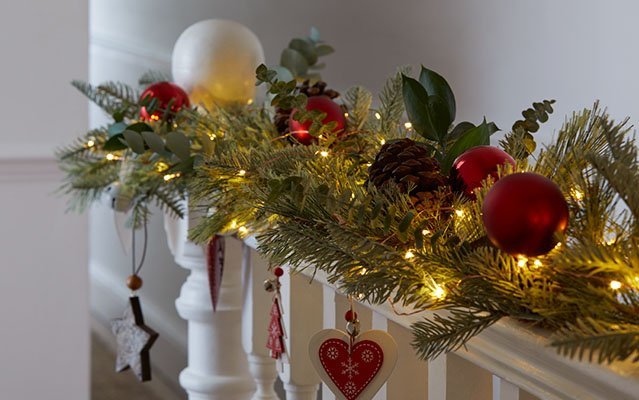 Your bannisters and stairs often miss out when it comes to home decorating ideas at Christmas, so garlands are the perfect way to make sure they look just as festive as the rest of your house. Whether you're weaving foliage in and out of your bannister gaps, or using lush green fronds to line each step, there's no shortage of Yuletide inspiration for your interiors. What's more, you could even hang stockings from the garlands on your stairs to get the whole family involved this Christmas too.
2. A festive fireplace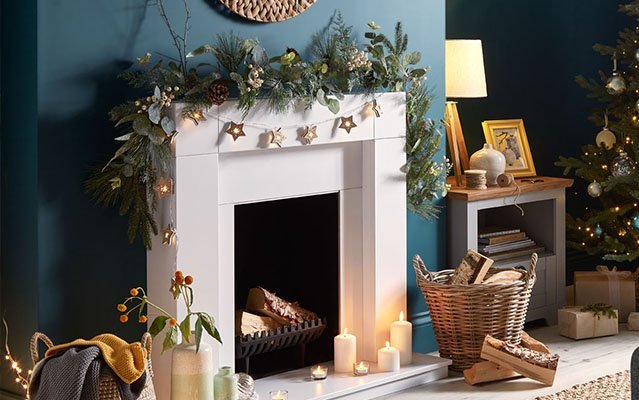 If you want to add some nostalgic charm to your home this year, Christmas centrepieces don't get much more traditional than a garland-topped fireplace. You can keep the decorations traditional too with a classic green garland or bring in pops of modern colour with ribbons and lights, and even a dash of citrus with a fruit garland. Just slice up some oranges, dry them out, and then thread some wire through and secure them to your garland for a fireplace feature with a festive scent too.
3. Decorate your doorways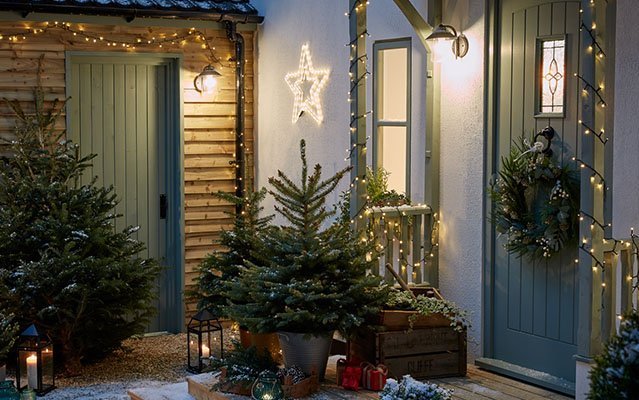 Whether inside or outside, hanging garlands round your doorways is one of the simplest ways to create a welcoming Christmas atmosphere for your home. Kick off the festivities with some fragrant green foliage draped over the corners like pine, spruce or holly – and then make it your own by adding some berries and pinecones. For a foolproof decorating hack, try an adjustable garland hanger too – which makes it easy to transport from door to door throughout the holidays.
4. Christmassy curtain rails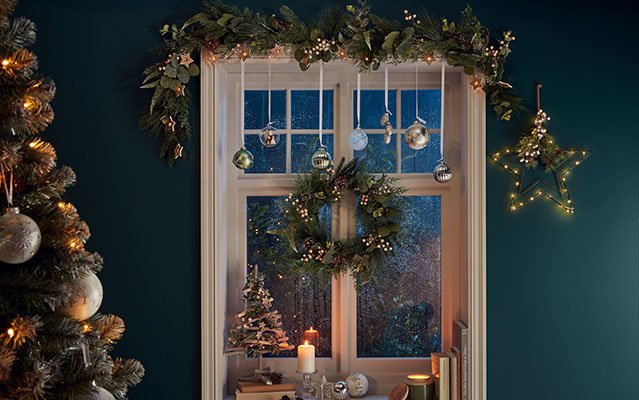 Curtains are a treasure trove of Christmas-inspired garland decoration ideas, ready to transform your home with a little festive magic in no time. Wind your longer pieces of greenery around your curtain rods for a stunning spiral effect, dangle them from your curtain rings or simply replace your curtains with pine branches, wooden decorations and strips of plaid ribbons for a classic rustic feel.
5. Holiday-inspired headboard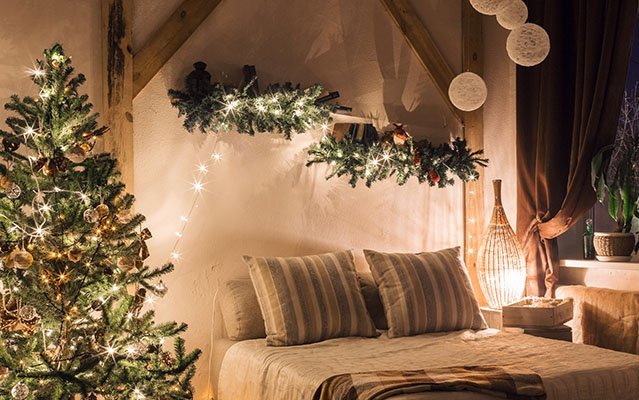 If Christmas has got you too excited for a lie in, then take your chance to bring some festive cheer to your bedroom with an oversized garland for your headboard. Try a traditionally green spruce or eucalyptus mix to contrast and complement a wooden frame, or add some berries and pine cones for a natural pairing. If you prefer a more modern look to match the rest of your décor, decorating your garland with metallic baubles and linen ribbon is a great way to add contemporary texture instead.
6. Wintery windows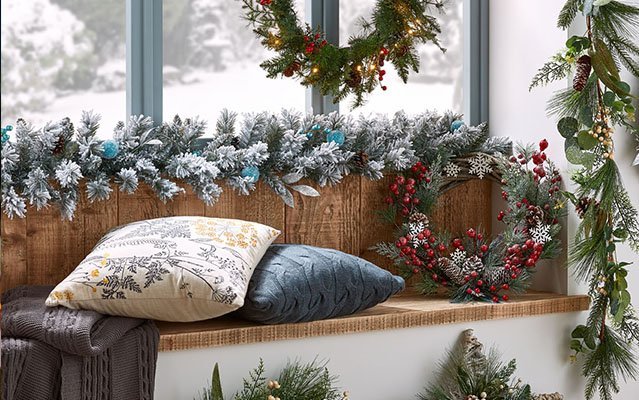 Decorating your windows is often the first step towards getting your home into the holiday spirit, so why not do it in style with some beautiful greenery from a Christmas garland? What's more, you can take it to the next level by pairing your garland's colours against your kitchen's interiors too – like adding a pop of colour to a white-inspired kitchen with the deep green tones of eucalyptus and pine. For darker toned cooking spaces, focus your ideas on garlands with lights or metallics entwined for a brighter Christmas feel.
7. Magical mirrors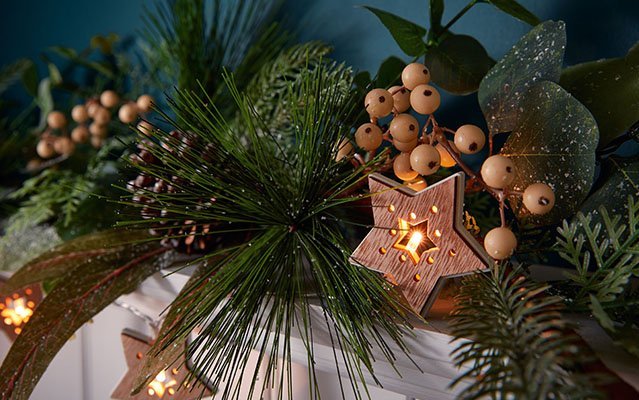 From the bedroom to the bathroom, mirrors make the perfect place to hang a garland – especially if you want to bring ideas of Christmas cheer to those rooms that sometimes get overlooked. For flat, square mirrors like those in your bathroom, all you need is a single long string of greenery that you can pin at both ends – adding gorgeous green flair ready to reflect back at you too. And for smaller, circular mirrors – just wrap or pin it round the outside for the same stunning result.
8. Transformed tables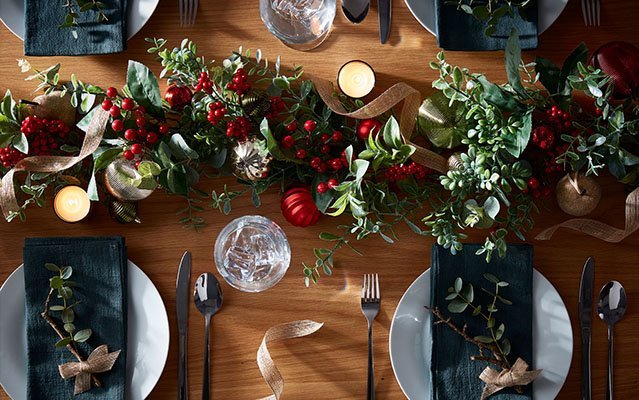 Not only do garlands make the perfect accompaniment for the rest of your home's Christmas decorations, they also make the perfect accompaniment to your Christmas dinner too. Forget floral arrangements, garlands are a vibrant and effortless way to bring a festive feel to any surface, especially your kitchen or dining table. Plus, you can add a magical glow by weaving in some string lights, or even make your garland part of the show by dressing it with edible Christmas sweets, snacks and fruit too.