Expecting friends and family over the festive season? With so many visitors, we all want to bring our interiors beautifully to life at Christmas with the latest decoration ideas. That's why we've rounded up 10 of the best on-trend ideas to take your Yuletide look to the next level. From baubles to branches, celebrate Christmas in style this year with our top decorating tips…
1. Give your Christmas tree a sweet tooth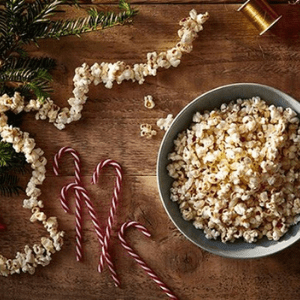 With festive cakes, pies, puddings and chocolate – Christmas is the perfect time to indulge your sweet tooth. And if you're looking for fun decorating ideas, it's a chance to spread some sugary joy around the house in the form of sweet decorations. From stripy candy canes to red and white marshmallows, cookies and popcorn garlands, there are tons of classic, colourful and eye-catching sweet treats to deck the halls with – both on your tree and around the room too. And the best part? Once the big day arrives, it's your chance to tuck into these delicious decorations too.
2. Transform your kitchen into a festive cooking space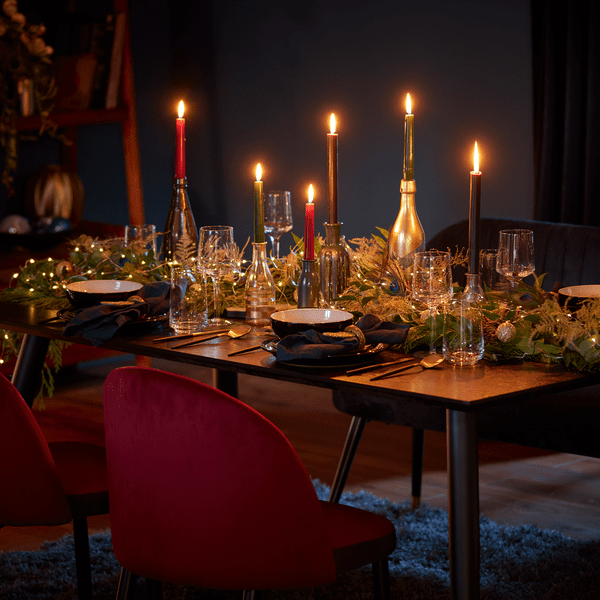 Forget the halls, it's time to deck your kitchen. With so much time spent here throughout Christmas – from cooking the turkey to serving up mince pies and mulled wine, it's only fair to make it feel fabulously festive too. Start with simple ideas like Christmas-themed tea towels and some warming candles, before moving onto cabinet decorations like garlands and mini wreaths or transforming your chair backs with a simple twist of ribbon and greenery. And if you've got the space, a mini Christmas tree can make the perfect festive finishing touch too.
3. Create a fabulously festive welcome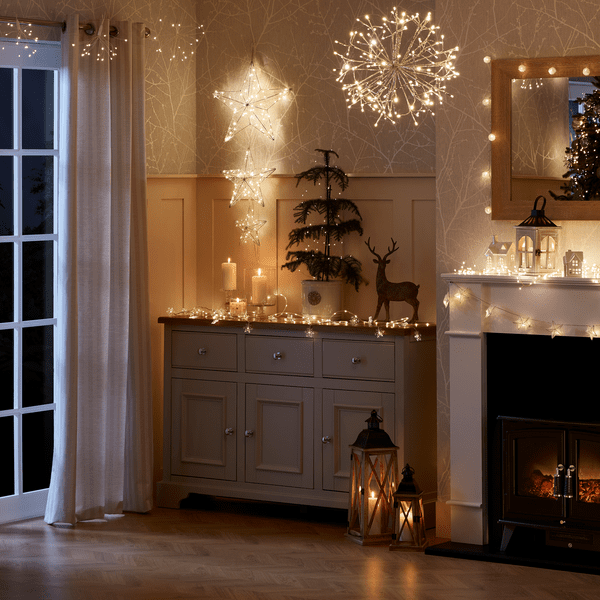 Get your guests in the festive mindset from the minute they enter your home with a stylish Christmas welcome. Top your hall table with your mini trees and baubles, as well as some candles and glass vase with extra foliage for the perfect entrance atmosphere.
4. Let nature in with some festive blooms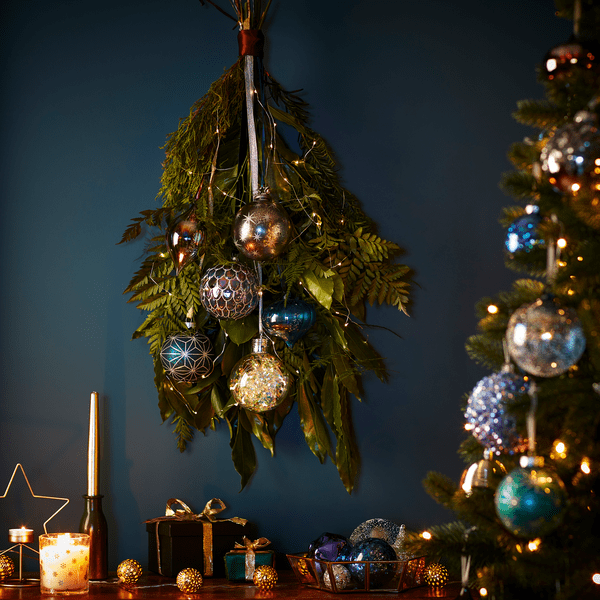 A Christmas tree is a staple of any home throughout the festive period, but there are a whole heap of other options for adding extra greenery to your home too. From the classic red and yellow blooms of a poinsettia to a traditional white Christmas rose (or Hellebore), a touch of nature can bring the Yuletide spirit to any room. And if you need ideas to get on board with the latest decoration trend, Christmas cactus' are all the rage right now. Lasting for years with the right care, it's easy to add garlands or even a few string lights for a fresh and festive glow.
5. Deck out your staircase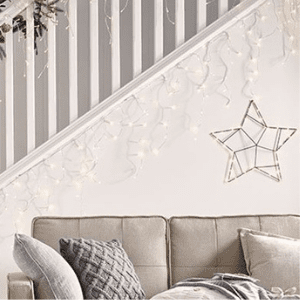 Rushing downstairs is one of the most exciting parts of Christmas morning, so why not give your staircase an extra-festive feel for the big day? Tie a garland round the handrail, decked out in fairy lights, ribbons and whatever other ornaments you fancy. Plus, if you don't have a mantelpiece, the bannister makes an excellent place to hang your family's Christmas stockings!
6. Give your windows a Yuletide makeover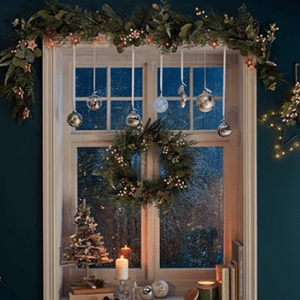 If windows are the eyes of the home, Christmas is the perfect time to make sure they're looking their most festive for any passers-by, with a wide range of decoration ideas on offer. Start simple by draping them with deep green
tinsel
or strings of
lights
around them, before moving onto more eye-catching decorations like hanging
wreaths
, jingle bells or even the warm glow of a
candle
, especially when paired with a pine branch. Plus, for the ultimate festive finishing touch, try adding a
mini Christmas tree
to the windowsill too.
7. Hang some beautifully festive baskets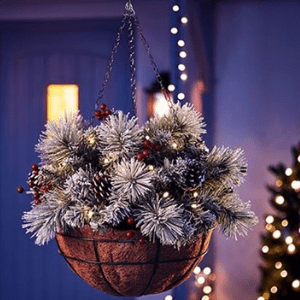 Thought hanging baskets were just for summer? Think again. Let them set the scene for your indoor festivities by filling them with winter plants and Christmas decorations, and hanging them just inside your front door. Add fairy lights for that festive glow, just make sure they're low enough for the little ones to enjoy!
8. Bring a white Christmas indoors with some snowy décor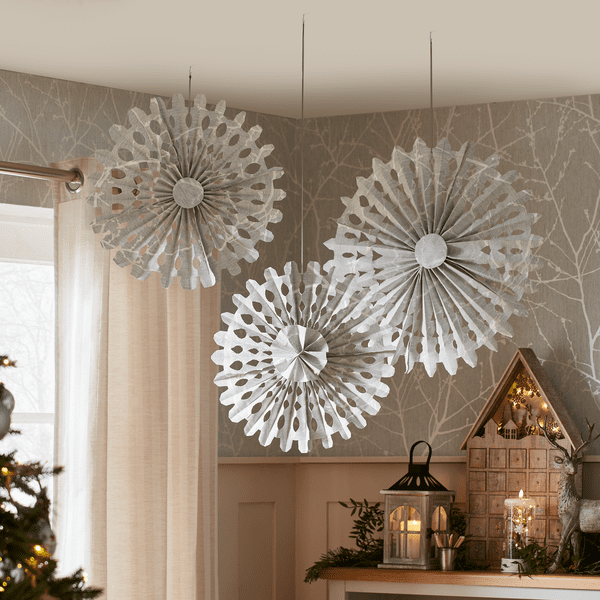 If you're dreaming of a white Christmas, it's time to make that dream a reality. Of course, you can't control the weather outside – but you can create the same effect indoors with a few simple décor touches. From cream to silver grey, our Faux Sheepskin Rugs are perfect for popping under your Christmas tree to create a beautiful home decoration that recreates the idea of a snowy scene. And if you want to get the kids involved, you can take it one step further by sprinkling fake snow, adding silvery tinsel or cutting out paper snowflakes to decorate the living room with too.
9. Hang branches for some Scandi style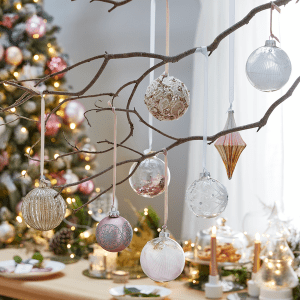 Ready to bring the outdoors inside? Try a Scandi-inspired Christmas interior by hanging small branches from your windows and walls, along with a medley of rustic wreaths and decorations. For the best wintery effect, use garden wire and well-secured picture hooks to hang the branches, before spraying them with matt white paint, frosting and silver glitter.
10. Make your home and furniture more festive with colours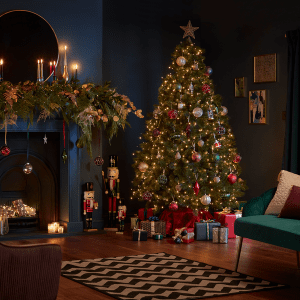 Christmas is a time of colours, but the opportunities are endless to create a personalised theme throughout the house. If you're matching cool tones with the cooler weather outside, try a wintry palette of icy blues and whites, or channel the classic Christmas colours of reds and greens with a traditional rustic décor, matching festive-scented pine garlands against rich red plaids and knits. Want to tie your theme together in the living room? Put a bow on things in every sense by making sure your gift wrap and tree decorations match the colour scheme you've picked.
And those are our favourite Christmas decorating ideas! Don't forget to share your festive home with us @Homebase_UK on Instagram and explore our favourite Christmas trends here. 
Find your Perfect Product