When the weather's getting chilly outside, our first instinct is often to put the heating up. But how do you know the heating you have is right for you? Whether you want to pick the fastest heating, most cost-effective, eco-friendly or simply the most stylish options for your home, we're here to walk you through each of them in our handy heating guide.
Radiators
The most important part of any central heating system, radiators have been the best way to warm up our homes for as long as anyone can remember. From getting the house toasty when you wake up in the morning to staying snug long into the evening, they're simple, stylish and easy to use.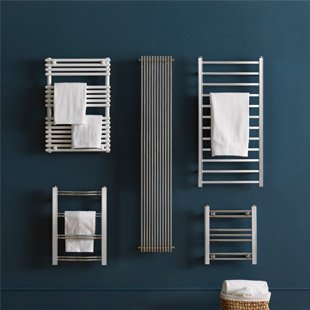 Horizontal radiators: The traditional radiator size and shape, horizontal radiators are designed to be helpfully wide and short – fitting neatly under shelves and windowsills to help you make the best of your space. Simple and sleek, they can pump out plenty of heat to warm the whole room – especially if you invest in a double panel model.
Vertical radiators: A rapidly-growing modern trend, vertical radiators are tall and slim – offering a minimalist aesthetic that's perfect for a modern home while still offering a lot of heat. If you have a space that's too small for a regular horizontal radiator like a narrow wall or doorway, an electric vertical radiator might be your best heating solution.
Towel radiators: Also known as a bathroom radiator, towel radiators are perfect for keeping your bathroom warm all year round – as well as making sure you can enjoy a toasty towel after every bath or shower. Low-maintenance and with plenty of styles on offer – they're the ideal small room choice.
Radiator materials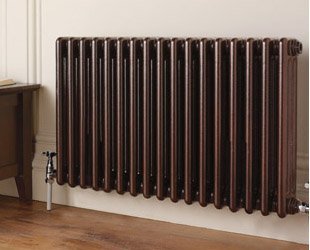 Aluminium: The crème de la crème of radiator materials, aluminium's superconductive properties means you can enjoy a radiator that heats up fast and spreads the heat fast too. Plus, they're often more cost effective and eco-friendly than other types too, as they need less water to warm up.
Cast iron: A stunning period statement piece in any home, cast iron radiators have been heating houses for decades – but these days they're much more energy efficient. Once they're hot, they hold their heat for hours afterwards, lasting you all day from a single burst.
Steel: Also known as "mild steel", steel radiators are the cheap and cheerful option for any home – available in a wide variety of shapes, sizes and colours. Naturally they're less heat-retentive than cast iron, so you might need to heat them more often as and when you need it.
Electrical radiators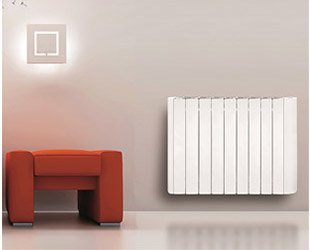 While all electrical radiators are powered by electricity, there are three main types of heating elements used to best turn this electricity into heat.
Dry thermal elements: Usually made from aluminium, dry thermal elements are thin metal wires that heat up inside your radiator for fast, accurate heat. Because the elements are so small and lightweight, the radiator itself can be slimmer and sleeker too. Ideal for regular rooms, the dry elements will also never leak – saving you one extra headache.
Thermal fluids: The best energy-efficient choice for electric heaters in a bigger room, thermal radiators contain thermodynamic gel spread across the inside of the radiator. Specially designed to stay heated for longer, this gel helps spread heat evenly throughout the room – meaning the radiator (and your electricity bill) doesn't have to work as hard.
Dry stone elements: To heat all four corners of even the biggest rooms, look no further than a dry stone radiator. Filled with ceramic dry stone elements, they warm up quick for high-intensity heat – ideal for homes with high ceilings or open-plan rooms. Bear in mind that dry-stone radiators are bigger than most.
Oil-filled radiators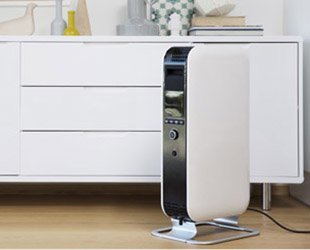 Best used for heating single rooms, oil-filled radiators work in a similar way to thermal radiators – with an electrical element heating a reservoir of thermal oil inside. Oil can take a little longer to heat up fully than thermal gel, but the heat spreads easily throughout the room and the radiator stays hot for as long as you need it.
Heaters
Simple, effective and easy to store, heaters are the ultimate portable go-to when it comes to colder weather – so discover which type is right for your home.
Heater types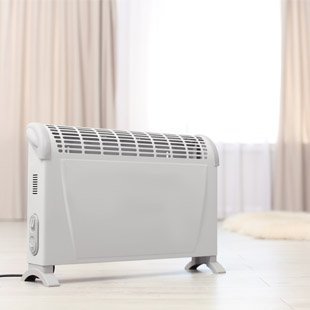 Convection heater: For quick heat and quick results, you can't get much faster than a convection heater. Suitable for any room in the house thanks to their portability, convection heaters heat the air rather than surfaces – drawing air in, heating it and then circulating it around the room. Whisper-quiet, they're excellent for heating bedrooms overnight, but less effective for bigger rooms or high ceilings.
Panel heater: Slimline and streamlined, this eco-friendly choice is made up of a flat glass panel, often covering a steel sheet. Ideal for bedrooms, offices or studies, they give off a controlled amount of heat in a small surrounding area – which makes them a good safety choice around pets or children, as they often won't be hot enough to burn.
Fan heater: Much like convection heaters, fan heaters heat up air rather than objects. However, the fan allows the heated air to be pushed round the room faster, so they're better at warming up a room quicker. What you gain in speed, you lose in quietness though – as the fans are usually quite unavoidably noisy.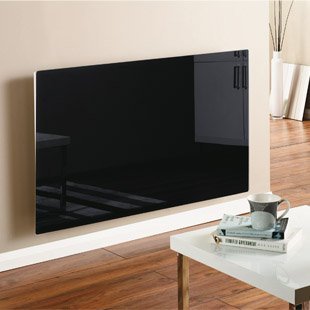 Halogen heater: Also called a radiant heater, halogen heaters combine glowing elements and a reflector to offer targeted heat from the moment they're switched on. This radiant heat uses infrared to warm up objects directly, meaning you and the room should heat up quicker.
Available in both free-standing and wall mounted models, they're good for high-ceiling rooms or sections of larger rooms. However, they do get very hot to the touch, so keep an eye on the kids around them.
Infrared heater: Usually shaped like a panel heater, infrared heaters have an aluminium coil in the centre that helps offer a different type of heating. Just like halogen heaters, Infrared heaters use radiation to heat people and objects directly, instead of heating the air around the heater. This makes their power consumption a fraction of regular heaters, saving you money in the long run.
Storage heater: Best for those who want a warm start to the morning, storage heaters run throughout the night to heat up ceramic bricks – giving you warmth that's ready to use all day long. Much like dry stone radiators, they're a good choice for people who get cheaper electricity overnight, so you can keep your bills down while charging the ceramic.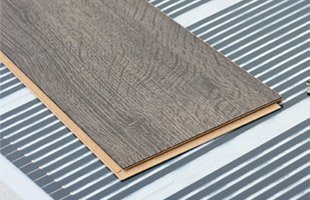 Underfloor heating: Powered by electricity or water, underfloor heating might not be the first type of heater that springs to mind – but it works in the same way as classic radiant heaters, warming up a small room in the process. An ever-popular favourite in the bathroom or kitchen, once installed – they're cost-efficient and long lasting.
Fuel types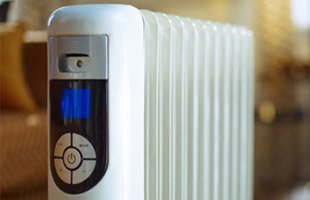 Oil-filled: Although filled with oil, oil heaters are electrically-heated, meaning no oil is actually burned. Ideally designed for smaller rooms, oil-filled heaters are popular for the speed at which they heat up, as well as being extremely portable too – often equipped with wheels and a handle.
Oil-free: As the name suggests, oil-free radiators don't contain any oil. Instead, they heat up air as it passes a heated element and pass it out by natural convection into the room as wonderful warmth. These "dry" radiators are increasingly becoming the eco-friendly choice with faster heating – plus, they're also popular for being totally silent and lightweight too.
Electrical fires and stoves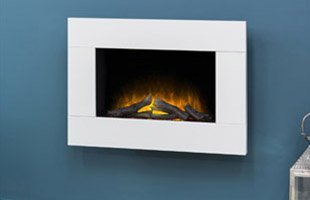 For all the effects of a real gas or wood fire, but without the maintenance, look no further than electric. With the flexibility to be wall mounted or inset, it's no wonder that wall-mounted electric fires are the best option for keeping a contemporary feel in your living room – especially with the added flexibility on where you can place it.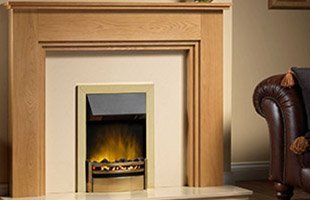 Freestanding: Often offering the best flame effects, freestanding electric fires don't need a chimney, recess or a surround. Instead, they can be placed flat against any wall for a simple, un-cluttered finish.
Inset: If you've already got a cavity from traditional fireplace, inset electric stoves are the best contemporary choice for filling it. Plus, if you want clean lines in your lounge, you can always create a recess to install it in too.
Installation: One of the best features of any electric fire or stove is how easy they are to install. Once you've got them in place, it's a case of plug in and go – just flip the switch for instant warmth.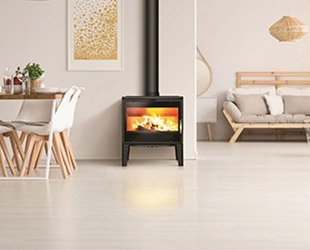 Log-burners: If you want a stove with all the best aesthetic benefits of a wood burner without the need for wood or real fire, an electric log burner could be exactly what you need. With steel, cast iron and even wood-effect surrounds, it's easy to choose a style that compliments your living room.
Multi-fuel stove: Finally, if you did want a non-electric stove, a multi-fuel stove brings you the best of all worlds. These advanced heaters can burn everything from wood and coal to pellets and eco-logs in the same stove, helping you pick the most cost-effective option each time.
Safety tips
From radiators to heaters, it's always sensible to be aware of safety precautions whenever you're using them to heat your home.
Radiators
Bleed your radiators regularly to stop air pressure building up dangerously.
If you've got children, consider a radiator guard to stop burns or bumps.
Leave space between your radiator and a sofa so the air can circulate properly.
Heaters
Never leave your heater unattended.
Never cover your heater.
Never place wet clothes on the heater.
If you're using an extension cord, make sure it can handle the heater's wattage output.
Make sure your heater is stable, so it doesn't fall and injure anyone.
Fires and stoves
Make sure your stove has an automatic shut-off switch after 12 hours or more.
Always unplug or switch off your fire when not in use.
If your gas fire has a chimney, get it swept once a year to stop ash build-up.
Don't leave pets or children unattended around your fire.