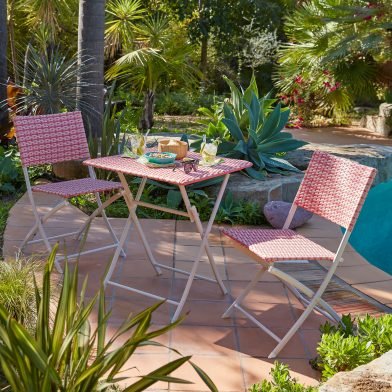 With Summer fast approaching, it's time we all had ourselves a holiday to somewhere tropical. But don't pack your bags just yet, because this time round there isn't far to travel. We're here to give you everything you need to transform your outside space into a tropical garden paradise.
With our simple tricks and tips, you can transport yourself into an exotic, soothing, vacation-like environment that won't leave you with the holiday blues.
Be smart and safe
This is a great, fun and easy project. However, if you do find yourself using any power tools or new pieces of furniture, always read the instruction manuals attached.
If you are unsure about anything, please reach out to a certified expert.
Here's our top five tropical garden ideas you should consider when creating your own outdoor paradise.
Location is key
First, think about where you want to place things in your new tropical garden. Tropical garden plants thrive in slightly sheltered, sunny spots – and need good quality soil to prevent them from drying out. Don't forget to ensure everything is well-watered.
If possible, you should add some organic matter or mulch to your plants. You can find out how to mulch in this guide.
Decking and shelter
Think about contrasting soft and hard materials together when it comes to your tropical garden. Consider painting your fence a dark colour or installing timber or bamboo screens.
Another option is to lay stone or logstone sleeper paving to create weaving pathways through your tropical garden – which could lead to a wooden arbour or stylish summer house for somewhere to relax.
Alternatively, you may want to choose some rattan garden furniture and create an enclosure with a large garden parasol.
Choosing the right plants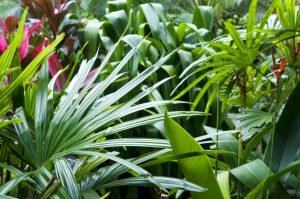 One of the best ways to create a tropical garden is by picking the right kinds of vegetation.
The bigger the leaves the better, so try to prioritise things like daisies and roses when selecting your plants. Ferns, palm trees, ornamental grasses, and phormium are all great tropical plant choices. To create interest, mix different leaf shapes and colours together.
Complement your larger leaved plants with some bright climbing plants to add vibrancy.
Don't forget about water
To really enhance that tropical oasis garden feeling, consider a water feature.
The cascading sound of water will add to the soothing and relaxing atmosphere. You could even add a bird bath to attract some peaceful feathered friends. Creating a calming paradise in your own garden will help to improve focus and reduce stress levels.
Magical lighting
To top everything off, add some soft lighting so you can enjoy your tropical garden late into the evening.
Solar stake lights are a great way to create soft pools of light – they are also extremely convenient as they automatically illuminate at dusk and do not require mains wiring. Another idea for your tropical garden is to hang some outdoor lanterns or string lighting to create the ultimate magical atmosphere.