Soaking yourself in a nice, hot bubble bath is one of the best ways to relieve stress caused by everyday life, or soothe aches or pains brought on by an active life. Making sure your bath is as attractive as it is functional is a significant part of the relaxation process, so it's important to choose the right tap to ensure it provides your household with the ultimate retreat.
There are all kinds of different bath tap designs to choose from; our handy guide has been put together to help you choose the perfect finishing touch to your gleaming new bathroom suite.
Bath shower mixer taps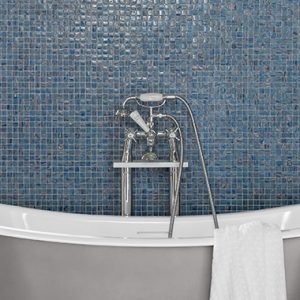 Having a cosier bathroom space doesn't mean you need to scrimp on style or design. A bath shower mixer offers a sleek and chic solution to a smaller suite with a combined bath and shower enclosure. There is a bath shower mixer to suit every budget and preference, with options for those looking to utilise a power shower or simply a handy shower head to wash your hair whilst bathing.
Wall mounted taps
Wall mounted taps can offer a striking contemporary feel to a bath with no tap holes. By nature, their fuss-free design will hide the majority of the pipe work behind your walls and give your bathroom a sleek, ultramodern finish. There are even designs which nod back to a more traditional look with old-school hot and cold spouts that add a dash of vintage to the look of your bathroom.
Waterfall taps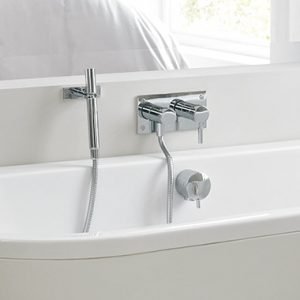 If bathing in hot soapy water is something you like to indulge in on a regular basis, then you might want to go extravagant and consider a waterfall tap. The open spout design allows a wide stream of flowing water to gently fall into your bathtub, giving your luxury suite a spa-like quality that adds a touch of class to any bathroom. Waterfall taps only require minimal pressure, making them available to anyone with a hot-tub passion.
Bath filler taps
Bath filler taps provide a practical solution without the fuss of protruding taps, and simply want to fill your bath in an efficient manner.
There are a variety of quite different bath fillers on the market – all designed to provide a great flow in order to fill your bath in rapid time. The Pressfill and Extrafill models consist of premium brass fillers and waste, which is connected by a sturdy, white plastic tube – these models are ideal if you have a single ended bath and don't want protruding faucets.
The lofty elegance of a thermostatic bath filler adds a touch of luxury to your suite, as well as giving you complete control over the temperature. This style of bath filler is floor standing with a tall, chrome plated pipe, which towers over your bath and comes with a convenient shower handset.
Pillar taps
Pillar taps are a great option for those looking to adopt the more traditional looking bathroom with two faucets and are plumbed with separate pipes for hot and cold water. While this style of tap is ideal for bathrooms with a vintage or period look, there are many contemporary styles to choose from too. Pillar taps can operate effectively using high or low water pressure, making them a suitable option for a wide range of homes.
Freestanding taps
For a futuristic look that combines elegance with practicality, then look no further than a freestanding tap. Ideally suited to freestanding bath tubs, their towering stature elevates them above your basin and can even come in a combination format, integrating a handy shower handset.
From wall-mounted and freestanding, to waterfall and minimalist bath fillers, there's a wide range of bath taps to suit any style. Once you've decided on a bath tap to suit your bathroom, take a look through our guide to basin taps to find a perfect match.