Boost the nutrients in your soil, cut down on pesky weeds and make your garden look neat and tidy – with mulch. If you don't have time to spend in your garden every weekend, this must-have will make your life simpler. Spread it over your flowerbeds and your plants will continue to thrive. Read our guide and discover how to mulch, how it can benefit your garden and when to use it in your outdoor space.
What is Mulch?
Mulch has many uses and comes in different forms. Generally, it's used to cover the soil around your plants and flowerbeds, protecting them against weather extremes while helping your garden look its best. It also inhibits the growth of weeds and, if you choose biodegradable mulch, it can also boost the nutritional value and texture of your soil.
The benefits mulch can bring to your garden:
Locks moisture into the soil beneath.
Helps prevent weed growth.
Improves the quality and texture of soil.
Keeps soil cool in hot temperatures and protects plant roots.
Gives a decorative finish to your garden.
Creates low maintenance flowerbeds.
What is mulch made of?
Biodegradable mulch is made from organic materials such as leaves, wood chippings, bark and straw. As well as covering your soil and protecting your plants, biodegradable mulch will release nutrients into the earth, helping to feed your plants.
Non-biodegradable mulch also suppresses the growth of weeds and keeps the earth moist, but it doesn't provide extra nutrients for your soil. Things like plastic mulch sheets, gravel, pebbles and stone chippings are examples of non-biodegradable mulch.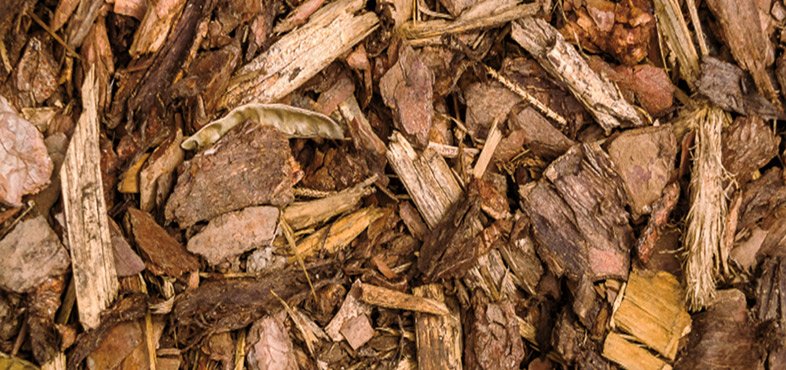 How to use mulch
To get the best out of it, you should know when to mulch your garden. Plan to lay it in mid to late spring, or in autumn when the soil is both moist and warm. Learn how to lay mulch in a few simple steps.
First choose the mulch that's right for your garden plants, shrubs or trees.
Tip out or lay your mulch close to where you need it.
Take your rake and begin to move the mulch around and heap it onto the key areas you want to protect and cover.
For effective ground coverage, aim to lay your mulch between 5-7.5cm in thickness.
Check your plants are all above the mulch and not buried beneath it.
Top tips:
Check the soil is moist before laying any mulch over it.
Avoid covering any low plants as you mulch, and try not to pile it up around the trunks of trees and shrubs.
Which mulch should you use?
You can find an array of mulch compositions to suit any garden. Here are a few options you might like to consider:
Decorative mulch – Combine the practical values of mulch with an attractive finish by using decorative wood chips. Available in a range of colours and materials, you can find the right style to suit your garden.
Mini bark chips – Smaller bark chips will add a decorative twist to plant pots, while helping to retain moisture.
Play bark – If your children love to spend time outdoors, play bark is the ideal choice for providing a soft landing in garden play areas. The larger bark chips give it a bit of bounce to cushion trips and slips.
Explore a full range of mulch products to create a healthy, low-maintenance space in your garden.